Culture
'The Transylvanian Trilogy' awarded by the Writers' Union of Romania
Marius Tabacu, a translator from Kolozsvár (Cluj-Napoca) received the award for the best literary translation of 2019 from the Writers' Union of Romania. He won for his Romanian edition of The Transylvanian Trilogy written by Miklós Bánffy and published in Hungarian between 1934 and 1940.
The Writers' Union of Romania awarded the best books published in 2019 in different categories, and the jury – Mihai Zamfir (president), Gabriela Gheorghișor, Ioan Holban, Angelo Mitchievici, Ovidiu Pecican, Cornel Ungureanu and Răzvan Voncu – found Marius Tabacu's work to be the best in the literary translation category. Tabacu translated all three volumes of The Transylvanian Trilogy from Hungarian; the Romanian version of the book was published by the Romanian Cultural Institute and the Balassi Institute last year and was presented at the largest book festival of the country, Bucharest Bookfest.
This great masterpiece by Count Miklós Bánffy is considered today as a valuable portrayal, albeit fictional, of Transylvania in the early 20th century. The novel was eventually published — near the end of the century — in English, French, Spanish, German, Italian and Dutch, but the Romanian translation of the trilogy could not be published for many years due to various obstacles.
At the presentation of the book, Tabacu told Hungarian news agency, MTI, "It is very important that the novel now reaches the Romanian community because they can then discover how a Hungarian aristocrat reasoned about the Romanians."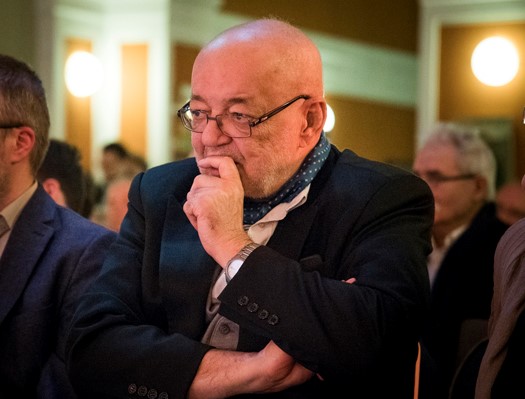 András László Kósa, the director of the Hungarian Cultural Institute in Bucharest, which also contributed to the book's publishing, said at that the presentation of the novel that the Romanian edition of The Transylvanian Trilogy is very important because it shows the real ethnic coexistence that characterizes Transylvania and can bring the Hungarian aristocratic world of Transylvania closer to the Romanian community.
The Writers' Union of Romania also awarded books published in the languages of ethnic minorities in Romania, meaning Hungarian works as well. According to the jury, the best Hungarian book published in 2019 was Csonkamagyar 1919 (Gammy Hungarian 1919) written by Zoltán Hajdú-Farkas, while Imola Borcsa received the Debut award for her short story entitled Magnebéhat.
Title image (in the background Count Miklós Bánffy): The Romanian edition of the novel could not be published for many years due to various obstacles. Photo: pressone.ro