Interview
Sepsi OSK starting in Conference League – interview with László Diószegi
This evening, on July 22nd, the 10-year-old Szekler football club, Sepsi OSK, will play its first qualifying match at an international tournament against FC Spartak Trnava in the UEFA Conference League. The president and owner of the club, László Diószegi, shared his thoughts and feeling with TranslyvaniaNOW about this historical success before his flight to Slovakia. He also talked about his expectations for the coming season and shared some details about the inauguration of their new stadium as well, where there are plans for Sepsi OSK to play friendly matches against DAC, in addition to Ferencváros.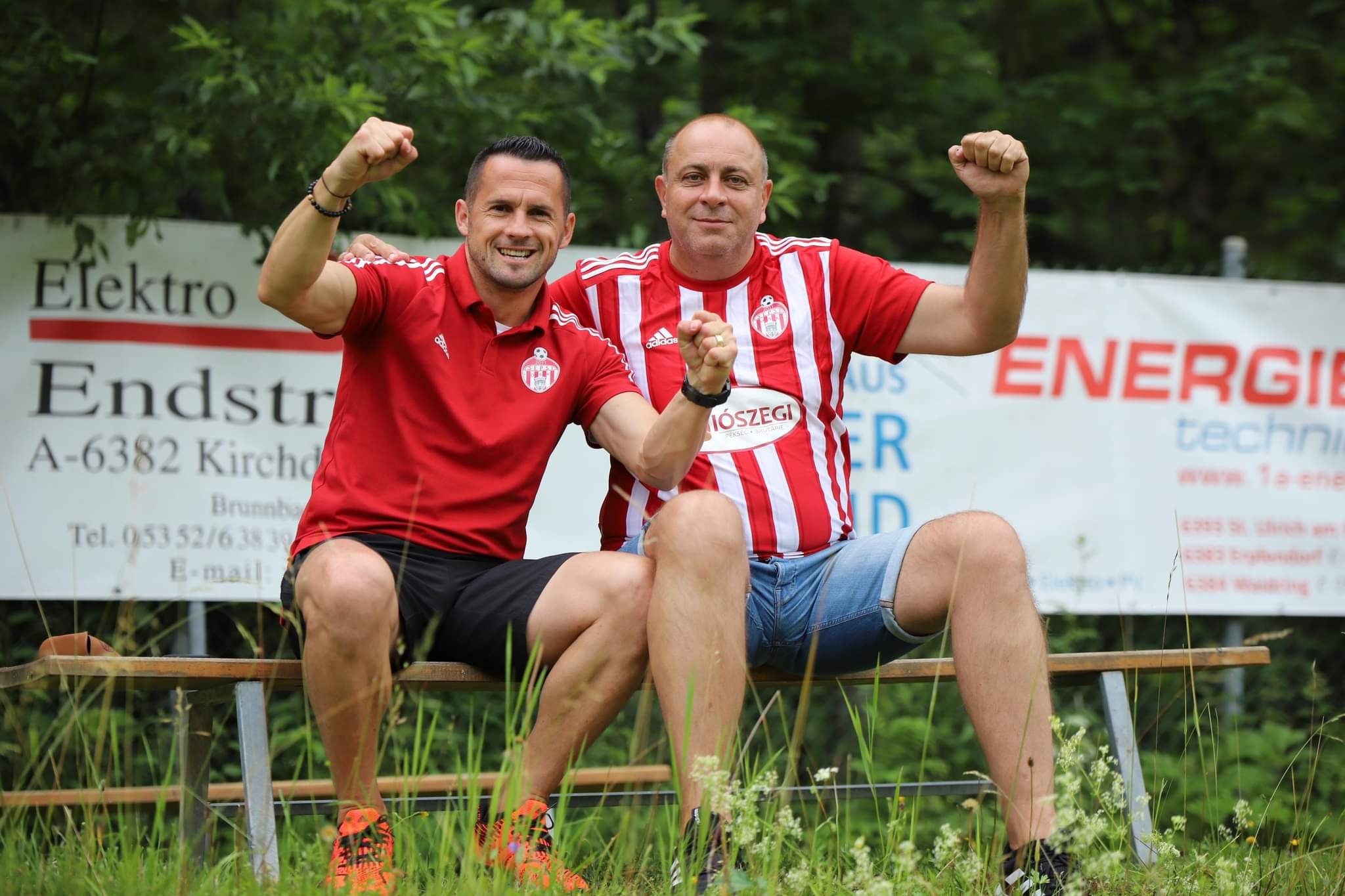 TransylvaniaNOW: The 2021/2022 season of the Romanian National Championships already started last week, where Sepsi OSK had a great start. Last Friday, you defeated Academica Clinceni 2-0 on home turf. Besides the result, how satisfied were you with your team's performance?
László Diószegi: I was completely satisfied, as the opponent did not have a single shot on target, and we dominated the game for 90 minutes. Although we did not succeed at scoring in the first half, we finally got over our dry spell around the 60th minute and scored our first goal from a nice free kick. Then we had a lucky goal too, when the opponent's goalkeeper accidentally let the ball roll through his legs into the goal, but we also had a lot of opportunities, we possessed the ball for 69 percent of the match. I am completely satisfied with the team's performance taking into consideration the fact that this was our first match with the new lineup.
TN: After the first round, Sepsi OSK is leading the championship. What place would you be satisfied with at the end of the season?
L.D: Third place. If we could overtake one of the three big teams [editor's note: CFR, FCSB, Universitatea Craiova] I would be absolutely satisfied. Of course, I am not saying that we do not have even larger aspirations, since last year we came pretty close to finishing second [editor's note: Sepsi OSK finished at the fourth place in the 2020/2021 season], but taking all factors into consideration, I would be satisfied with third place.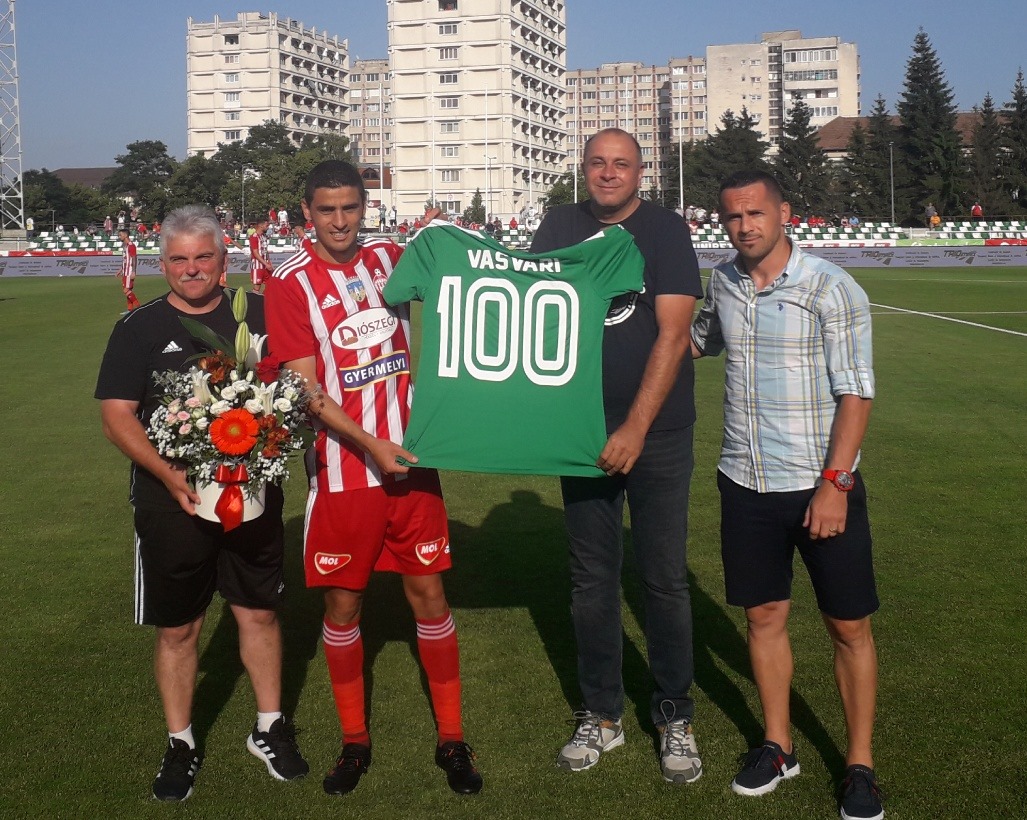 TN: Sepsi is playing its first-ever international cup match on Thursday, by joining the UEFA Conference League in the second qualifying round. You will have an away match in Slovakia in the town of Trnava (Nagyszombat in Hungarian) against FC Spartak Trnava. How is the atmosphere in the team at the moment?
L.D.: The team is in a good mood, but unfortunately we have several players out injured, including Bărbuț, who was injured during the first match on Friday. Niňaj did not start the trainings either and Golofca is also injured. Vașvari had a serious dental  emergency today, and because of this, we cannot take him with us to Nagyszombat either. Isti Fülöp also has some problem with his leg, so it is questionable whether he can step on the field on Thursday or not. The fact that four or five of our key players cannot play is not good news for us, but otherwise, there's a good atmosphere in the team.
And thank God that we have a large squad with quite similar quality players, so I hope that we are going to reach a good result on Thursday in Nagyszombat.
And then next week we will do everything in the return match at home to qualify for the next round.
TN: How many fans can be present next week in the stadium, in Sepsiszentgyörgy/Sfântu Gheorghe for the return match?
L.D.: According to the rules 50 percent of the stadium's capacity can be used. Our stadium capacity is 4,800, meaning that 2,400 supporters can be there. I really hope that we will have these 2,400 spectators because the team will need the support of our fans. But knowing our supporters, the tickets will go quickly.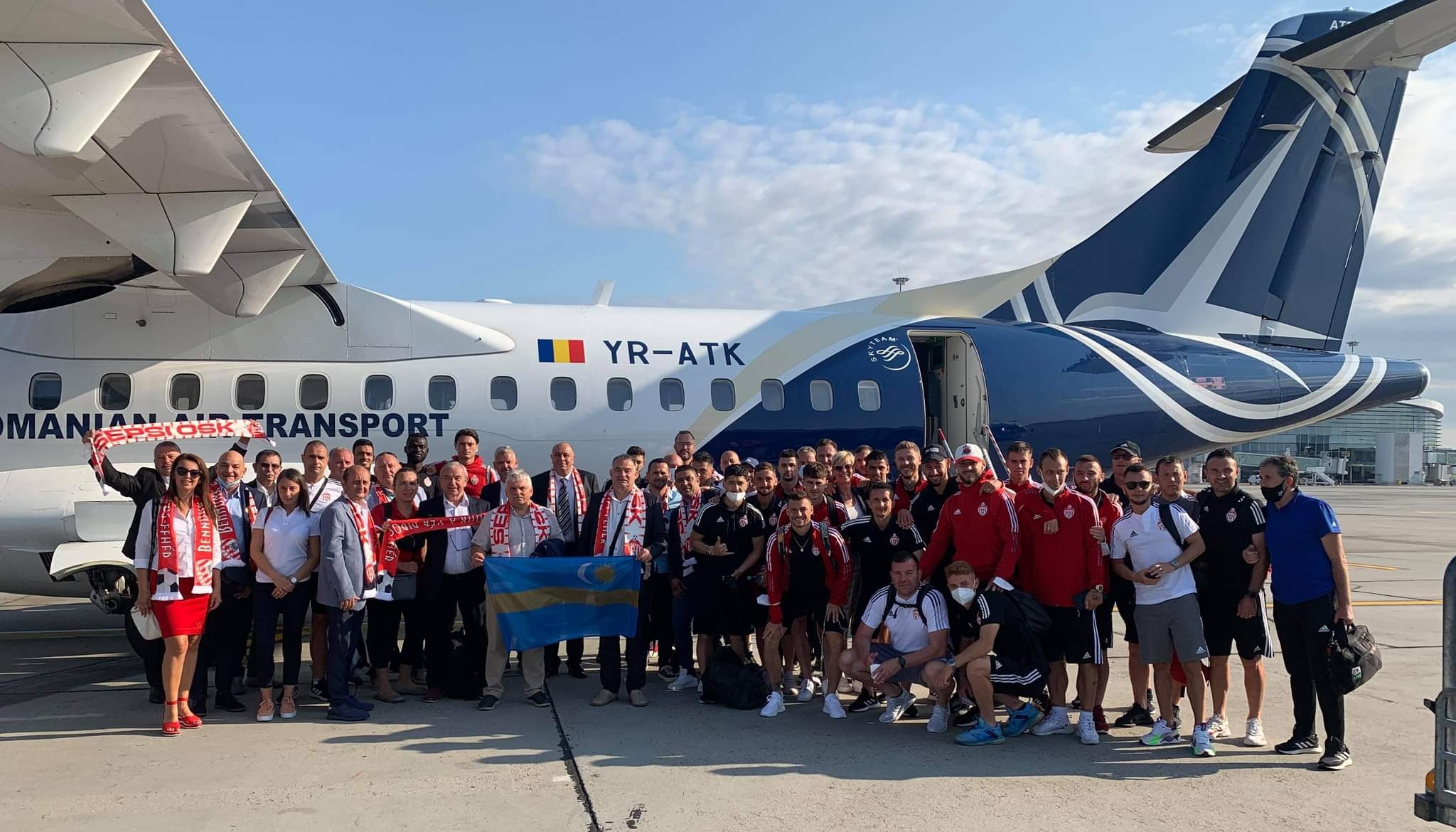 TN: How much did the squad change during the summer?
L.D.: We signed 10 new players, while 12 left the team. We will have no further signings; the squad is ready. The only thing that could happen is that we might lend one or two young players to a second-league team if, due to our large squad, we know they won't be able to play this season for Sepsi OSK. But if we lend them to a team where they could actually play, they could return to us strengthened and then might have a bigger chance of playing.
It is always hard if you have a squad with 28–30 players because all of them would like to play 90 minutes, but only the ones in the best shape can step on the pitch; on the other hand, there are players who cannot even sit on the substitute bench.
But our squad is so large because we have to do well not only in the championship and in the Conference League but also in the Romanian Cup, which will start soon, September or early October, and where we also have a higher goal for this season.
Last year, we made it to the final. We would like to repeat this feat and then, if possible, it would be nice not to be defeated in the final.
TN: The return match against Spartak Trnava will still be held in your old stadium on July 29. But when will the new Sepsi OSK stadium be inaugurated?
L.D.: According to our plans, the inauguration will be on October 8, during the World Cup qualifiers break. We invited the team of DAC [editor's note: a Hungarian club in the Slovakian championship from the town of Dunaszerdahely/Dunajská Streda], where 75 percent of the inhabitants are ethnic Hungarians, and we have already received a positive answer from them; next week we will officially talk about the invitation with Ferencváros [editor's note: the most successful football team of Hungary] as well. I hope that they will also say yes.
We are planning a large-scale, all-day event; I would like to have the official inauguration ceremony in the morning, then in the afternoon, Sepsi OSK would play first against DAC at 5 p.m., and then two hours later against Ferencváros at 7 p.m., while between the two matches we would have a music performance. Because of our large squad, we can form two different teams for the two matches.
Because the football fans in Sepsiszentgyörgy also like DAC and Ferencváros so much, this Ferenváros – Dunaszerdahely – Sepsiszentgyörgy trio would be a huge thing.
Of course, COVID might override these plans because we do not know what the pandemic situation in October will be. If we will not be able to use 100 percent of the stadium's capacity, then it will be pointless. A stadium has to be inaugurated when it is full. It would be a little bit embarrassing to do it, for example, if only 50 percent of the capacity could be used and if only 4,000 people could be there instead of 8,000. Many, many people have been waiting a long time for this inauguration, and I am sure that all the tickets would be gone within hours; we would like to have as many people as possible there to celebrate together with our team, as well as with Ferencváros and DAC.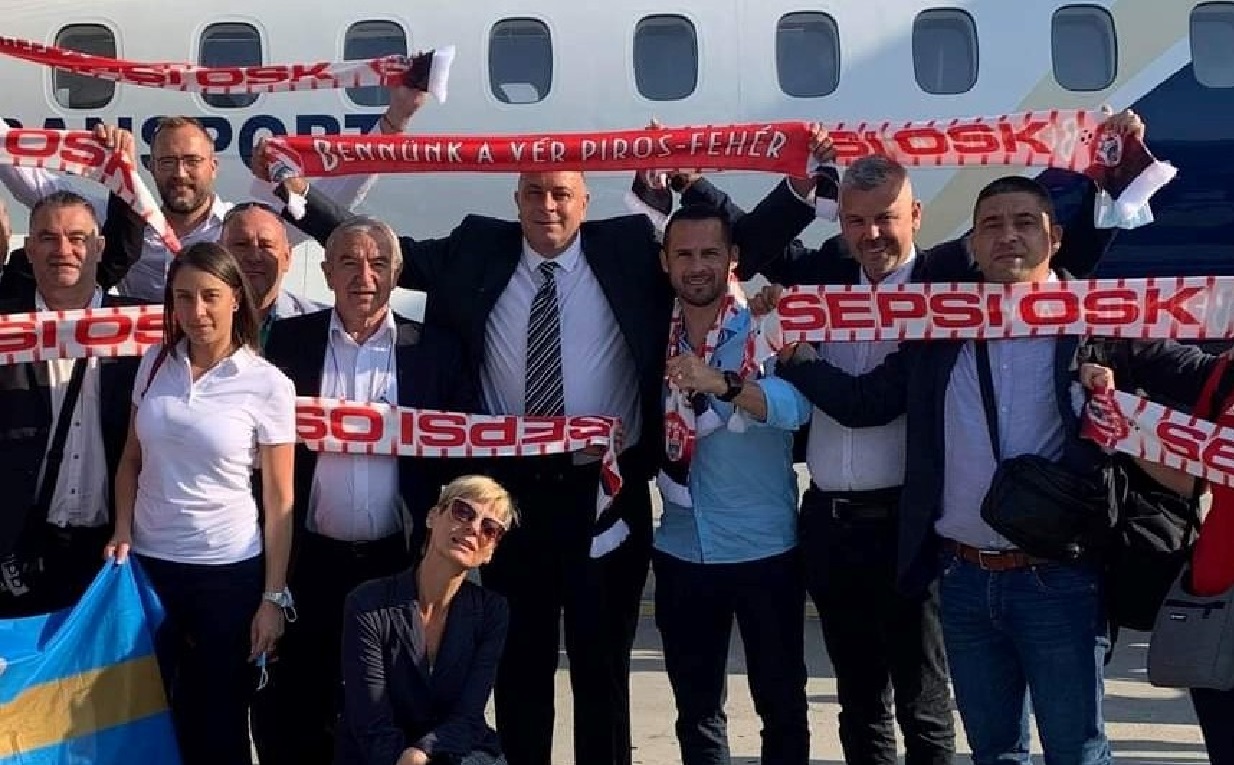 TN: I see, so the pandemic situation might modify the planned date of the new stadium's official inauguration, but what is the situation with the upcoming official matches?
L.D.: If we defeat Spartak Trna now in the Conference League and we can also win the next qualifying round, we are thinking about playing our third home game in the Conference League already in the new stadium before the official inauguration.
In this upcoming qualifying round against Spartak Trna, we can still play our home game in our old stadium, but according to UEFA rules, the following qualifying rounds cannot be hosted there. This means that if we can succeed now and qualify for the next round, our second home game, which will be on August 5 against the winner of the Maccabi Tel-Aviv (ISR) – Sutjeska (MNE) battle, will have to be organized in Ploiești instead of Sepsiszentgyörgy.
If we will also succeed in this round, then from the end of August, we could already play our home Conference League matches in our new stadium, which is 99 percent ready. Only the towers of the main building are not finished yet, but the stadium can be validated by the UEFA even without the towers.
Otherwise, before the official inauguration, we are also planning to do a test match on August 14 in front of 2,000 or 3,000 supporters because first we want to test the lights, the sound system and everything else. And we have chosen this day on purpose because
professional football in Sepsiszentgyörgy will be exactly 100 years old on August 14, as the first professional football club of the town, which was called "Concordia," was officially founded on August 14, 1921.
I emphasize that this is the birthday only of professional football in our town, as amateur football did already exist. Football matches were played in Sepsiszentgyörgy already in 1905 and 1906, in the Székely Mikó College against different teams from Brassó (Brașov).
TN: What kind of result would you be satisfied with in the Conference League?
L.D.: I have been always the kind of man who plans ahead, often even for a year.
I believe that people always have to set goals for themselves because if they do not, then there is nothing to pursue.
The goal I have now is to win our first battle in the Conference League. So, defeat Spartak Trna, and then play two games most probably against Maccabi Tel-Aviv. I say Maccabi Tel-Aviv because I think they are a stronger team than Sutjeska and will defeat them.
Of course, I know that Maccabi Tel-Aviv is a really good professional club, which lost the championship title in Israel only by one point. But if the guys play with as much enthusiasm as they did in the last matches of the previous season, then we might be able to surprise even the Israeli team.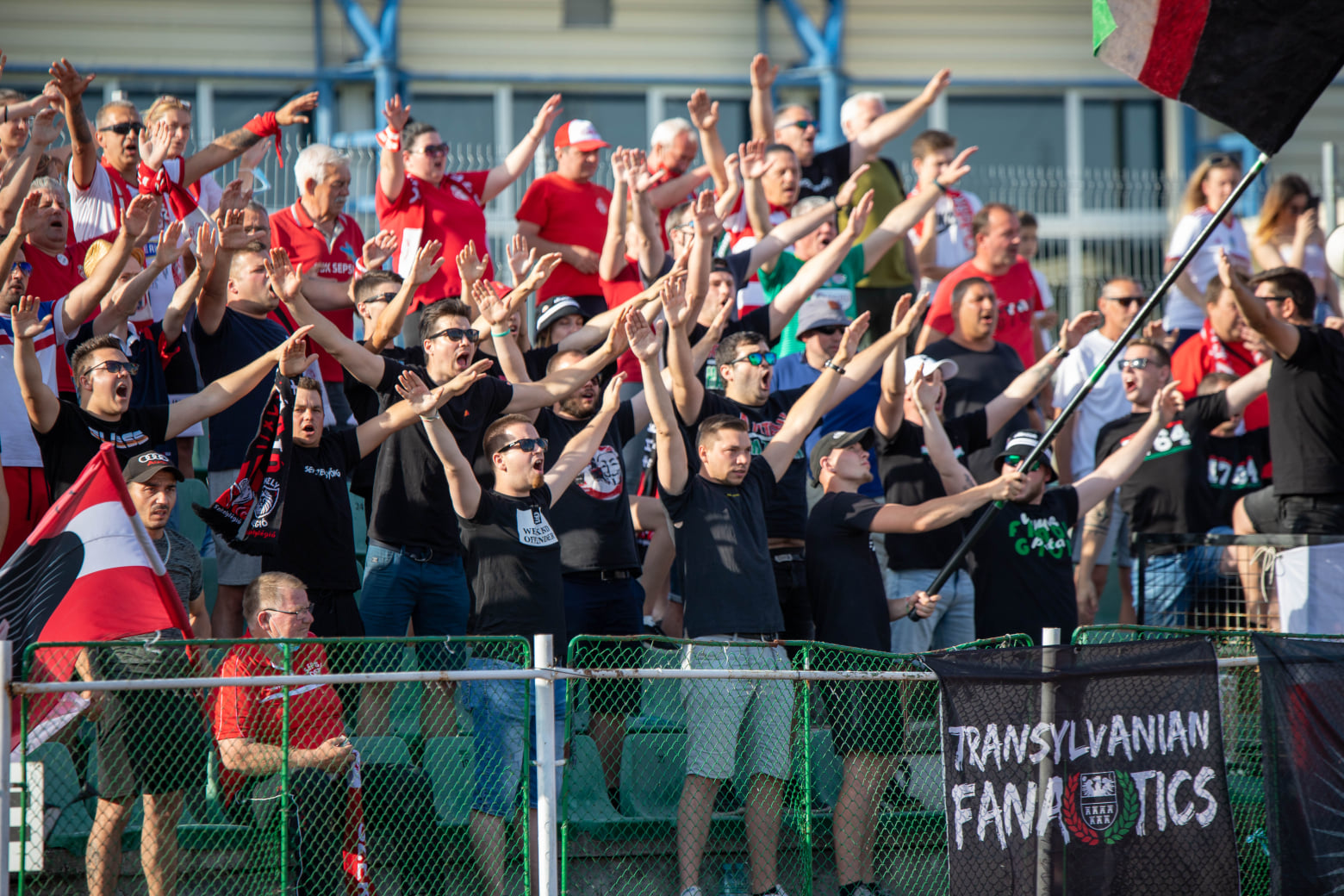 TN: And now, please allow me to ask you a more personal question. What first crossed your mind after you heard the final whistle and ran onto the pitch to celebrate together with the players on May 30, when Sepsi OSK won its last match of the 2020/2021 season against Viitorul 1-0 at home and it became certain that for the first time ever in its history, Sepsi OSK qualified for an international cup?
L.D.: During those couple of seconds, while I was running onto the pitch, it crossed my mind that four years ago, when we first qualified for the first league, I was always asked by journalists what our biggest goal was for the club and what I thought we could achieve?
My answer then to everybody was that I do not ask anything else from the good God, only to be able to play once, only once, an international cup match against any international team in Sepsiszentgyörgy. And now, this wish of mine has been fulfilled.
But everything happened very fast, and when I got to the pitch, I could not think about anything else anymore; instead, I simply abandoned myself to the cloudless joy. Then we ran together with the players to the supporters, thanking them for their presence and for helping us in our last match.
Those 2,400 fans who were there (the stadium could only operate with 50 percent of its capacity then too) supported the guys so enthusiastically that during the game I felt, we just cannot lose that match, no matter what happens.
So, I would like to thank our supporters once more, that despite having to live their everyday lives without the club for almost one and a half years, they are still with us. They still support us mentally, and they still follow what is happening with the club via social media platforms. Their love toward the team has not been dampened.
If you would like to read more about Sepsi OSK's history, click here!
Title image: László Diószegi goes to the fans to thank them for their support right after Sepsi OSK qualified for the Conference League on May 30, 2021. (Photo: Sepsi OSK Facebook)