Issues
Romanian mountain resort mayor to destroy forested mountain slope
Visitors to the Romanian mountain resort of Sinaia exiting the train station now take a majestic stairway on a forested mountain slope to the Hotel Caraiman – both buildings A-listed architectural monuments. But the local mayor has other ideas: he wants to replace the slope with a seven-story parking building and destroy 2,500 square meters of pine forest in the process.
Sinaia, on the southern slopes of the Carpathian mountains is home to the Neo-Renaissance Peleș Castle built for King Carol I while the Royal Train Station – at the time reserved exclusively for the monarch's family and theirs guests – was completed in 1913.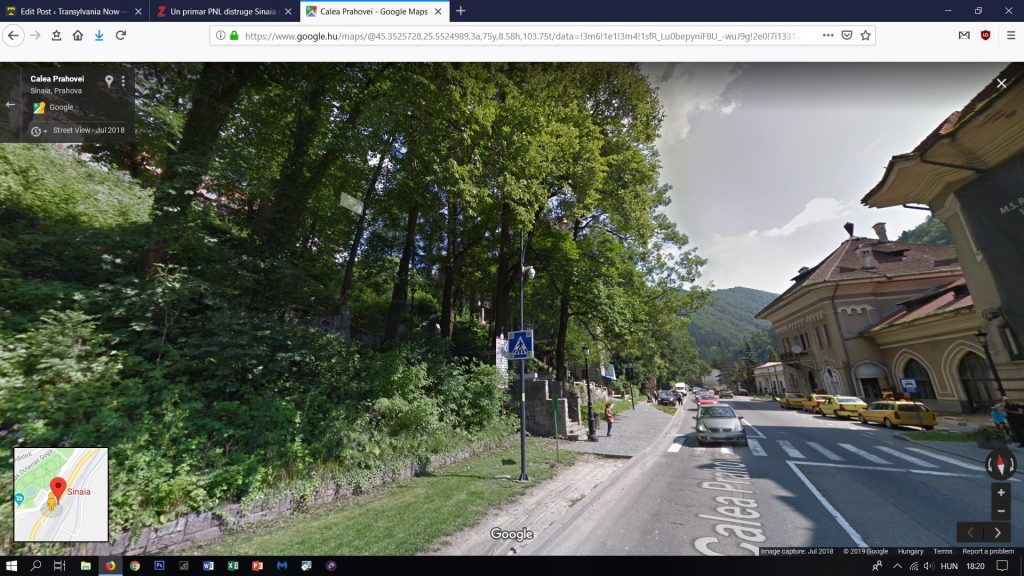 Sinaia train station and the forested stairway (Google Maps)
Mayor Vlad Oprea (from the opposition PNL party) now plans to built a parking building instead, and the Ministry of Culture led by Daniel Breaz also gave its accord to the construction. The contractor of the 28 meters high parking lot is a one-man firm with no prior projects, as is the architectural firm that made the design.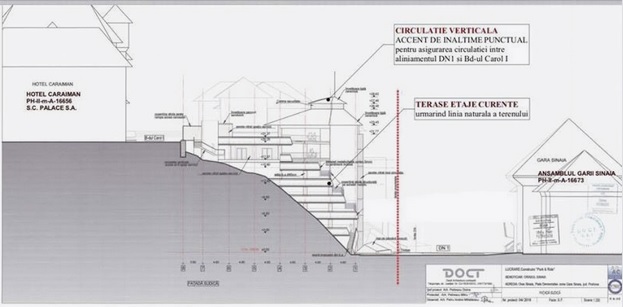 The planned parking building, incorporating a lift to the hotel (source: ziare,com)
In the environmental impact study attached to the project documents the mayor claims that the building's lift will increase public transportation and pedestrian traffic, resulting in a reduction in CO2 emission by 155 tons per year. In a recent television interview Daniel Breaz. when asked why his ministry – involved because of the two historical monuments – gave its accord to the construction, he first replied that the ministry was one of several state institutions to give its accord, which was given by a commission deciding on several projects at the time.
When confronted with the fact that the environmental study was patently false, the minister said that should anyone or any group opposed to the construction ask for a new study, his ministry would do so, saying that "50 or even 10 local citizens should come and sign". He seemed ignorant of the fact that there is already such a petition signed by over 6,000 Romanians asking for the plan to be scrapped, saying that his ministry did not receive any such document.
It seems that in Romania – as in most other countries – business interests supersede political barriers.
Title image: period postcard of Sinaia train station and Hotel Caraiman