Sport
Bölöni is the new coach of Panathinaikos
László Bölöni signed for two seasons with Panathinaikos FC and was officially presented today at a press conference in Athens. The Greek club is going through a critical period now, without a victory in the first four stages and with only two points after two draws and two defeats.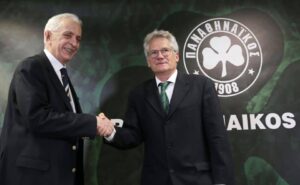 After arriving to Athens Sunday night, Bölöni signed a two-season-long contract with Panathinaikos on Monday and held his first training session with the players that same day. Then on Tuesday, the club's president, Manos Mavrokoukoulakis, officially presented him at a press conference, where Bölöni was asked about what symptoms Panathinaikos is suffering from and what treatment he is preparing.
The 67-year-old football coach, who besides playing football professionally also practiced pediatric dentistry on a daily basis in Marosvásárhely (Târgu Mureș) for years, answered as a dentist would:
"First I have to discover the condition; so days of intense work await me. We need to diagnose the patient and give him the best medication. I used to be a dentist. I'll see, maybe radical treatment or implants will be needed. I was shocked by the lack of trust I noticed in the team."
– Bölöni said.
He also referred to the players: "I was a footballer and I know that my personal ego is important, but the team is just as important. Football today is an industry where the players have interests, but the team prevails. If the boys can understand this, Panathinaikos will find a faster way to win points and matches."
"I'm a European coach; I don't care what country the player is from: Spain, Portugal, Greece, Turkey. I'm just interested in playing well," he added.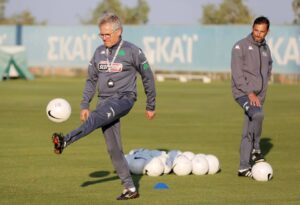 Bölöni is not the first Hungarian coach at Panathinaikos
Bölöni is not the first Hungarian to coach Panathinaikos, but the fourth. And it is an interesting fact that the club reached its biggest ever success with one of them, when in 1971, Ferenc Puskás lead Panathinaikos to the finals of the European Cup (predecessor of the UEFA Champions League) where they played against Ajax Amsterdam.
Hungarian coaches of Panathinaikos FC:
László Bölöni (2020–)
Ferenc Puskás (1970-1974)
Gyula Lázár (1967-1968)
Béla Guttmann (1967)
Related: For more on László Bölöni's incredible career, including his discovery of international football star Cristiano Ronaldo, take a look at Coach who discovered Ronaldo could join Romanian first league.
Title image: László Bölöni as the new coach of Panathinaikos on October 20, 2020. (Photo: Panathinaikos FC Facebook)