Sport
László Bölöni-coached Panathinaikos beat main rival Olympiacos
Panathinaikos FC, coached by László Bölöni, defeated its main rival Olympiacos Piraeus on Sunday in a home game, with a score of 2-1, in the 22nd stage of the Greek championship.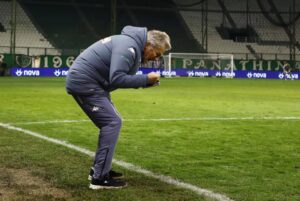 László Bölöni became the coach of Panathinaikos only four months ago, but he already seems to be doing a pretty impressive job with the first league Greek football club. Out of its last 18 matches in the championship, since Bölöni arrived, the more than 100-year-old club has won 12 and tied three times while only losing three games.
"Derby of the eternal enemies"
Sunday night, the Athens-based club hosted their long-term rival Olympiacos Piraeus in their stadium nicknamed "the cage," where they play their home games during the pandemic; they won 2-1 in a huge battle. The clash between the two most successful Greek teams is similar, for example, to the one in Spain between Barcelona and Real Madrid — in Greece, the rivalry is referred to as the "Derby of the eternal enemies" or "the Mother of all battles." So, it was not a surprise that Panathinaikos' victory became the front-page story in Greek papers on Monday morning.
Maurício scored the first goal for the home team in the 6th minute (1-0), then in the second half, Senkharé scored a second one in the 73rd (2-0). Nine minutes later, El Arabi scored one for Olympiacos (2-1), but the guest team could not equalize before the end of the game, and they suffered their first loss in the 2020-2021 season.
Olympiacos is leading the championship with 57 points, while Sunday evening, after the derby, Panathinaikos was in third place with 41 points.
"I'm thankful to all the players, also to those who only could sit on the bench, and to those who this time could not get into the squad at all, because everybody made a big effort for this victory during the preparation for this unique match."
– László Bölöni told Hungarian sports newspaper nemzetisport.hu. He added:
"Everything happened as we planned; the players absolutely followed the instructions and the tactics prepared by me and my assistants, including Serhiy Kuznetsov. They played focused and with enormous enthusiasm, which resulted in this success. We know we brought huge joy to our fans, who showed their gratitude for the victory by lighting fireworks outside of the stadium."
Title image: Panathinaikos players in their locker room after winning the derby against Olympiacos on February 14, 2021. (Image: Panathinaikos FCYouTube channel)