Crime
VIDEO: Romanian teenage biker caught in England after speeding at 290 km/h
A Romanian teenage motorcyclist shocked the police in the United Kingdom when he hit speeds of up to 290 km/h (180 mph) in an extraordinary police chase in May. Yesterday, after pleading guilty, Metropolitan Police released the footage of the incident.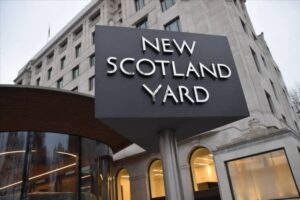 The 19-year-old, Marian Vasilică Drăgoi, pleaded guilty to dangerous driving, failing to stop for police, driving a motor vehicle without a license, and driving without any insurance at Highbury Corner Magistrates' Court in London on Monday, November 23.
The incident itself took place on May 20, when the teen was spotted by police officers around 9:20 p.m. as he raced by them on his motorcycle in a speed-restricted area, Turnpike Lane in North London. Since he did not want to stop for police, who had their sirens on, a half-hour pursuit ensued through North London and three other counties.
Metropolitan Police officers even called in a helicopter to help track the biker, who first hit speeds of 110 km/h (70 mph) in a 30 km/h (20 mph) zone while driving on the wrong side of the road and ignoring a series of stop lights. The police officers then chased Drăgoi onto the M1 highway, heading towards Hertfordshire, where he was clocked by the helicopter speeding at 290 km/h (150 mph).
"At one point of the pursuit, he went straight through every single red light he was confronted with, drove on the wrong side of the road in his attempt to get away and even went onto sidewalks.
Throughout the pursuit, he continued to ride in a dangerous manner and only had the helicopter tracking him — without any police vehicles on the ground anywhere near him. He failed to stop for police and continued to put his own life and the lives of other drivers, as well as innocent pedestrians, in serious danger," said Sergeant Tony McGovern, the officer who arrested Drăgoi.
Metropolitan Police released the footage of the incident on November 25, 2020. (Video: met.police.uk)
Ran out of gas and caught at a gas station
Running out of gas, the runaway motorcyclist finally drove down the shoulder of the motorway in the wrong direction to get to a gas station in Buckinghamshire, where police officers were able to move in and capture him before he could finish refueling, ending a chase that had lasted more than 30 minutes.
Despite using a fake license plate, officers discovered he was the rightful owner of the bike but did not have a license nor insurance.
The 19-year-old is to be sentenced in January next year.
Title image: Romanian teenage biker hitting speeds of up to 290 km/h in the UK on May 20, 2020. (Image: met.police.uk)