History
Unitarian Church founder Ferenc Dávid gets statue in Kolozsvár
A statue of Ferenc Dávid, the founder of the Unitarian Church of Transylvania was unveiled on Saturday in Kolozsvár (Cluj, Romania).
Dávid (1520-1579) was one of the leading figures of the Protestant Reformation and also the first martyr of the church founded by him.
Born around 1520 in Kolozsvár to a tanner of Saxon nationality, Dávid pursued theological studies in Wittemberg and Frankfurt am Oder, upon completion of those returning to become a Roman Catholic parish priest, but soon thereafter joined the Lutheran arm of the Reformation.
In 1568, under the influence of Hungarian King and first Transylvanian Prince János Zsigmond (John Sigismund), the Diet of Torda (now Turda, Romania) passed the Edict of Torda, considered the world's first law of religious freedom.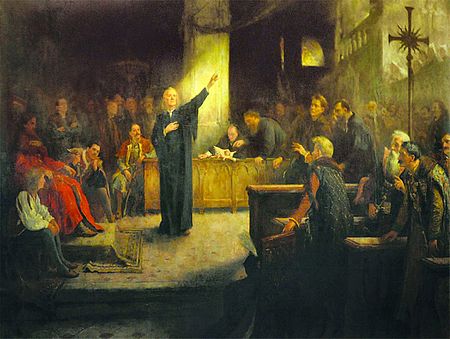 Ferenc Dávid speaking at the 1568 Diet of Torda. (painting by Alaldár Körösfői-Kriesch)
In 1571, however, János Zsigmond was succeeded by staunch Roman Catholic István Báthory at the helm of Transylvania, who instituted a policy of religious persecution. Dávid was imprisoned for life in 1572 and died in the prison of the Déva Castle in 1579.
The bronze statue is the work of multiple award winner Transylvanian sculptor Zoltán Gergely (1973).
Title image: The unveiling of the statue of Ferenc Dávid, founder of the Unitarian Church in Kolozsvár (Cluj, Romania) (MTI/Gábor Kiss)