Arts, Food & Free Time
TransylvaniaNOW photographer wins award in Budapest
Within the confines of the project "Support for the Christian Creative Art in the Carpathian Basin," a photo exhibition was officially opened in Budapest on Tuesday. Twenty-two pictures can be seen in the Judit Józsa Gallery, out of which more than 100 entries arrived from Hungarian photographers living all over the Carpathian Basin (but outside of the current borders of Hungary) for the contest organized by the Fund for the Evangelization of the Carpathian Basin Hungarians (KÁMME). During the opening ceremony, the best photographers were also given awards, including TransylvaniaNOW photographer Vajk István Szigeti.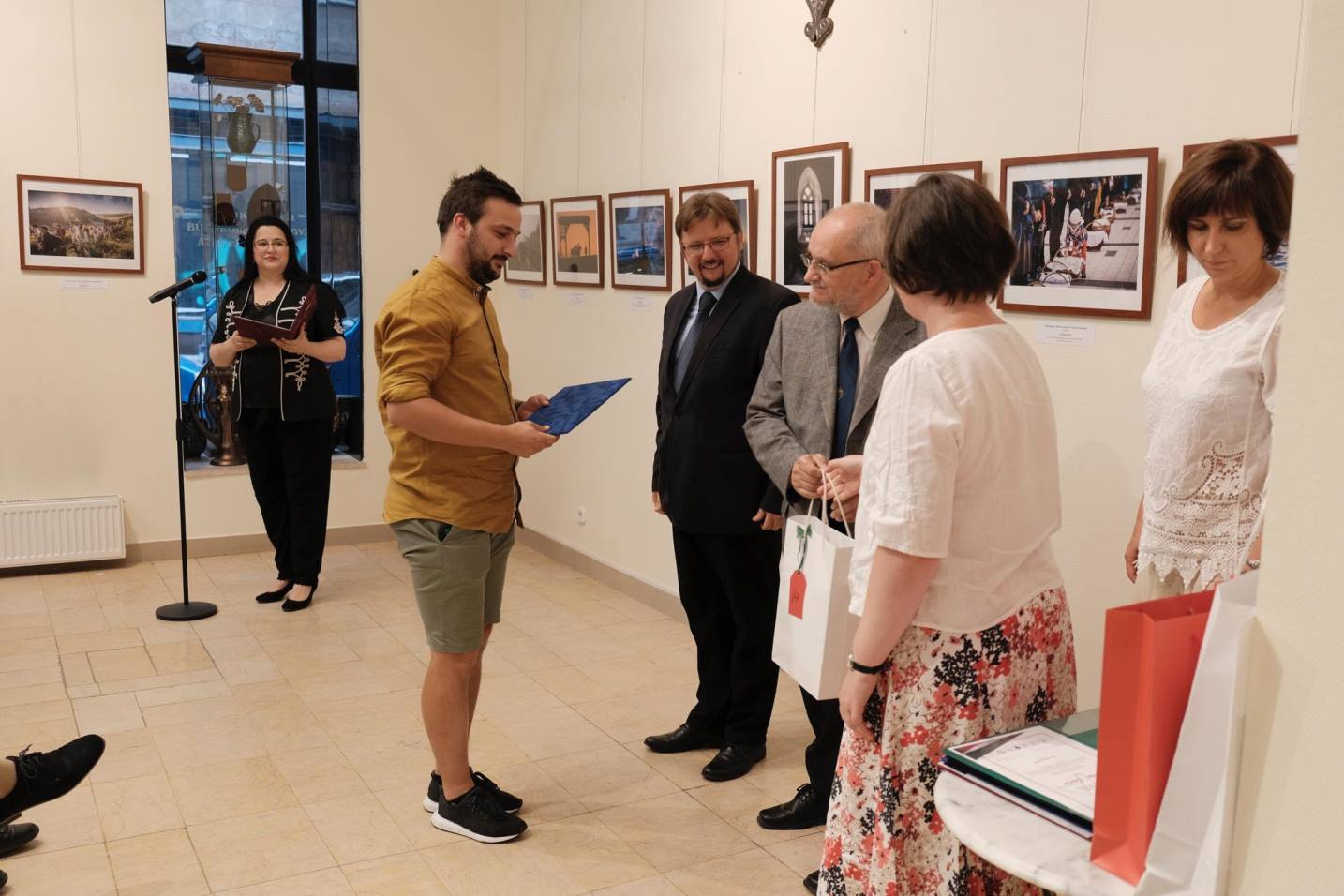 The opening ceremony was hosted by the Székelyudvarhely/Odorheiu Secuiesc–born now Budapest-based ceramics artist Judit Józsa in her own gallery in downtown Budapest, where the exhibition will be open until September 9. (Judit Józsa Gallery: Budapest, V. district, Városház Street 1.) Attendance was so high at the event that latecomers could listen to the opening speeches and the beautiful songs performed between them by Krisztina Kovács from Korond/Corund, only by standing in the doorway. The jury awarded both the best amateur and professional photographers in the following two categories: "The 2019 Csíksomlyó/Șumuleu Ciuc Pilgrimage or the Csíksomlyó Visit of Pope Francis" and "Hungarian Christian Values in the Carpathian Basin". Then the event was closed by joint prayer, giving a powerful and appropriate ending to the event.
Korond-born folk singer Krisztina Kovács fascinated the audience with songs from her hometown.
"Our goal is that Christian evangelization should continue to be part of our everyday life, because we think that this is crucial for the Hungarian nation's survival and for the representation of our European cultural values, as well,"
said President of KÁMME Foundation, Péter Krisztián Zachar, for M5 Hungarian Cultural Television after the opening ceremony. He then continued: "Also, the visitors to this exhibition can see that these pictures are real snapshots of the everyday life of people showing how small communities or pilgrims are living their faith."
Results of the photo contest
"The 2019 Csíksomlyó Pilgrimage or the Csíksomlyó Visit of Pope Francis" category
Amateur photographers:
prize: András Péter: After Pentecost (Pünkösd után)
prize: András Péter: At the Dawn of Pentecost (Pünkösd hajnalán)
prize: Vajk István Szigeti: Ordeal (Megpróbáltatás)
Special award
Tibor Steigerwald: A Taste of Sunshine (A napfény íze)
Albert Fekete: Look down to your people (Nézz le népedre)
Professional photographers:
This award was not handed out.
"Hungarian Christian Values in the Carpathian Basin" category
Amateur photographers:
prize: András Péter: Evening Piety (Esti áhítat)
prize : Zsolt Bikfalvi: Menyő (Mineu in Romanian)
prize: András Péter: First Thought of My Heart (Szívem első gondolatja)
Special award
Tibor Steigerwald: Kenosis (Kenózis)
Vajk István Szigeti: Csángók to Holy Mary (Csángók Szűz Máriához)
János Fejfár: In memory of Vilmos Apor (Apor Vilmos emlékére)
Professional photographers:
prize: Zsolt-Loránd Halmágyi: Finishing Touches (Utolsó simítások)
prize: Mihály Novák: View from My Window (Kilátás az ablakomból)
prize: Edvárd Molnár: Aracs III. (Arača III. in Serbian)
Title image: Organizers, jury members, and winning photographers after the opening ceremony in the Judit Józsa Gallery in Budapest on August 6, 2019. (Photo: Csongor G. Szigeti)