Blog
A photographer who presents and preserves values: István Vajk Szigeti
Celebrations are in order for our news portal, as our photographer colleague, István Szigeti Vajk, who is an architect by profession, has recently won more than one prize at a Hungarian photo contest which had as main objective the conservation and promotion of the Christian and cultural values of the communities living in the Carpathian basin.
The contest was announced by the Foundation for the Evangelization of Hungarians in the Carpathian basin, an organization which engages in projects that serve the development of society and culture. Around 100 works were sent in by photographers living in Hungarian communities outside Hungary's borders. The photos were assessed by a professional jury, composed by several visual artists, the winners were announced on the 17th of July.
In the category of amateur photographers István Szigeti Vajk has won 3rd prize with his work entitled The ordeal, belonging to the first theme of the competition, the visit of Pope Francis to Csíksomlyó (Miercurea-Ciuc). He has won special award in the second theme announced as well, concerning the Hungarian and Christian values in the Carpathian basin. The title of this second award winning work is Csángós to the Holy Mary.
The creations considered to be the best will be presented in an exhibition combined with the award-giving ceremony on the 6th of August in Budapest, in the Judit Józsa Gallery (V. district, Városház street nr. 1.), at 18:00 hours. The jury has chosen a third work of our colleague as well to be presented at the exhibition, entitled The departure of the Cross bearers from Szárhegy (Gyergyószárhegy, Lăzarea). The photo exhibition will be open between August the 6th – September the 9th, entrance is free.
This successful contest is not the first professional acknowledgement of our colleague though: he has also won the award for the most original photography published on Instagram in 2016, in a contest proposed by the RMDSZ, the political party representing Hungarians in the Romanian parliament. The photographers entering the competition were asked to present in something they were proud of as Transylvanians. The photos entered in the contest captured several Transylvanian sceneries, buildings, customs, food and moments with remarkable atmosphere. According to the professional jury, the photo of István Szigeti Vajk, depicting a little boy in popular garments definitely stood out between the other creations, mostly in the organization of the picture space, and refined compositional playfulness.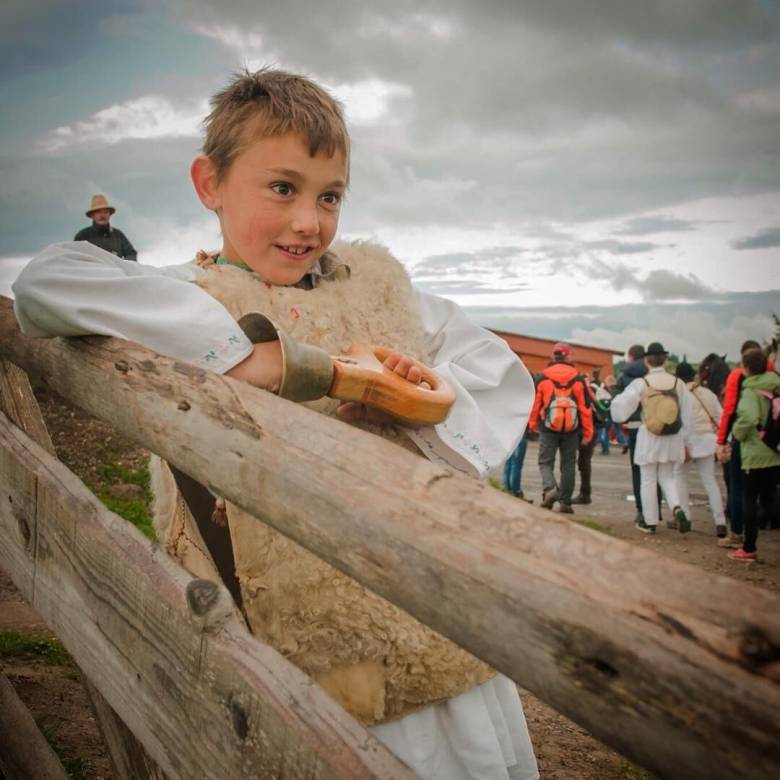 This photo of István Vajk Szigeti was awarded for its originality in 2016
Congratulations, and keep on the good work!
Title image: This is how a committed photographer looks like
Source: Facebook