Sport
Transylvania hosts the world's toughest hard enduro rally
Nagyszeben/Sibiu became the capital of the world's toughest hard enduro Rallye as it hosted Red Bull Romaniacs for the sixteenth time. The race is spread over five days with pure hard enduro racing action, kicking off with the Prolog, a time trial in downtown Nagyszeben/Sibiu, followed by four off-road days during which the competitors race against the clock and take the challenge of the world's most beautiful hard enduro tracks in the region around Sibiu in the Southern Carpathian Mountains of Romania.
Competitors have to master the art of navigating on visually marked tracks using GPS devices. The amazing wilderness, and incredible uphill and downhill sections in a stunning landscape, combined with professional organization, result in the toughest and at the same time most memorable experience for all participants.
The unique experience and the challenges attract the biggest names of hard enduro such as Graham Jarvis, Jonny Walker, Wade Young, Alfredo Gomez, and Billy Bolt. Although the 44-year-old Graham Jarvis (UK, Husqvarna) – also known as the Carpathian King – had topped the leaderboard for the past six years (hence the nickname), he couldn't secure his seventh win this year but ranked third after four days of heavy battle against rain, terrain, and competitors.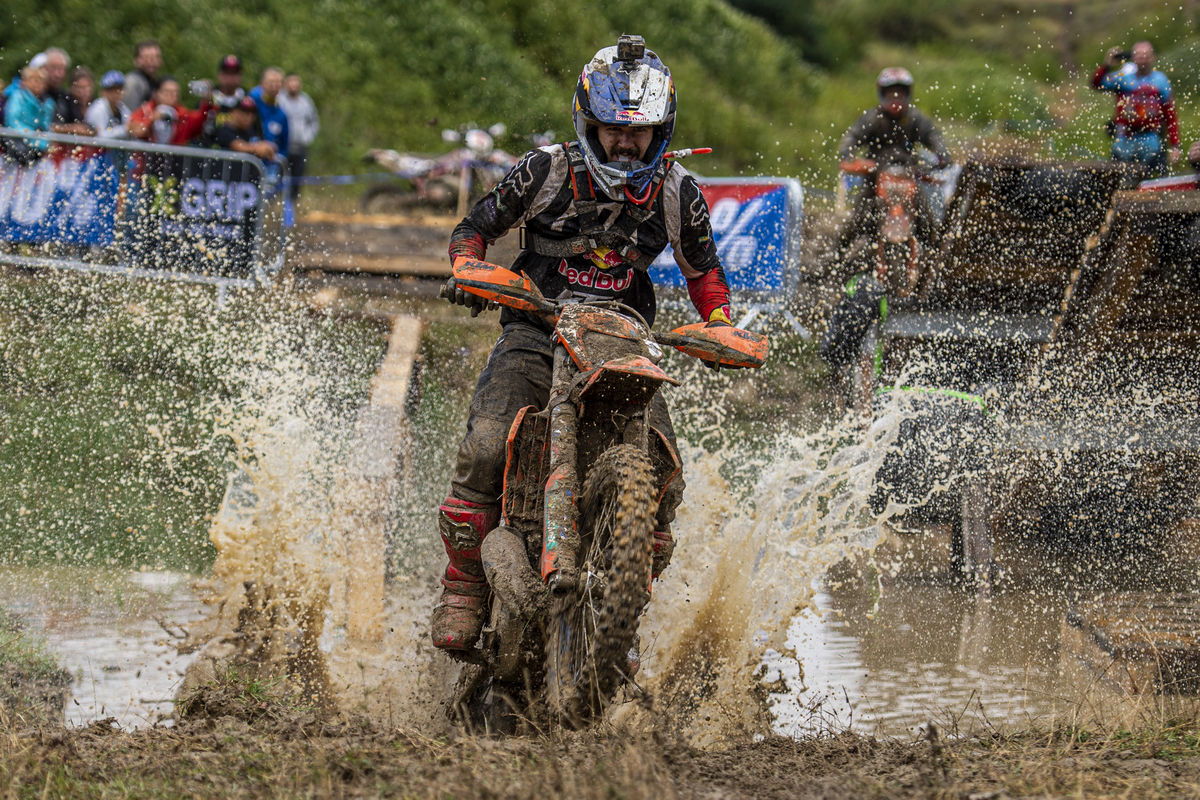 After 571 km spread out over four off-road days and a total riding time of 20 hours 39 minutes and 20 seconds, the 21-year-old Manuel Lettenbichler (Flatsching Fast Factory Team), from Germany, achieved his first top position on the podium, just ten years after his father secured a Red Bull Romaniacs win. The fourth off-road day kicked off with Manuel Lettenbichler starting at 07:00 a.m. when it was already raining. The competitors had to climb a good 10,000 meters throughout the entire day, which had a total riding distance of 124 km around Sibiu. They faced the following signature sections: Ass Slide, Snooze, Momentum, Too Many Zicky Zacky, Extreme Miorita, Flying Ford, Hug the Tree, and The Rock. It was a classic Romaniacs mix of forest and alpine riding in the deep valleys around Sibiu and Paltinis. The competition was very tough between Alfredo Gomez (ESP, Husqvarna) and Lettenbichler, but the German rider secured his win by mastering the difficult uphills, including the notorious hill climb at the finish in Gusterita without any major mistakes.
The final results:
Manuel Lettenbichler (DEU, Flatschingfast Factory Team): 20 hours 39 minutes 51 seconds
Alfredo Gomez Cantero (ESP, Rockstar Energy Husqvarna Factory Racing): 20 hours 42 minutes 15 seconds (+2m 24s)
Graham Jarvis (GBR Rockstar Energy Husqvarna Factory Racing): 20h 52m 12s (+12m 21s)
Taddy Blazusiak (POL, Red Bull KTM Factory Racing): 21h 25m 36s (+45m 45s)
Jonny Walker (GBR, Red Bull KTM Factory Racing): 21h 30m 40s (+50m 49s)
Billy Bolt (UK, Rockstar Energy Husqvarna Factory Racing): 23h 16m 34s (+2h 36m 43s)
Mario Roman (ESP, Sherco Factory Racing Team): 23h 36m 25s (2h 56m 34s)
David Cyprian (CZ, JD Gunnex KTM): 23h 42m 30s (+4h 2m 39s)
Pol Tarrés (ESP, TTR Officine Rigamonti Husqvarna): 25h 8m 26s (4h +28m 35s)
Josep Garcia Montana (ESP, Red Bull KTM Factory Racing): 25h 8m 26s (+4h 28m 35s)
Top 3 Results Silver, Bronze & Iron Class
Top 3 Results – Silver Class
Josu Artola (ESP): 18h 57m 20s
Sam Winterburn (GBR): 19h 39m 55s (+42m 35s)
Alberto Aramburu (ESP): 20h 18m 14s (+1h 20m 54s)
Top 3 Results – Bronze Class
Marcin Weglarz (POL): 17h 43m 32s
Eric Slominski (USA): 17h 53m 43s (+10m 11s)
Jean-Michel Vigand (ROU): 18h 3m 4s (+19m 32s)
Top 3 Results – Iron Class
Anna Schmölzl (GER) 16h 9m 43s
Danny Melvin (USA) 16h 31m 13s (+21m 30s)
Eduardo Martinez Lopez (MEX) 16h 35m 17s (+25m 34s)
And one more thing: Anna Schmölzl from Germany won the Iron Class of Red Bull Romaniacs. This is the first time ever that a woman has won a Red Bull Romaniacs class. The complete list is available on the official Red Bull Romaniacs website.