Adventure
Transybike – showing off the charming, hidden side of Transylvania
After seven years working as a professional actor in Romania and Slovakia, Szabolcs Tyukodi chose a different way of living. He became a dining room server on one of the world's top cruise lines. After traveling all around the world and gaining experience in the highest levels of hospitality, he came back to his country to make a difference. He now combines career with his passion: cycling, while helping tourists discover another side of one of most unique and fascinating places in Europe: Transylvania.
TransyBike.com and Traventuria.ro, the agencies Szabolcs Tyukodi founded offer fully organized cycling vacations in Transylvania. He has chosen for his packages representative regions of Transylvania, that are also cultural, natural and touristic treasure troves. Szabolcs believes that the most important thing during a tour is to discover the spirit of the place. The daily distances are 40 – 60 km (30 – 40 miles) cycling on unpaved, forest and field roads from village to village, avoiding traffic as much as possible. His tours don't require extreme athletic efforts: anyone in an average physical condition can complete one.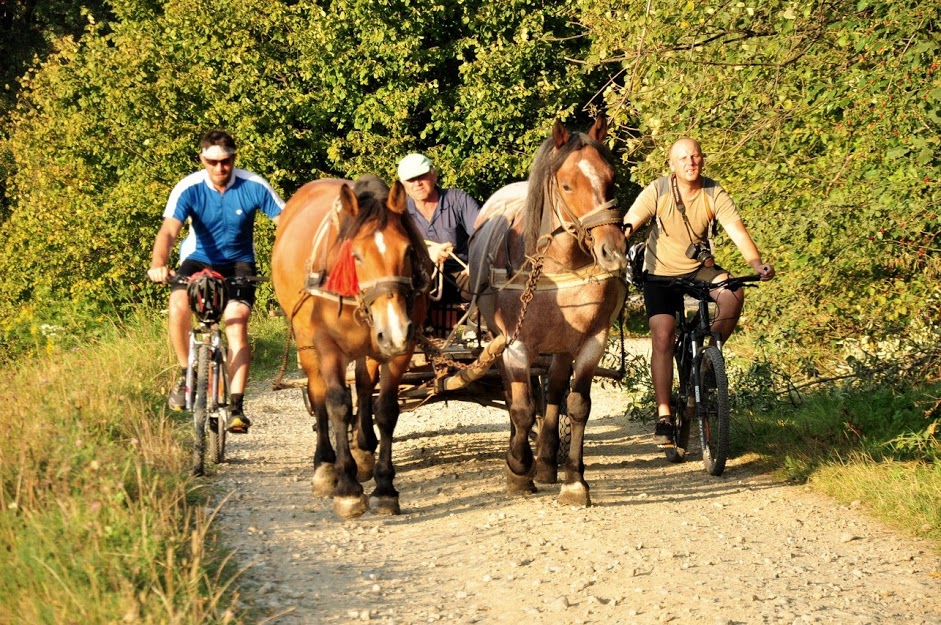 TransylvaniaNOW: What do international tourists search for? Do you see going back to the basics, to simple close-to-nature, personalized touristic packages as the key? Are people fed up with five-stars hotels and common ways of traveling and is returning to the basics starting to become a trend?
Szabolcs Tyukodi: Active tourism, yes, is a bit different from the traditional one, it is a niche. Romania still has a lot to learn in the field of mass tourism, because it does not use its resources to the fullest and that still has a negative impact on its image. Romania has a lot of potential, but adventurous tourists with curiosity and a sense of culture have to be offered something totally different from mass tourism. Tourists expect their tour operator to be authentic, to offer excellent service and hospitality, to be on the same wavelength with the cycling group and to maintain the quality of the service on the long run. People start to prefer authentic experiences. Romania is still a place where some people live close to the untouched nature and who work the fields with ancient farming methods. But Romania is a dramatically changing country and in 10-15 years we will probably no longer see haystacks on the fields and horse carts. I always advise my clients that this is the time to come to Romania.
A favorite event of the international tourists is when cows are coming home in the evening from pasture, a thing quite normal in the rural life in Romania. For the Western tourists these are really unique and special moments. We also get involved in the local life, we visit craftsmen, local food providers where we can taste very good quality products of the local farmers and enjoy their hospitality. These are the details which international tourists are looking for. Active tourism is becoming a trend all over the world. Within the active tourism segment the cycling tourism is growing also and the key to success is: personalized packages, authentic experiences, great hospitality. Also in Romania more and more people are cycling and walking, choose to eat healthy and prefer to have a healthy vacation. We also have requests to organize tours with families with kids. So definitely, active tourism is a growing trend. It is a very interesting and beautiful field to work in.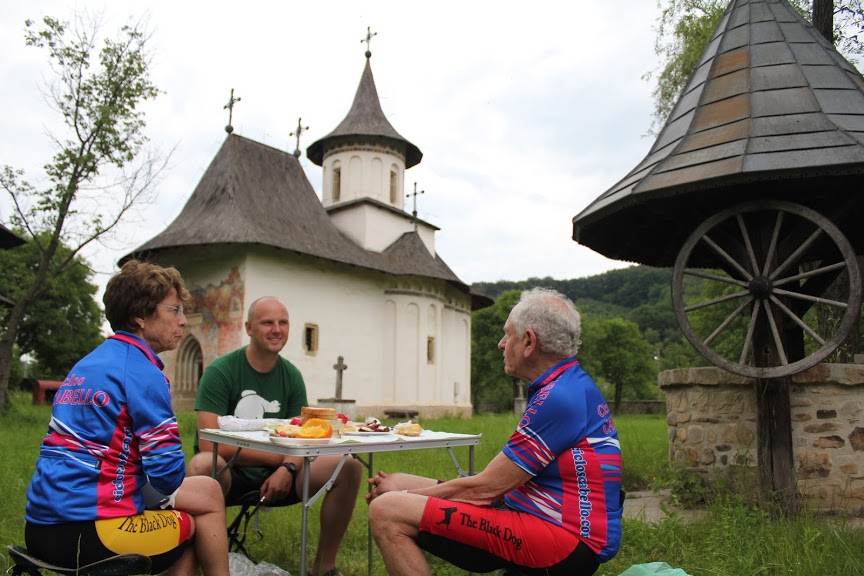 TransylvaniaNOW: On the Transybike website you say you enter peoples lives/houses on the route. What does this mean?
Szabolcs Tyukodi: Yes, we literally do enter people's houses. In the rural areas people are very friendly but still, most of the time everything is organized and booked.  If there is, let's say a local craftsman or a gypsy basket weaver we go and visit him in advance. These people are very welcoming. Or, after the cows' returning home from pasture we often go to the courtyard and check out the milking procedure. Thus we experience a lot of the closing time of the day of people living in the rural regions. People are very kind: when we just simply cycle through a region for example and we are thirsty and ask for water, we are offered more: a basket of fruits also.
TransylvaniaNOW : Can a local also enjoy your routes?
Szabolcs Tyukodi: Absolutely. The Traventuria.ro site and its packages are designed for locals. We organize bike tours for example for the participants of the Luna Plina (Full Moon) Film Festival in Berethalom/Biertan and they enjoy it very much. In the future I would like to diversify the types of packages designed for locals.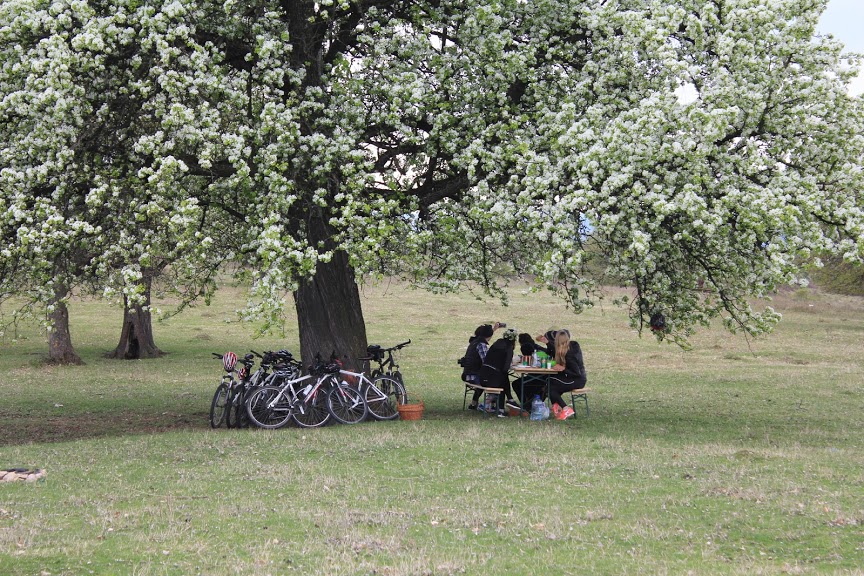 TransylvaniaNOW: Do you put emphasis on both Romanian and Hungarian culture while cycling along?
Szabolcs Tyukodi : I am a guide of Hungarian ethnicity and we all know quite well, that here, in Romania, we have two different ways of looking at history. When we get to the history of Romania with the tourists I try to be politically correct and present both versions, but when, for example I present a Hungarian manor I cannot be anything but proud of my Hungarian cultural heritage. But I also feel that I can identify with the small wooden churches of Máramaros/Maramures and I think that this is how it is supposed to be. I am actually quite happy about the fact that I am able to present to foreign tourists another version of things over here, than just the official narrative.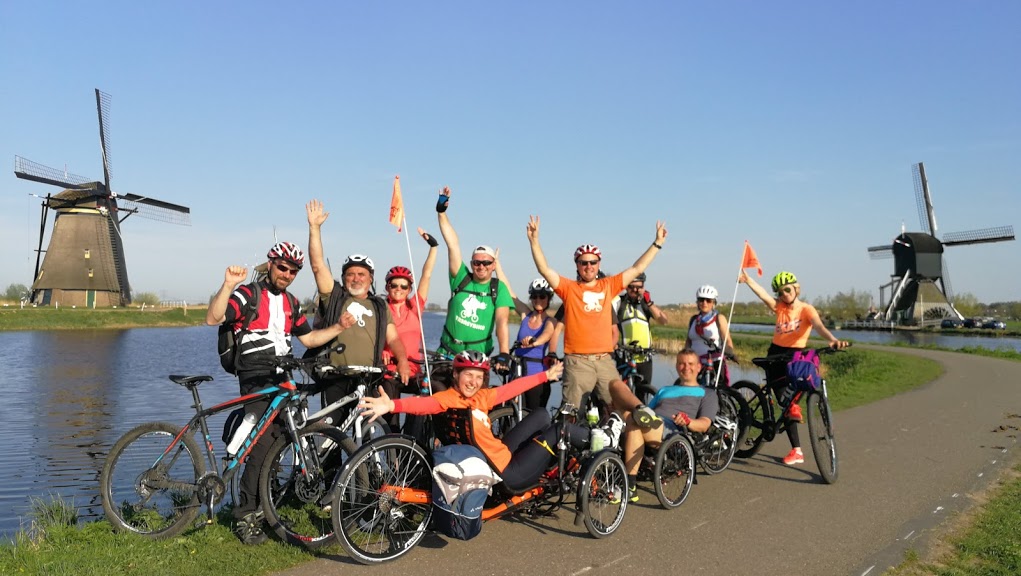 TransylvaniaNOW: What are the changes that need to be made in Romania in the field of tourism in your opinion?
Szabolcs Tyukodi : The most disturbing thing as we are cycling or walking along are the huge amounts of garbage. That definitely needs to change. Also, authorities should have more respect for nature, they should protect the forests. Local leaders should also see into how they could better promote their region and thus, the whole country. Instead of putting all focus on the major tourist attractions that people know of anyway, they should put an emphasis on the beauties of rural life, local food, hospitality and landscape together with the authentic Transylvanian experiences.
Photos: Szabolcs Tyukodi