Coronavirus
Thousands protested against COVID restrictions across Romania
Thousands of people protested across Romania on Monday, for the second day in a row, against the COVID-19 restrictions imposed in the country from Sunday. The demonstrations were organized by the Alliance for the Unity of Romanians (AUR), and while in Bucharest 188 protesters were taken into police stations following the intervention for the restoration of public peace, in Pitești protesters not only chanted "Down with the government!", "Freedom!" and "Off, with the mask!", but also the "well-known" xenophobe slogan of FC Dinamo football fans: "Out, out with the Hungarians from the country!".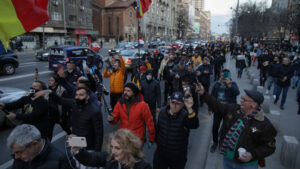 Several hundred people, including AUR party leader George Simion, gathered Monday evening on Bucharest's University Square demanding the end of restrictions and then marched through the city to Victoriei Square, in front of the government seat.
Protesters – many of them not wearing masks – were chanting slogans like "Down with the government!", "Freedom!", "Off with the mask!", "No more muzzle!", while waving tricolor flags and blowing vuvuzela horns and even blocking the traffic for a short period of time.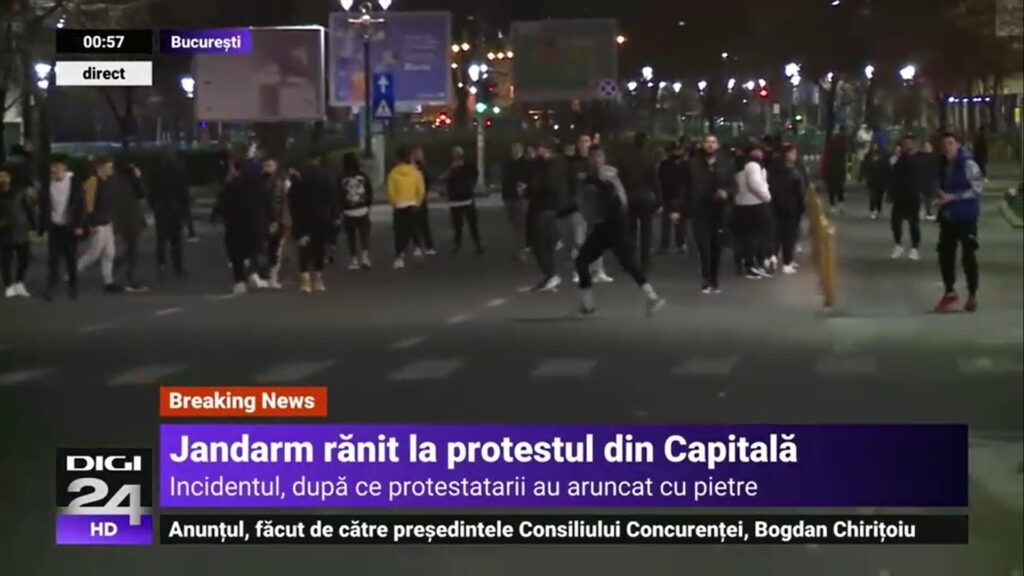 12 gendarmes injured
Later, during the night things got more violent and authorities had to intervene for the restoration of public peace. 188 people were taken to police stations, where investigations were carried out into the commission of outrage, public disturbance, destruction, arson, aggravated theft, failure to comply with weapons and ammunition regulation, and criminal possession of a knife.
At the same time, instances were reported of aggression against police officers by the use of firecrackers, street furniture items, bottles, pieces of asphalt and stones that left 12 gendarmes injured and six utility vehicles damaged, – says the press statement of the Gendarmerie released on Tuesday.
Anti-Hungarian chants in Pitești
But demonstrations not only took place in the capital, but in other parts of Romania too, for example in Pitești, the largest town of Argeș County, where the original goal of the demonstration was hijacked and the chants like "We want the stadiums open!", "Down with the government!", and "Freedom" was replaced by the "Out, out with the Hungarians from the country!" slogan, which is regularly used by the Dinamo football club's fans.
But not only the Hungarian minority became a target during the demonstration in Pitești, but also the head of the Department for Emergency Situations (DSU), Secretary of State Raed Arafat, who is Palestinian of origin, when the mob started to chant "Arafat, don't forget, this is not your country!"
Fines over RON 400,000
According to the above-mentioned Gendarmerie's press release 650 fines in excess of RON 400,000 (EUR 81,000) were issued to organizers and participants alike for several violations of applicable law.
In 38 of the 70 towns and cities where the public demonstrations took place, the maximum number of participants provided by law – 100 people – was exceeded. (Agerpres / Argesulonline.ro)
Title image: Anti-restriction protest in Bucharest on March 29, 2021. (Photo: Silviu Matei/Agerpres)