Crime
Complaint to FIFA and UEFA due to repeating xenophobe acts
The Imre Mikó Minority Rights Legal Services Assistance filed a complaint to the two biggest international football associations, FIFA and UEFA because of the recurrent anti-Hungarian and xenophobe expressions of Romanian football club FC Dinamo București's fans.
The legal services organization sent official letters both to the Romanian Football Federation (FRF), and to the Romanian Professional Football League (LPF) and also to the International Federation of Association Football (FIFA), and to the Union of European Football Associations (UEFA), reflecting on the anti-Hungarian incidents that happened during the Sepsi OSK- Dinamo București First League football match on February 9, 2019. Furthermore, the complaint was sent to the National Council for Combating Discrimination as well, which is a Romanian government agency established in 2001 responsible for applying both Romanian and EU anti-discrimination laws.
Last Saturday the Sepsi OSK played a home game in Sepsiszentgyörgy/ Sfântu Gheorghe in front of a full house against Dinamo. During the match the away fans were shouting the "Afară, afară cu ungurii din țară!" meaning "Out, out with the Hungarians from the country!" slogan and also strung up a banner saying "Doar România, doar Dinamo București, fără autonomie în ținuturile românești" meaning "Only Romania, only Dinamo Bucharest, without Autonomy on the Romanian territories". Later on, one of the Dinamo fans even jumped into the OSK sector and teared off a Sepsi OSK flag – strung there by the home fans before – and this was the point when police intervened on the spot. However, for these acts the Romanian Football Federation already sanctioned the FC Dinamo București four days after the match – at its Wednesday session -, but only with a mild punishment of RON 5,000 ( EUR 1,050).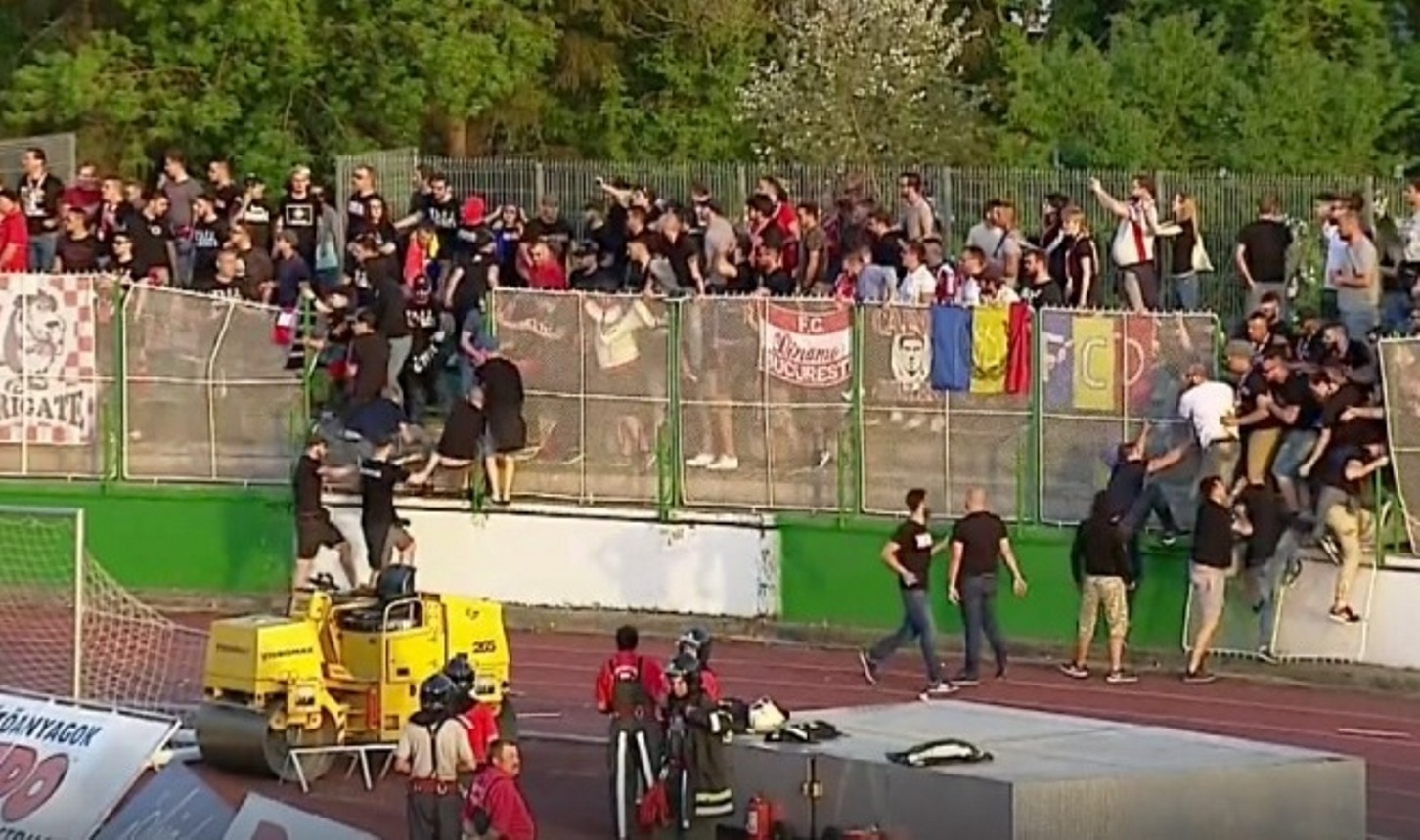 Erika Benkő, leader of the Imre Mikó Minority Rights Legal Services Assistance emphasized that it was not the first time that fans of the Bucharest Football Club showed such a xenophobic and anti-Hungarian attitude and this is the reason why they decided to turn to the two biggest international football associations as well.
"We ask the relevant authorities to use the most serious sanctions against the club in question, and to make effective steps against the anti-Hungarian fan behavior, which are not only unsportsmanlike, but also overawes and humiliates the members of the Hungarian community in their dignity", she said.
Title image: Fans of FC Dinamo București in the Sepsi OSK stadium on 9. February 2019. (Photo: János Henning)