Culture
There is hope yet: hundreds line up in Temesvár for bookstore opening
Just about a month ago, we reported that youth in Romania spend 17 times as much on alcoholic beverages than on culture. And yet, not all seems to be lost: Hundreds of residents of the western Romanian city of Temesvár/Timișoara stood in line last Friday for the opening of a new downtown bookstore.
To boot, the Cărturești bookstore opened in the very same location where the city's largest communist-era bookstore, Eminescu, used to be located. Images snapped by those in line, as well as from passersby, quickly made the rounds on social media. The fact that the new bookstore was offering significant discounts as a promotion also helped.
The phenomenon, while encouraging, is still an anomaly. According to the latest (2015) Eurostat data available, Romanian households spent just 1 percent of their income on culture, of which just one-tenth was on books. The European average for cultural spending is 3 percent, with Sweden in the lead with 5 percent.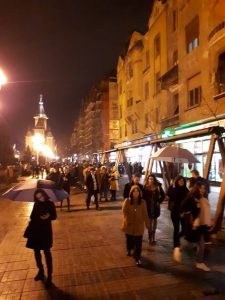 Spurred by data from the Romanian Publishers' Association that the average Romanian only spends 3 euros per year on books, Parliament declared 2019 the "Year of the Book."
Title image: Customers queuing up in Temesvár for the opening of the Cărturești bookstore. (source: tion.ro)