Arts, Food & Free Time
Temesvár re-opens overhauled Scudier Park
The western Romanian city of Temesvár/Timișoara recently reopened its central Scudier Park, overhauled at a cost of RON 6.5 million (EUR 1.38 million).
The overhaul that began in August 2017 took two years – over which period the park was closed – and was officially reopened on August 2 this year, marking 100 years since the city came under Romanian administration. The mayor's office polled local citizens before the works began, asking whether the park should be redone in the style of the Viennese gardens (such as Schönbrunn), or in an English park style. The locals opted for the first variant.
In the mid-19th century Temesvár had a well-fortified central core, surrounded by a 949 meters wide esplanade, an area devoid of any buildings as the military doctrine of the time required an open level area to provide clear field of fire for the fortress' guns. But advances in artillery technology soon made that requirement obsolete and the city began to reclaim part of the open area.
On November 10, 1868 Emperor Franz Joseph approved shrinking the esplanade to 595 meters, with the provision that all streets must be radial to the central fortification, again allowing for a clear line of fire. The area where the park is now was a disused cemetery. In 1880, the military commander of the city, General Baron Anton von Scudier ordered the cemetery to be moved to the outskirts of the city and have a promenade and park established there. A year later, the city honoured his efforts by erecting a gilded cast iron statue of him.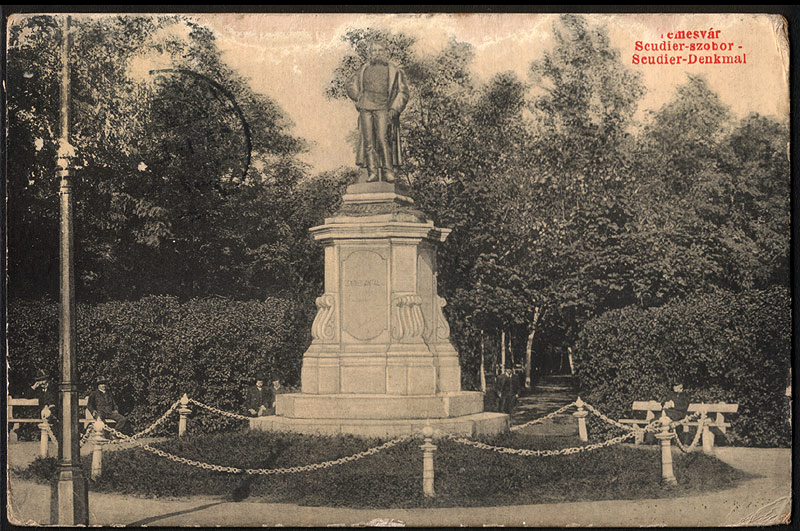 Postcard with the statue of General Baron Anton von Scudier cca. 1910
The park bore the Austrian general's name until the end of WWII. It was renamed the Joseph Stalin Park in 1950, then Central Park in 1955 and regained the name of its founder in 2015.
The park, with an area of 9.14 hectares (22.6 acres) has an "alley of local personalities", with busts of prominent Hungarians, Romanians, Germans and Serbians, the four main ethnic groups of the multi-ethnic city.
The only notable absence in the park is the former statue of its founder, demolished in 1918 as a symbol of Habsburg oppression. For a long time, the pedestal had a large clock installed on top, which was replaced in 1962 with a large marble statue dedicated to the "Liberating Soviet Soldier", later rebadged as the "Monument of the  Romanian Soldier".
Title image: The recently reopened Scudier Park in Temesvár, with the Monument of the Romanian Soldier.