History
Hungarians and Romanians can have common goals – PM Orbán
The events of 30 years ago have proven that Hungarians and Romanians can join forces, Hungarian Prime Minister Viktor Orbán said at a commemoration of the Romanian revolution that began on December 16, 1989, in Temesvár/Timișoara.
"We wanted freedom, we took up the fight, accepted the risks and many even gave their life for it," Orbán said. "Glory to those heroes who gave their lives in that fight."
After paying tribute to past events, Orbán in his speech focused on the future, saying that just as then, nations of the region can again join forces.
"We (Hungary) are ready to build a new Central Europe together with our neighbors – Romania included," he said. "If we join forces, cooperate, this becomes possible and it will be the new reality."
Romania was the last country in Central and Eastern Europe to shake off communist rule in 1989. The Romanian Revolution was the only one to violently overthrow the regime and execute its leader.
On December 16, 1989, a vigil staged by the Hungarian minority is what sparked the revolution. The small community of the local Reformed church began guarding the residence of their pastor, László Tőkés, whom the infamous Romanian secret service, the Securitate, wanted to evict. Pastor Tőkés, now a bishop, was one of the staunchest critics of communism, but also a man of the cloth and – making him a perfect target for the regime – an ethnic Hungarian.
Bishop Tőkés would go on to become a symbol of the successful Romanian revolution both domestically and internationally. What began as a vigil was soon joined by Romanians in multi-ethnic Temesvár who didn't care what nationality the priest had: it was enough for them to hear that "the Securitate wants to take our priest."
The revolution eventually spread across the country, forcing Nicolae Ceaușescu, general secretary of the Romanian Communist Party, to flee on December 22nd. Police captured him and his wife, Elena the same day and after a summary trial, both were executed on December 25th, ending his oppressive rule that had lasted 24 years.
"Millions of people condemned to silence have been secretly hoping that someone would raise their voice," Tőkés said in his commemorative speech. He added that the revolution's beginning was a great example of how people of various religions and nationalities united against tyranny, atheism and communism.
"Homage and recognition to those who took up a successful fight against the forces of evil," he said. "The European way could no longer be stopped."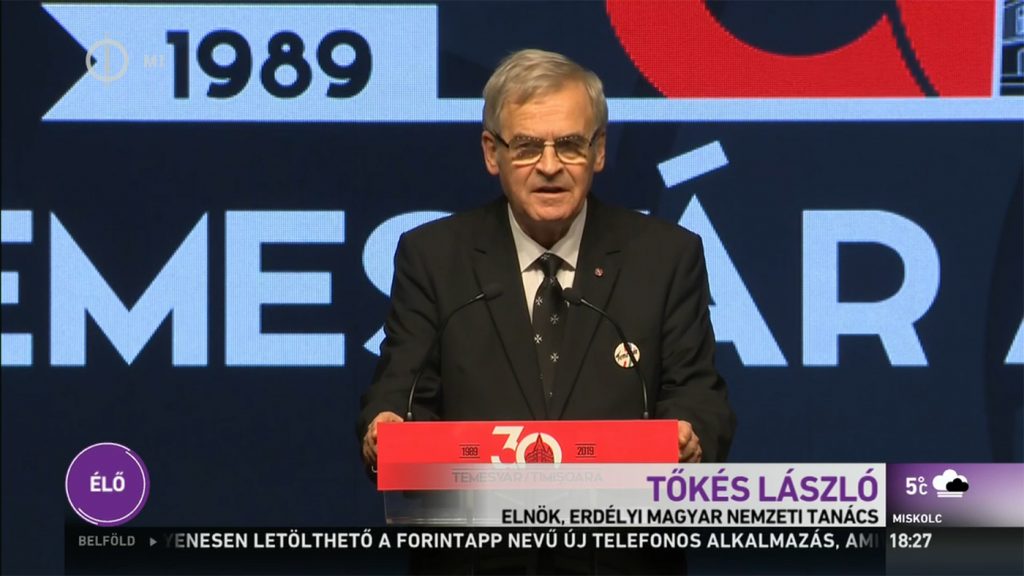 Bishop László Tőkés speaking at the commemorative festivity in Temesvár (source: M1 television)
In addition to Orbán and Tőkés, the festivity was also attended by Hungarian Deputy Prime Minister Zsolt Semjén, Temesvár Mayor Nicolae Robu, RMDSZ President Hunor Kelemen and the leaders of other organizations of Hungarian minorities in countries neighboring Hungary.
Title image: Viktor Orbán delivers his speech in Temesvár on the 30thanniversary of the Romanian revolution (source: M1 television)