Interview
Teaching Hungarian, songs, tales and some basic social rules in Moldavia
The Romanian part of historic Moldavia is home to the Csángó people (Ceangăi in Romanian), a Hungarian ethnographic group of the Roman Catholic faith, which has a very unique culture with special dances, songs and a very specific Hungarian dialect that traces back to the Middle Ages. However, being Hungarian is not easy in Moldovia: The minority group could not attend mass in Hungarian for over 135 years, nor were they able to enroll in Hungarian-language schools or classes since the middle of the 20th century. As a result, only a minority of the Csángós use an ancient version of the Hungarian language, mostly the elders, and their miraculous culture and heritage is in danger of fading away.
The Association of Csángó Hungarians in Moldavia (MCSMSZ), established in 1990 in Sepsiszentgyörgy (Sfântu Gheorghe in Romania), is fighting to preserve this beautiful heritage: The group has organized the teaching of Hungarian in several villages and has represented the interests of this community over the last three decades. Réka Antal, a new teacher who joined the MCSMSZ team in the summer of 2020, is now teaching Hungarian, and many other things, to the Romanian-speaking Csángó children in Gorzafalva (Oituz).
I had no idea what I was getting into
"My story and relationship with the Csángó people in Moldavia is due to Imre Antal, who took us to do nativity plays in Pusztina (Pustiana in Romanian) and Külsőrekecsin (Fundu Răcăciuni). This was my first encounter with them. In both villages, we visited older families, which was a defining moment in my life: the magical atmosphere, the intimacy, the immense love with which they welcomed us, how they showed us their dances and songs lifted my soul. After that, I had the opportunity to meet them on several other occasions, but I always wanted to go back again. That region represented a treasure chest for me," Réka Antal said about how she met the Csángó people and their unique culture.
After finishing university in pedagogy, Antal was thinking about returning to Moldavia and becoming a teacher there, but in the end, she decided to give something back to her own community first. In the beginning, she worked at a school in Csíkszereda (Miercurea Ciuc) and then in Bucharest; later, she returned to Szeklerland and worked in Csíkmindszent (Misentea), a little village near Csíkszereda. After just a few years, she had experienced teaching in various environments — in the capital, in a smaller city and in a village.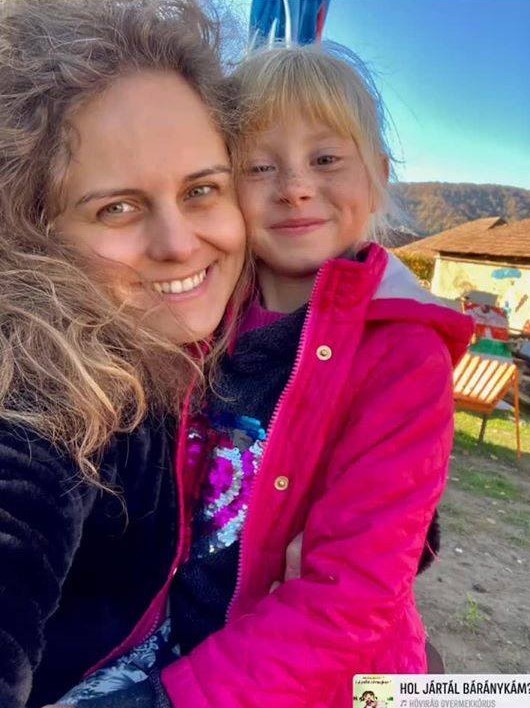 "As a new teacher, it was hard to get a permanent position. It was very strange for me that by the time I got to know a class, managed to integrate into the work community and established a solid relationship with the parents, the school year ended; I then had to prepare for yet another examination [exam used to assign teaching positions – ed. note] and move to another environment. After I had to say goodbye to my third school, I admitted to myself that there are more than enough teachers at home, so why not go to a place where I am needed more? This is how I decided that I should put something back into that treasure chest. Although, I guess I had no idea what I was getting into," Antal said.
She applied for a teaching position at the Association of Csángó Hungarians in Moldavia (MCSMSZ), which had started to organize the teaching of Hungarian in the Moldavian region in the 1990s and fights for the introduction of Hungarian church services and Hungarian-language education in the region. "The association wanted to help those Csángós who wished to learn the Hungarian language. In the beginning, Hungarian-language teaching was organized as an extracurricular activity; then, in some villages, Hungarian lessons were introduced in public schools as well. In addition, musicians and traditionalists teach music, songs and dances in the villages. MCSMSZ is the supporter, organizer and host of several cultural events in Moldavia. Back then, the situation of the association was harder in terms of human resources, and even though they have more employees now, they are still looking for more educators," Antal said about her employers.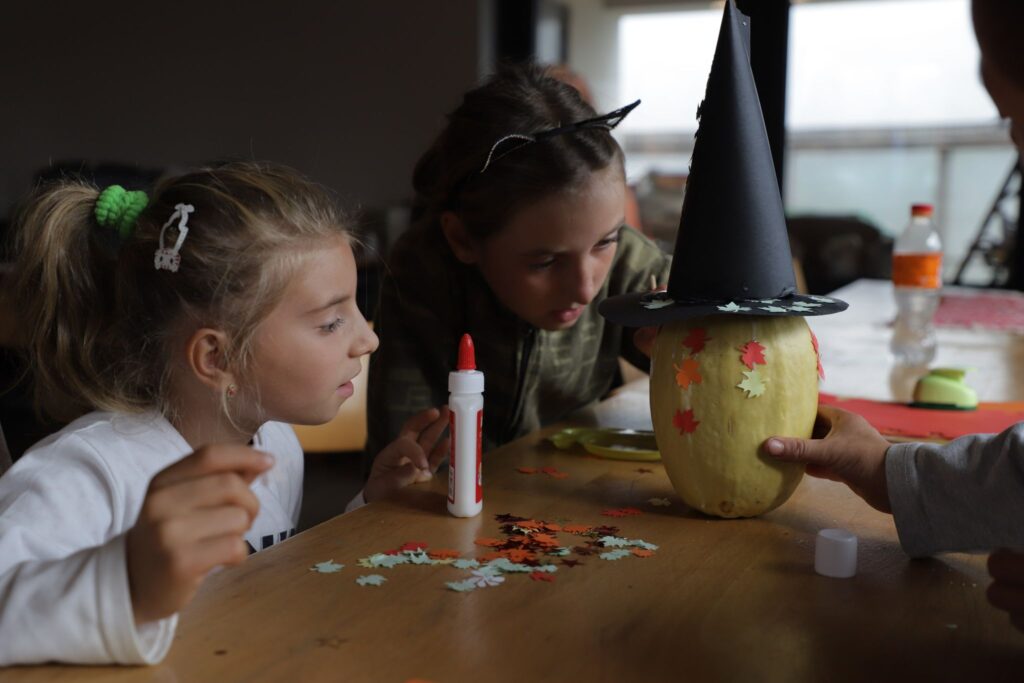 Some children told us that they would not say a single word in Hungarian
After applying for a position, Réka Antal participated at a professional camp during the summer of 2020, where she got to know her colleagues, learned the history of the Csángós and got some insights into Hungarian-language teaching methods. At the end of the camp, she and her new colleagues were distributed to several villages. Antal became the new educator in Gorzafalva, a village with 6,000 residents that is 70 kilometers away from Bákó (Bacău), the "capital" of Moldavia; she started her new journey in September of 2020.
Gorzafalva is located along a very busy, modern road, and those visiting would first think that it is an average village. "The real Moldavia, with its unique characteristics, appears on the side streets," Antal stressed, referring to the fact that Moldavia is one of the least developed regions of Romania.
As she pointed out, there are large distances between the villages in Moldavia, and there had been no Hungarian-language teaching in the village, so the people of Gorzafalva knew almost nothing about MCSMSZ.
"When we arrived, got our class together and went for a walk in the village, the elders were shocked that we received permission for this. They could not believe it. Half of the village is Orthodox, the other half is Roman Catholic. In the first week, I had no luck finding any Hungarian-speakers on the streets. Anyone I started a conversation with, of course, in Hungarian first, told me that he/she only speaks Romanian. I was a little desperate at that time; I didn't quite know where I had come to and why I would want to teach Hungarian here.
But slowly, I found the Csángó people, and their elders spoke Hungarian beautifully. They told us that they had tried to speak Hungarian with their children and grandchildren, but they were not open to that; in fact, most of them resisted stubbornly," Antal said, stressing that while the elders spoke Hungarian, the middle-aged people (the parents) did not use Hungarian at home, so the children either spoke very little or no Hungarian. "We also faced this stubbornness in the beginning. Some children even told us that they would not say a single word in Hungarian. In comparison, today they are learning the language with joy and curiosity, and the good news is that they also ask their parents and grandparents to teach them Hungarian at home. In my opinion, based on just this, it was worth our time here," Antal stressed.
I have no idea what these children thought about us
The village does not have a Hungarian House [Houses of the Csángó Association where the teachers live or where the classes are held – ed. note], so Réka Antal moved to the Kopling House, which became her home and workplace.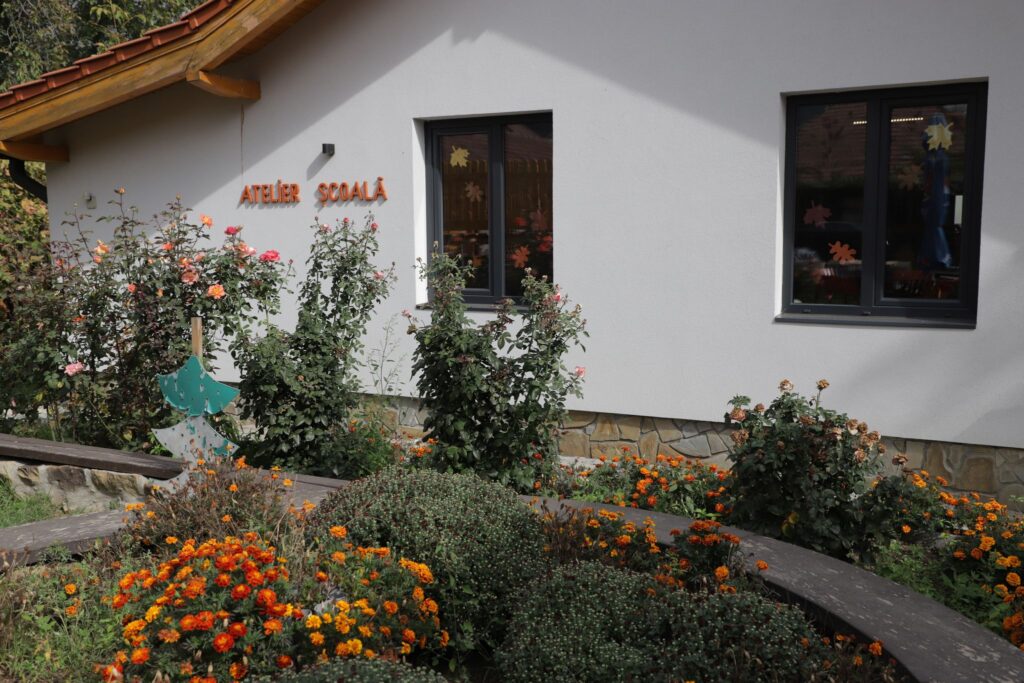 "There was an afterschool program at the Kolping House, with groups of children mostly from Ónfalva (Onești). However, there was another group of local children, for whom I also became a teacher; currently, I also have a colleague, Ildikó Ferencz. But then there were cases when we would speak to children playing on the streets and ask them to join us. I honestly have no idea what these children thought about us.
I often smile about how we started teaching Hungarian, how these beautiful, ruddy-faced children back from online schooling had forgotten a bit about what it means to live and work in a community and that there are certain rules they must follow. And to top it all off, they had two new teachers who spoke only Hungarian, a language they did not understand at all," Réka Antal said.
The biggest challenge for the new teachers was not integrating into the new community, the busy schedule, and the fact that most of their pupils did not understand them at all, but they had freedom in their work. "We didn't receive any concrete curriculum like in public schools; we had to come up with our own. However, another challenge was to think of activities that would be interesting to the children, activities they would enjoy being a part of and would want to return to with love. In the beginning, we based our work on arts and crafts, and we learned so much without even realizing it; and then came the tales, folk games and experiential pedagogical sessions. And we suddenly realized that we are not really these children's teachers but rather their friends; and for the pupils, we became those residents of Gorzafalva who do not speak Romanian, so they must talk to us in Hungarian," Réka Antal said about her work. She later added that the most interesting thing in her job is the language-teaching; the Association helped her a lot with this by providing trainings about language and online teaching methods.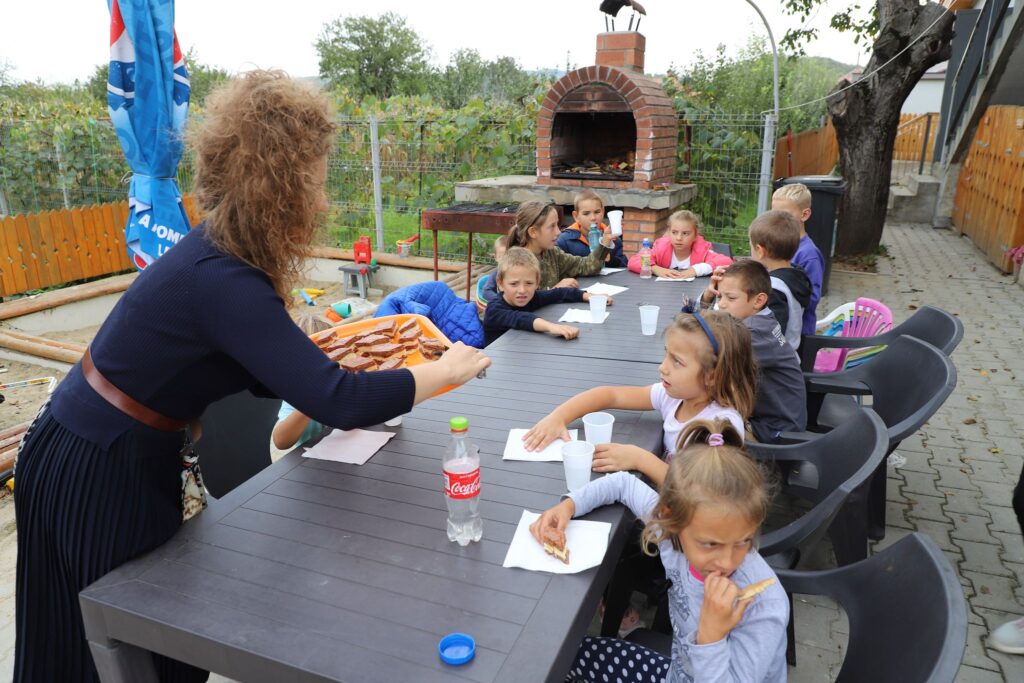 "However, I guess the funniest thing was when the children started to use Hungarian expressions just after two weeks, and they practically sounded just like us. That was the moment I realized I use the expression "Istenem!" ["Oh My God!" – ed. note] very often because the pupils have started to clutch their heads and say "Istenem, Istenem!" It was very exciting! From there, I knew that whatever I do or say every day, it will be built into their memory, willingly or unwillingly. And it works wonderfully!" Antal shared about one of her favorite experiences.
The program of the new teachers has changed since September very often, as they had to follow the changes of the public school system: The Kolping House is near the school and kindergarten, so the children used to go to the Hungarian programs after school. "In the beginning, children came in the afternoon. But after online school was re-introduced, some of them came in the morning because they could not attend their [normal] classes since they had no electronic devices. Later, the Kolping House received some tablets, so the children came in the morning, attended classes, joined our programs, and in the end, we had lunch together. In the afternoon, another, smaller group came. In time, the City Hall provided the kids with tablets, and for days, no child came to visit us; one could say that they became addicted and watched videos online for days. It was a very interesting experience," Réka Antal said, adding that schools reopened on February 8, and they have thus had to change their work program again.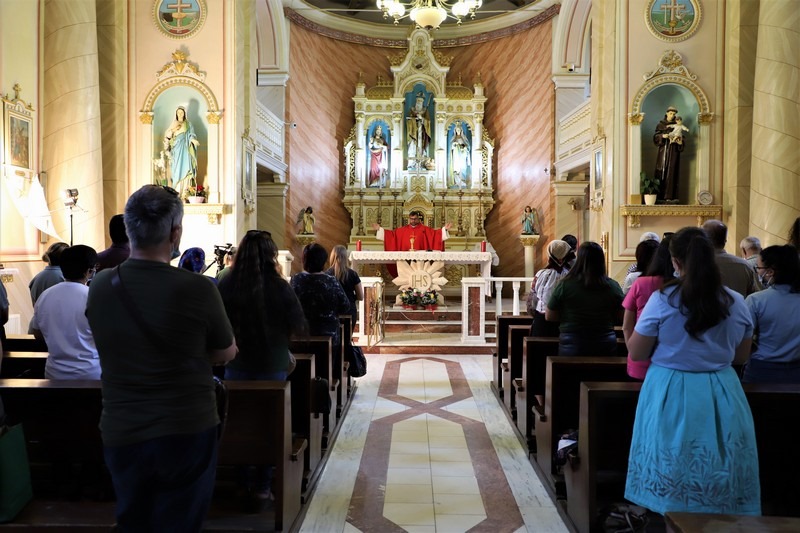 Ahead of a great development
However, it is not only the teaching of the Hungarian language that makes up a significant part of their work: creating a safe place for these often disadvantaged children is also very important. Giving them hope, a vision of a better future is also a part of the job, a tiring but rewarding part. "Children come to us from different families, but one thing is certain: We represent for them one, in some cases the only, secure place. It is warm in our house, we give them food, and we also try to think of activities that would expand their school education and that are, we hope, more interesting and improve their Hungarian and personality development. I think there is a great need for that too, to learn basic things. And I am really talking about the simplest things: hand washing, bathing, forms of greeting, the basic rules of community existence," Antal stressed.
According to her, the fact that there is a possibility to learn Hungarian in more and more villages in Moldavia is important for the elders the most, as the children are not always interested in speaking this language.
"How many children's lives we can improve depends mostly on the family mentality. I would be lying if I said children are eager to learn Hungarian. They are not! It is not very important to them to learn Hungarian. So you may ask what MCSMSZ's purpose is, and I would like to underline that it is not only about teaching the Hungarian language. It is also about the fact that the child belongs somewhere. They will be part of a community, a community that follows them, helps them in their education, including university. And if the children wish to come back, the Association will employ them. What more could you ask for? MCSMSZ takes every pupil under its wings and takes care of them. In addition, it can also develop their Hungarian language to the level of a native speaker. As a result of their activity, the Csángó language, songs and dances will survive. But the children need time to understand some things, for example, to understand that they can be Hungarians even though they have Romanian citizenship," Réka Antal stressed.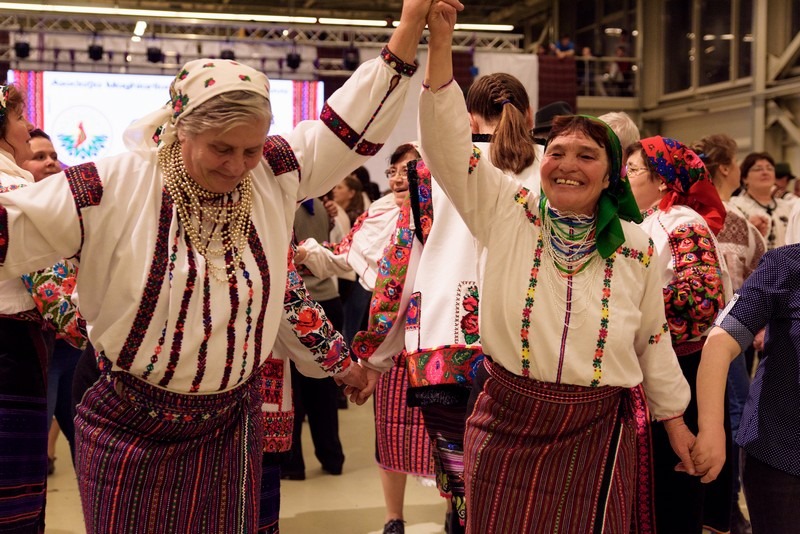 The results of this tiring job are visible. As Réka Antal said, a couple tried to start the Hungarian movement in Gorzafalva in 2004, but in the end, they were moved to Kostelek (Coșnea). In the last 17 years, Kostelek has changed extraordinarily, and almost everyone there speaks Hungarian on a native level. "If this couple had worked here [in Gorzafalva] since 2004, then maybe the Hungarian language would not be endangered. But maybe it's not too late. I believe we have a great future ahead of us," Réka Antal pointed out.
Title image: For people who would be interested in teaching Hungarian in this underdeveloped region, Réka Antal recommends inventiveness, flexibility and love of culture. Photos: Alliance of Csángó Hungarians From Moldavia