Economy
Romanian motorways after 30 years of democracy: 7,500 km promised, 870 km delivered
If we took into account every promise made by the long list of Ministers of Transport in office over the past 30 years, we would be driving on 7,500 kilometers of highway in Romania. Unfortunately, the reality looks different: On this rainy day in October 2020, we have only 870 kilometers of officially open highways, or a bit more than 10 percent of that promised, Romanian news portal Ziare highlights. But rest assured, another couple thousand kilometers of highway have been promised for the next 10 years already. I won't hold my breath.
In other words, we dream about driving through the country like in Western countries, but when we start the engine and begin looking for the fastest route from A to B, the navigation app wakes us up: We still need to drive through villages and cities for many hours to reach a destination only 150 kilometers away.
Highway in Romania
Since the regime change in 1989, investment in infrastructure has been one of the top election promises. Ziare has compiled a list of these, starting with former president Traian Băsescu. This guy was the Minister of Transport in 1991-1992 and 1996-2000. He refrained from making promises while in office as Minister, but he did as President of Romania in 2009: He then said the country would have 700 kilometers of Romanian motorway by 2011.
In 2009, the then Minister of Transport Radu Berceanu said Romania could have 2,000 kilometers of highway by 2029 and that 836 kilometers would be finished within four years. A year later, he corrected his statement to 101 kilometers.
The current PM of Romania, Ludovic Orban, issued his share of false promises in 2008, saying that by 2016 Romanian drivers would have 2,000 kilometers of motorway. Fast forward to today, and we have less than half of the promised motorway infrastructure.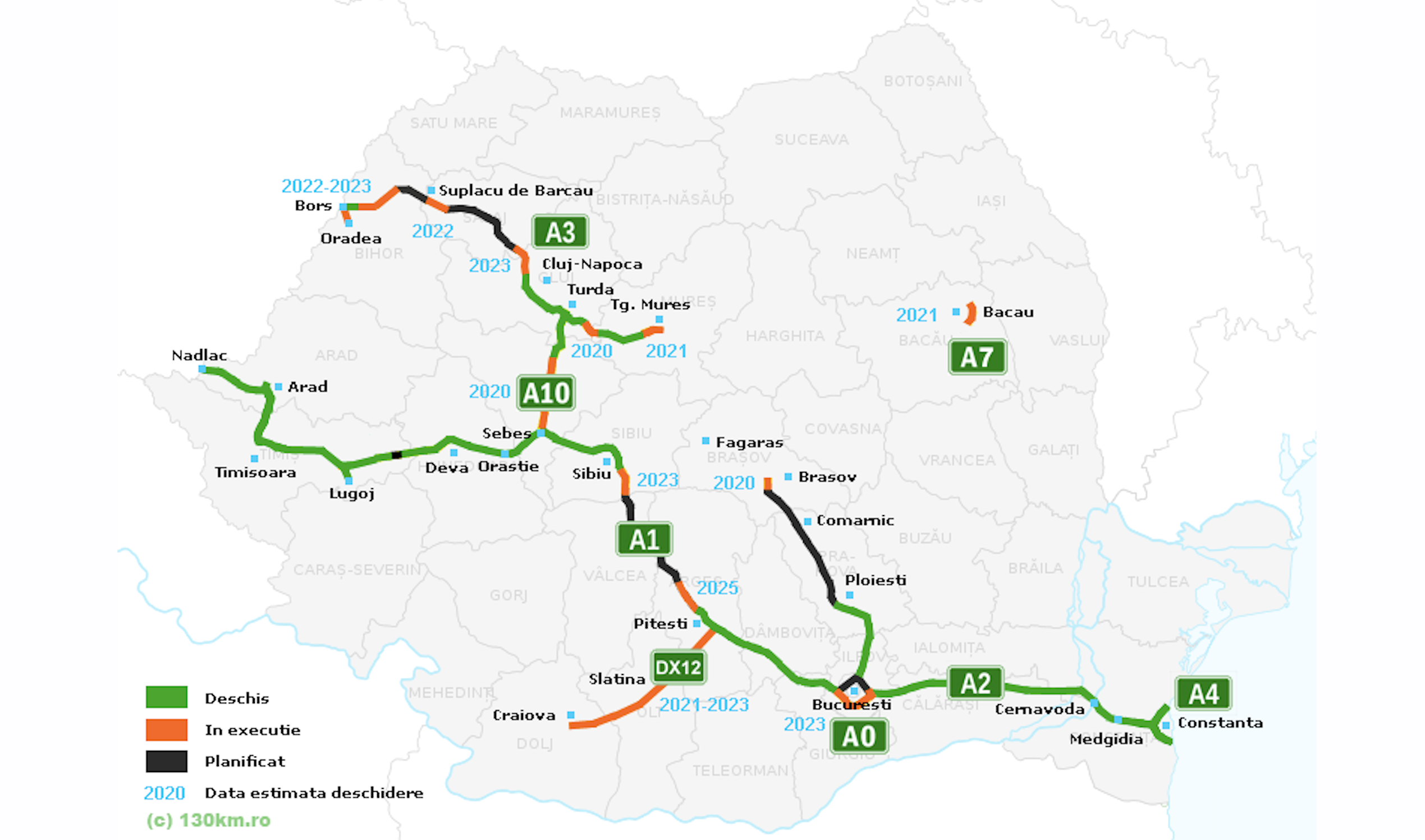 The list goes on with Anca Boagiu, promising 130 kilometers in 2011, and Alexandru Nazare 200 kilometers in 2010; Relu Fenechiu talked about a public–private partnership for 4,000 kilometers in 2012, and Dan Sova planned 2,020 kilometers in 2014 in the three months he was in office. He was followed by Ioan Rus the same year, who promised 200 kilometers by the end of 2016, and Iulian Matache talked about 946 kilometers. Dan Costescu (a more realistic man) estimated 80 kilometers in 2016, but none of it materialized.
In 2017, Sorin Buse promised 150 kilometers by the end of the year, while Razvan Cuc announced 100 kilometers but was careful to add that weather would be a factor. The list of false promises continues with Felix Stroe's 150 kilometers for 2018 and Rovana Plumb's 180 kilometers in 2019.
Lucian Bode became Minister of Transport in November 2019 and this year announced that financing is ongoing for 407 kilometers of highway. Bode also made a courageous statement: 3,000 kilometers of highway will be built in Romania over the next 10 years.
So, let's repeat again: So far, 5 kilometers of highway have been inaugurated this year, and there is hope that we will have a further few kilometers by the end of 2020.
Title image: Terrible accident on a Romanian public road. Image credit: Asociatia Pro Infrastructura.