Issues
Public order to be restored in Sepsiszentgyörgy
Public order will finally be restored in Sepsiszentgyörgy (Sfântu Gheorghe) after the government handed back control over the local police to the town, after a year, said the mayor of the town, Árpád Antal, and the director of the local police, István Hadnagy, during a Wednesday press conference.
Local police forces in Romania, including in Sepsiszentgyörgy, are coordinated and financed by the local municipalities, but because of the COVID-19 pandemic, the Interior Ministry took over control of these forces between March 21, 2020, and April 1, 2021. However, although local police were directed by the General Inspectorate of the Romanian (national) police during this period, they were still financed by the local municipalities. Also, because the main duties of local forces were limited to ensuring compliance with pandemic restrictions, general public order in Sepsiszentgyörgy suffered.
CCTV system, body cameras and drones
Sepsiszentgyörgy Mayor Árpád Antal pointed out that due to the general lack of policing, discipline has been greatly lacking in the town; for example, despite the local council's prohibition, trucks over 1.9 tons regularly park in residential areas, cars park in bike lanes, and not everybody pays parking fees.
Now that the town once again has control over the local police force, they promise to restore public order by expanding the CCTV camera system, arming police officers with body cameras and buying drones.
At the moment, 94 CCTV cameras are operating in the town, and this system is going to be expanded with another 15–20 cameras this year.
The local police force of Sepsiszentgyörgy at the moment has 43 employees. Five of them have desk jobs, while the others work on the streets in different shifts, 10 officers at a time.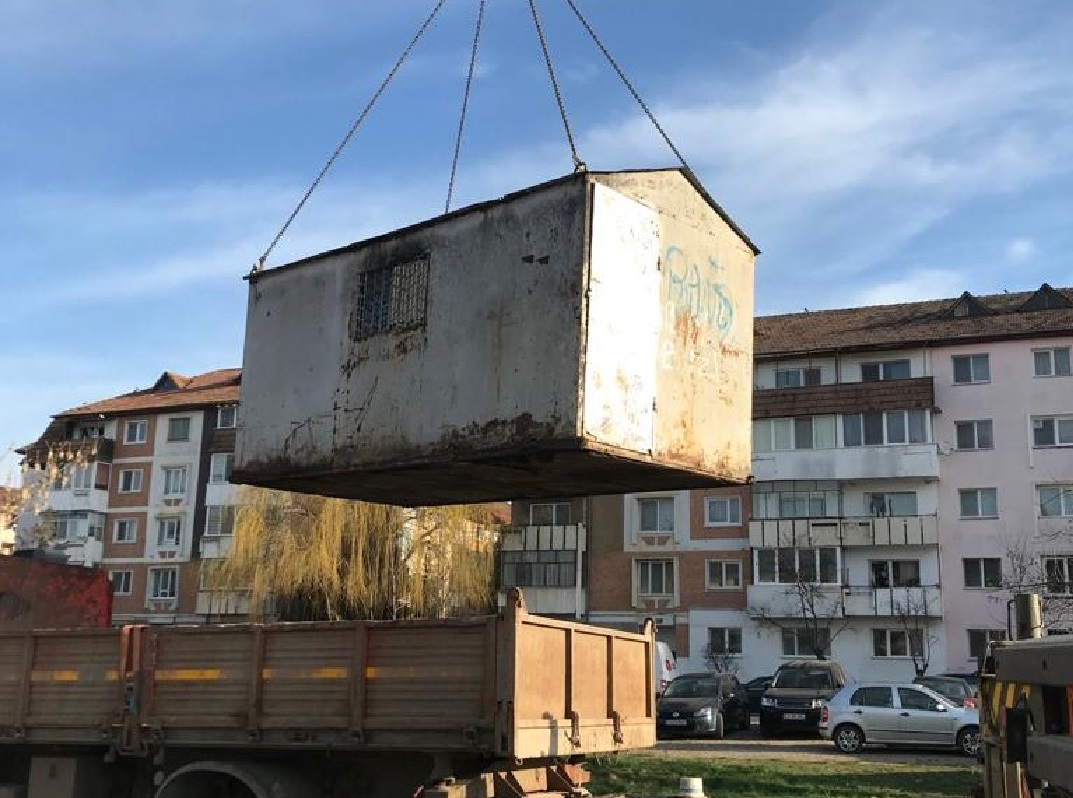 Barbed wire shows there is a problem
István Hadnagy, replying to a journalist's question, said that there are no, so-called "no go zones" in the town, but there are areas where people are accosted and harassed by beggars and minors. According to Árpád Antal, if people have barbed wire on top of their fences, it's a sign that there is a problem. And this is exactly the situation in the streets close to the Őrkő district's gypsy colony. According to the mayor,
they are not only strengthening public safety, but in parallel, they are also running remedial programs for the needy.
Illegally set up accommodations will be eliminated: a metal shed, for example, in the territory of the Euro Marketplace, where homeless people were living has already been removed. And a hut built out of garbage on the bank of the Olt River will be removed as well in the upcoming days. According to town leaders, it is important to do this because if they do not take action, they run the risk of more such huts appearing.
Title image: Sepsiszengyörgy Mayor Árpád Antal (on the right) and director of the local police force István Hadnagy (on the left) during their press conference on April 14, 2021. (Photo: Levente Vargyasi)