Issues
Archbishop warns priests off cigarette smuggling and illegal logging
Illegal activities such as cigarette smuggling, logging and serving in private cemeteries are forbidden to all servants of the Holy Altar, the newly enthroned Archbishop of Suceava and Rădăuți Calinic Botoșăneanul warned all churches belonging to his area in a notice at the end of last month. The document was obtained and made public by G4Media. Botoșăneanul follows in the footsteps of His Holiness Father Pimen, who died after being diagnosed with coronavirus.
One would think that the servants of the Lord would refrain from being involved in illegal activities, but unfortunately, that's not the case in the area of Suceava and Rădăuți. For example, the National Anticorruption Directorate (Directia Nationala Anticoruptie or DNA) has identified a network of cigarette smugglers led by an Orthodox priest from Botoșani. Horga Dumitru, who served as a priest in Candesti, initiated, built and coordinated a network of smugglers who brought cigarettes from Ukraine through Siret Customs with the help of border guards and customs workers. That was back in 2014, but the archbishop's notice suggests that such illegal activities are still ongoing in the area.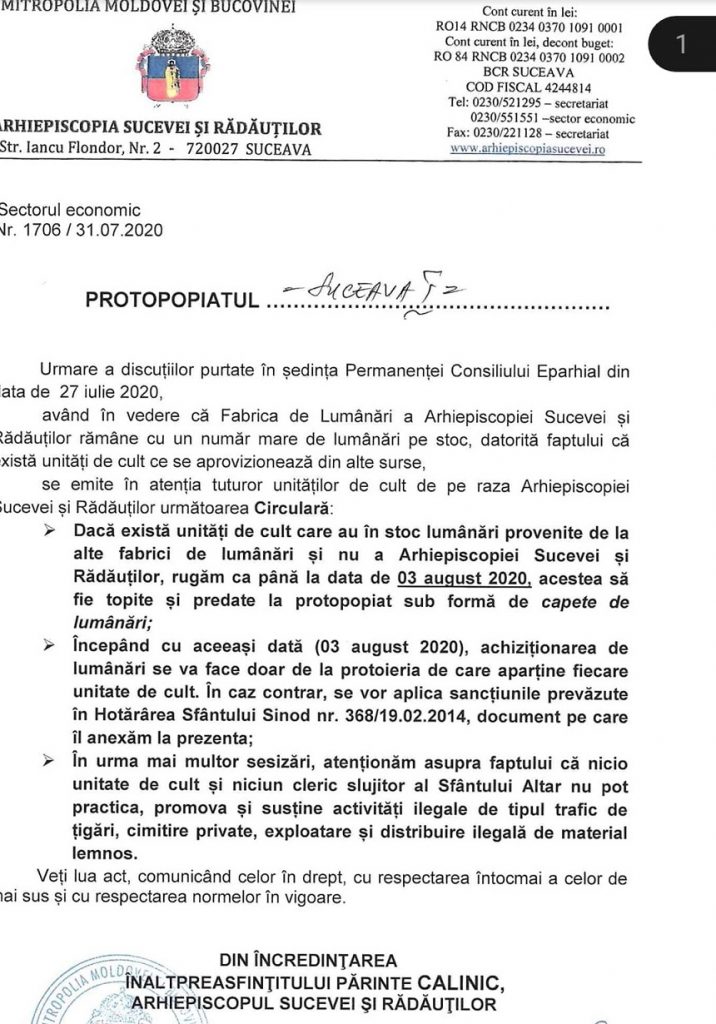 The Orthodox Church declared war against private cemeteries back in 2013, prohibiting its priests from burying believers while officiating over the holy liturgy and a service of remembrance. Now, the newly enthroned archbishop has reminded his servants to obey. The consequences of not obeying have yet to be revealed.
The archbishop has also explicitly prohibited his servants from acquiring candles from sources other than the Archbishop of Suceava and Rădăuți Candle Factory. Sales have slowed, and the candle factory has too many candles left in stock. So, what does a businessman do in such cases? He considers new opportunities and generates new leads: in this case, priests who disobeyed the previous archbishop and acquired candles from other sources. Now, they are being forced to melt down those "foreign" candles and hand them over to the diocese by August 3, 2020.
Title image: The newly enthroned Archbishop of Suceava and Rădăuți Calinic Botoșăneanul. Image source: Basilica