Papal Visit
Pope Francis pays tribute to Our Lady of Csíksomlyó
On occasion of his Holy Mass in Csíksomlyó/Sumuleu Ciuc Pope Francis paid tribute to statue of the Virgin Mary, the pivotal element of the Transylvanian pilgrimage site. The importance of the statue was never in any doubt, but the pope even posted a picture on his Instagram account of him touching the relic. As we have reported earlier, the pope even brought a gift for the statue: a gilded rose.
The rose is made of silver, the stem and the coat of arms is glazed in 24 karat gold. The base is pink marble, on which a silvery vase stands with the pontifical coat of arms, in which two naturalistic roses stand, their leaves are made of silver.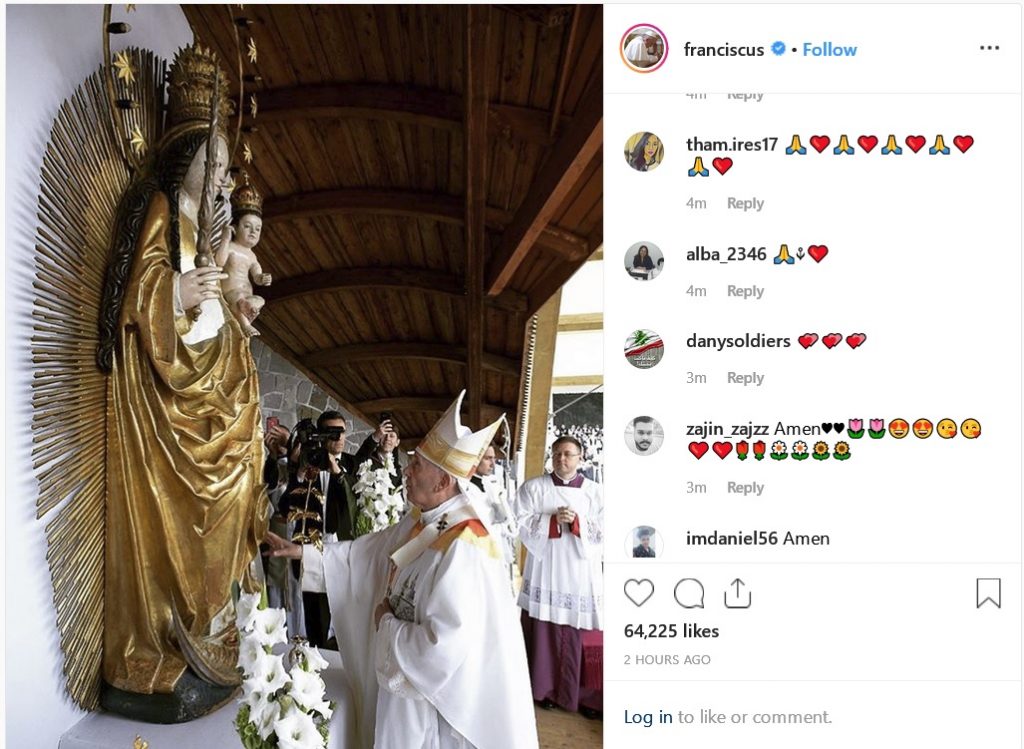 The central element of Pentecost Pilgrimage of Csíksomlyó, the largest religious and ritual event of Catholics in the Carpathian Basin, – taking place this year on the 8th of June – is the veneration of the Virgin Mary, when hundreds of thousands of participants express their gratitude with donations and commemorative plates, showing their devotion through prayers and religious folk practices. The event in the area around the Franciscan monastic settlement of Somlyó that has been reference in ecclesiastic documents and oral tradition going back to 1442.
The statue of Our Lady was a feature in the church from that time, although the origins of the statue are unclear. Regardless, many came to pray before the statue and reports of miracles due to Our Lady's intercession from the 16th Century onward.
In the ensuing centuries the shrine itself was attacked and burnt to the ground on several occasions, yet the statue miraculously survived. There is also a report of one enemy soldier who attempted to pierce the statue with his lance but was not able to do so. The shrine draws thousands of faithful each year, not only from Romania but from many other countries as well. The statue is on display above the High Altar in the church, which itself is one of the most beautiful in Europe.
Title image: Our Lady of Csíksomlyó (Erdély 7 csodája)