Politics
Orbán in Transylvania: migration top issue of EU elections
Migration is the primary issue of the upcoming European election while the most fundamental future question is whether Europe will be able to unify diverging opinions regarding it, Hungarian Prime Minister Viktor Orbán said at a speech at the Sapientia Transylvanian Science University in Kolozsvár/Cluj.
Orbán said political thought about migration has been split into two distinct directions: while the West is looking at ways to "live together", Central Europe is looking at what to do in order to avoid being forced to live together with migrants.
He said the West wants to erase the differences and force other nations to take in migrants in large numbers, but "this a price for European unity we should not pay", adding that the European is not an end, but a means for Hungarians.
Orbán said the Hungarian character has always been governed by the rejection of servitude and they don' want to be anyone's underlings while any relationship of subordination must be based on clear and equitable reasons.
At a joint press conference with Hunor Kelemen, President of the Democratic Alliance of Hungarians in Romania (RMDSZ) Orbán urged all ethnic Hungarians living in Romania to vote for the RMDSZ candidates in order for Hungarians to have a stronger voice in the European Parliament.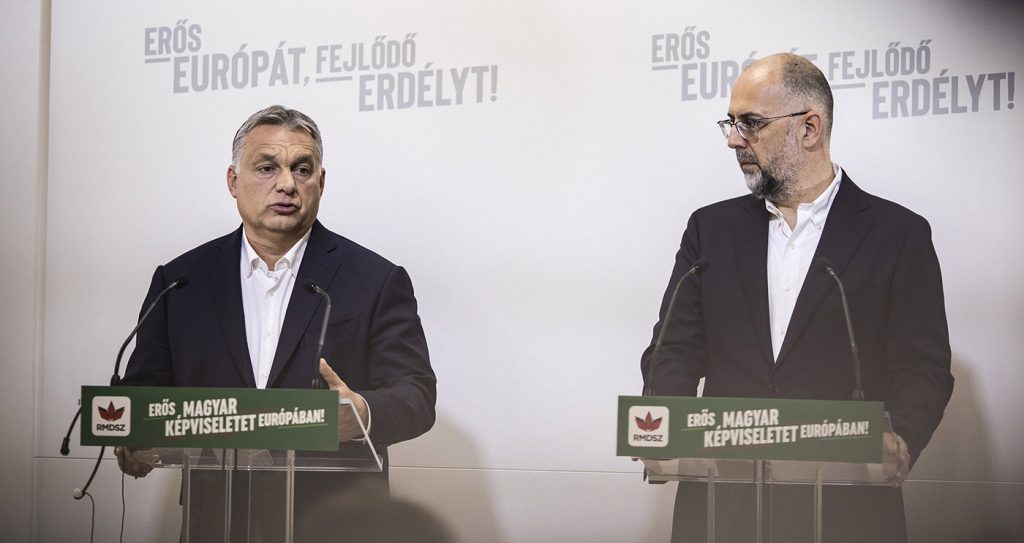 Kelemen said it is natural that Hungary's ruling Fidesz party and the RMDSZ support one another in the campaign ahead of the European elections because having a strong representation in the European parliament is a "common cause of all Hungarians". He added that the RMDSZ intends to make the issue of indigenous minorities a pan-European cause.
Orbán is on a three-day Transylvanian tour during which he will attend several events of the Hungarian minority and the European Council's informal summit in Sibiu on May 9.
Title image: Left to right: Sapientia rector László Dávid, Prime Minister Viktor Orbán and Sapientia Foundation board president Béla Kató in Kolozsvár. (MTI/Balázs Szecsődi)