Politics
Municipal elections 2020: Young German is the new mayor of Temesvár
The mayoral candidate of the National Liberal Party (PNL), Nicolae Robu, lost the local election in Temesvár (Timișoara) to the German Dominic Fritz, the candidate of the alliance between the Save Romania Union and the Freedom, Unity and Solidarity Party (USR-PLUS). Robu, who was the mayor of Temesvár for eight years, admitted his defeat shortly after the polls closed, as the difference was very large between the two candidates. Robu also added that he had been optimistic until the last moment, but the expectations of the people of Temesvár were clearly different.
According to the latest data from USR-PLUS, its mayoral candidate won 54.88 percent of the votes, while the PNL politician received only 34.1 percent. Even though the PNL lost the mayoral vote, it still won the election for the president of the Temes (Timiș) County Council, as Alin Nica took 39 percent of the votes. The county council president candidate of USR-PLUS, Cristian Moş, received 21 percent of the votes, while the current chairman of the county council, Social Democrat Călin Dobra, received only 18 percent.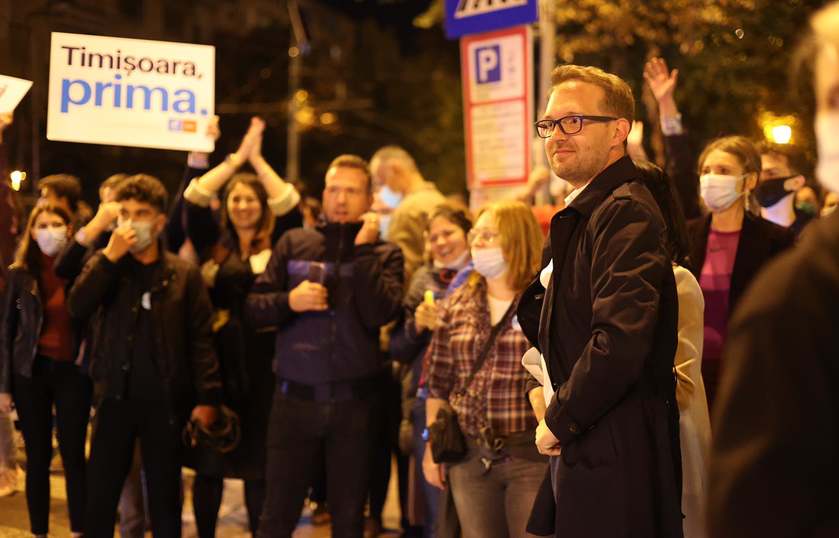 According to USR-PLUS' website, Dominic Fritz, the new mayor of the largest city in the Banat Region, was born in a village in South Germany and grew up with seven siblings. He decided to go into politics and administration after his first visit to Romania in 2003, when he spent a year as a volunteer at an orphanage in Szabadfalu (Freidorf), a section of Temesvár. That experience as a 19-year-old, as he said, changed his life; he realized it is not enough to have laws if the system is broken. As a part of this experience, Dominic Fritz also fell in love with Temesvár.
The new mayor of Temesvár studied politics in France, Germany and the UK and became chief chancellor for the former president of Germany, Horst Köhler. In that position, he collaborated with several national and international institutions, such as the United Nations, the African Development Bank and Germany's Ministry of Foreign Affairs. But he always returned to Temesvár, where he built several social projects and received the Diploma of Excellence from a grateful city.
"You told us we cannot win?! You told us not to try?! But we tried and we succeeded! As of today, we will delete the words 'we can't' from the vocabulary of Temesvár. As of today, we won't be paralyzed by the fear that we are alone in a bubble. We are a community, not a single bubble. A community of Temesvár residents, who share the same values and the same vision. […] Temesvár has rewritten history! Today, Temesvár has made a new revolution. Temesvár has ended for good, through this election, the 30-year-long transition period that followed the fall of the communism. For good! It is an incredible honor for me to be elected as your mayor. A person who first arrived here in 2003, who did not speak one word of Romanian. Today, you made history. Romania elected a mayor who was not born in Romania, who does not have relatives in Romania," Dominic Fritz said after the polls were closed Sunday night. He celebrated his victory in the city's Victoria Square, surrounded by tens of supporters.
Robu: I am proud of what I have left behind
Nicolae Robu, the now ex-mayor of Temesvár who had been aiming for a third mandate, posted a message on his Facebook page Monday morning, mentioning that he is proud of what he has left behind, both at the City Hall and the Politehnica University of Temesvár.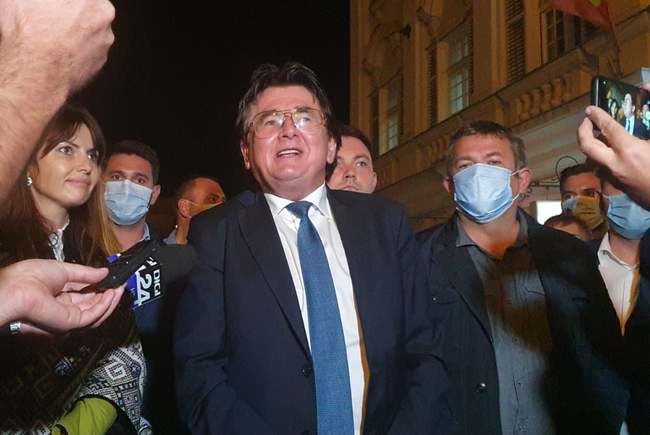 "I would like to thank all the Temesvár residents who voted for me. I would like to thank all of my colleagues from City Hall who came to the institution with me or after me; all the valuable youngsters, with whom […] we did everything that changed this city radically, which benefits equally those who voted for me and those who did not. These are the things that I am proud of and will always be proud of. No matter how much slander I will receive in the future – and I know for sure that I will – I, as an idealist, will remain not only happy, but extremely happy for what I did for my city," Nicolae Robu wrote on his Facebook page, wishing Temesvár a happy future.
In Temes county, 43.19 percent of those with the right to vote, or 272,801 people, voted.
Title image: Dominic Fritz visited Romania for the first time in 2003. Photo: tion.ro/ Sebastian Tătaru