Economy
Transylvanian bike couriers target Bucharest
Three young Hungarian men from Kolozsvár (Cluj-Napoca) who are passionate about cycling — Balázs Halmen, Botond Bakos and Árpád Joó — established a bicycle delivery company in 2016. The three young men wanted to create an environmentally friendly alternative to traditional car delivery, an idea that turned into a successful company: Eastride Bicycle Delivery. After conquering several cities in Transylvania, it is now targeting Bucharest, in the middle of the pandemic and accompanying economic crisis, Hungarian news portal maszol.ro reports.
The men's idea of bicycle delivery was not only viable but very successful. According to Maszol.ro, in 2017, the company's turnover was RON 130,000 (EUR 26,600), hit RON 915,000 (EUR 187,700) in 2018, and in 2019 was already RON 3.1 million (EUR 636,000). Profits grew at an even faster rate: RON 22,000 (EUR 4,500) in 2017 grew tenfold in two years.
In the beginning, the three owners themselves worked as delivers; the starting capital of the company was only EUR 3,000. However, as of 2020, Eastride employs 13 people in management and works with over 300 delivery people. These latter are not employees of the company but self-employed at their individual enterprises, working as subcontractors of Eastride.
The company was established in Kolozsvár and then began operating in other Transylvanian cities: It is now available in Nagyvárad (Oradea), Marosvásárhely (Târgu Mureș) and Brassó (Brașov). However, most of its traffic is registered in Kolozsvár and Nagyvárad. Approximately 90 percent of orders are ready-to-eat deliveries, but the company also does grocery shopping and delivers documents and packages.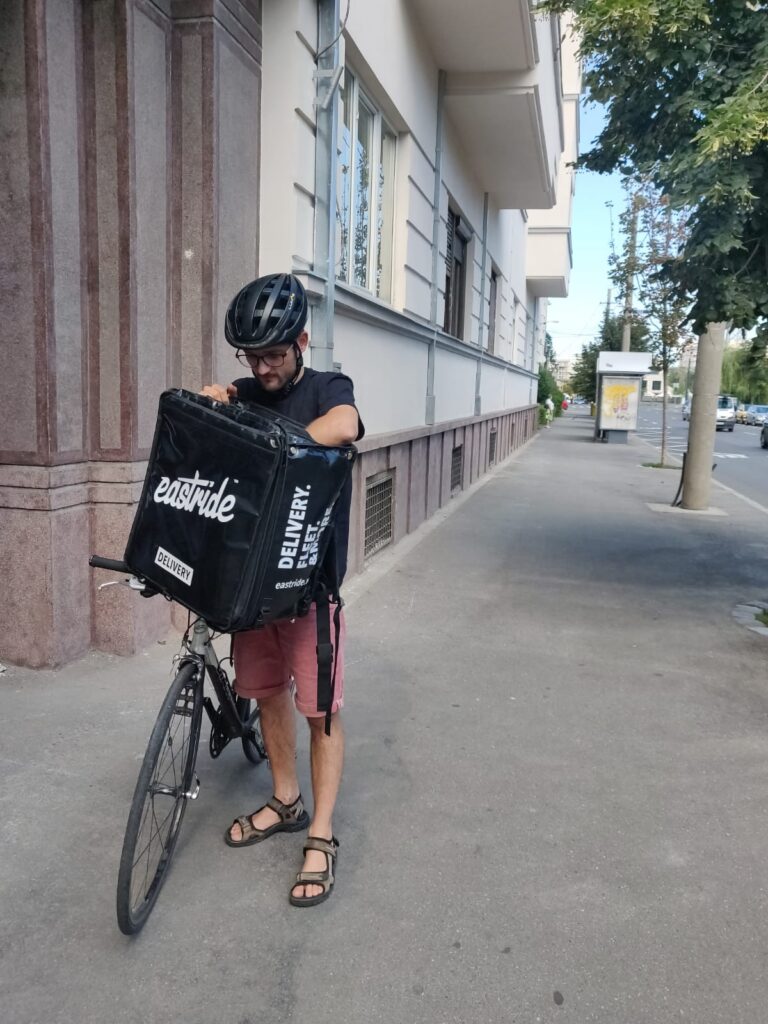 Still, this is not enough for the owners, who have long-term plans and are thinking about further improvements. In the spring, they found an investor who put EUR 175,000 into the company. Balázs Halmen told Maszol.ro they are using the funds to purchase electric bikes and electric scooters and to construct a well-equipped kitchen to be used by several virtual restaurants, exclusively for takeaway.
"During this year, we faced several challenges. Some might think that the restrictive measures brought a big boom for delivery companies, but that's not exactly true," Balázs Halmen told maszol.ro. As he explained, in the beginning, there was an increase, but demand then dropped for several reasons. First of all, car traffic dropped drastically, which nullified the advantage of bicycle delivery over car delivery. The number of car delivery people also grew, as many taxi drivers switched to food delivery. Eastride Bicycle Delivery also struggled with manpower, as many of our delivery people were university students, who moved back home after the universities were closed.
Winter is not the best season for bicycle delivery, but this year is even harder, as there is the epidemic as well. However, the owners of the company are optimistic. They are planning to open six or seven virtual restaurants in Kolozsvár and also want to continue their territorial expansion, targeting Bucharest in the first half of 2021. The young men plan to open bicycle repair shops in every city where they are present as well.
Title image: Eastride Bicycle Delivery is now available in four cities and works with 300 delivery people. Photo: Facebook/ Eastride Bicycle Delivery