Issues
Gypsy colony in flames, hundreds left homeless
Crying mothers and children fleeing, desperate men running around, shacks in flames: an apocalyptic, indescribable scene at a fire in a gypsy camp that left hundreds of people homeless. At the same time, there was a beacon of light in Csíkszereda/Miercurea-Ciuc, where help was being offered to those in distress.
The fire started at about 9 p.m. on Thursday; horses were soon wandering around the city's streets, while the flames completely covered part of the colony. Recovering from their initial shock, people then tried to save what they could while firemen worked on getting the fire under control — their efforts seemed hopelessly futile.
Mothers and children fled crying and yelling from burning houses, carrying some of the belongings they were able to save; some tried to run to safety while others came back to retrieve more items. Children half-dressed or wrapped up in blankets and huge jackets were fleeing holding their siblings' hands.
More fire trucks came, and authorities were trying to make sure that everyone was safe and that the firemen were doing their best to contain the damage. People continued running around frantically, trying to save beddings and clothes, depositing them on the muddy ground. Some were going back for their television sets while one child — to the astonishment of the neighbors — was carrying a yellow canister of butane.
Some were worried about their horses and pigs, while others were searching houses to find people left inside. The majority, however, simply stood helplessly, watching the flames engulf the roofs of the structures that were once their homes.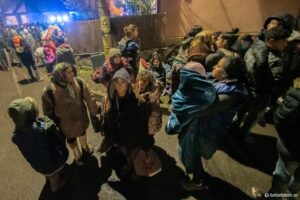 Attila Pinti/Székelyhon
The staff of the municipality of Csíkszereda arrived on the scene and began organizing for people to be transported to Erőss Zsolt Arena for shelter; meanwhile, children were crying and waiting impatiently in the cold.
As a result of Mayor Korodi Attila's Facebook post, more and more locals came to the arena with blankets and mattresses. Thanks to these volunteers and donations, everyone who lost their home had a place to lay their head.
Finding a permanent solution for the accommodation of the homeless will, however, be a challenge in the coming days and weeks.
Featured photo: Attila Pinti/Székelyhon