Sport
First-ever CONIFA Women's World Football Cup in Csíkszereda canceled
Due to the high risk factor caused by the COVID pandemic, the Confederation of Independent Football Associations canceled the first-ever CONIFA Women's World Football Cup, which would have been hosted by Szeklerland in Csíkszereda (Miercurea Ciuc) this summer. Whether or not the Men's European Cup, which is supposed to be held in Nice, will also be canceled has not been decided yet.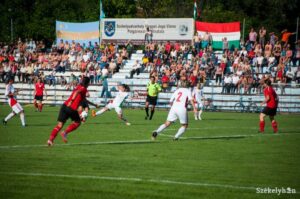 The first-ever CONIFA Women's World Football Cup was supposed to be organized between June 23 and 30 in Csíkszereda, where besides Szeklerland, Chameria, Northern Cyprus, Sápmi, Cascadia and Cornwall would have participated.
"We officially canceled the World Cup but will try to organize it next year. The location will be the same; we still want Csíkszereda to be its host."
– CONIFA Vice-President Kristóf Wenczel told szekelyhon.ro.
He added: "The main reason for the cancelation is the COVID pandemic. Theoretically, it could have been possible to organize it without spectators, and the girls could have played with vaccine certificates, but this would not have made much sense. We hope that next summer, we can organize the World Cup without any major restrictions."
Men's European Cup might also be canceled
CONIFA also planned to hold the men's European Cup in Nice, but it has already postponed it by one month to mid-July, and it is still doubtful whether the match can take place at all or will have to be canceled too. The final decision will be made on April 7.
"Personally, I see only a minimal chance that the European Cup could be held this year, and not only because of the vaccine certificates, but also because of French regulations, which make organizing it very difficult. Something unexpected always happens and ruins our plans, and it is impossible to organize it like that, with so much risk and uncertainty," said Wenczel.
Do you want to know more about CONIFA? Check out their introductory video!
Possible friendly games in autumn
However, despite all of the above, there is still hope for Szekler teams to play matches in 2021. If everything works out well during the upcoming months, both the men and women Szekler football teams can play friendly matches in early autumn this year. There are ongoing consultations with Sápmi and Cornwall on this topic as well, but no specific dates have been agreed upon yet.
"These matches would only make any sense if they could be played in front of spectators," Wenczel said.