Politics
Endocrinologist Ioana Mihăilă takes over "complicated" Ministry of Health
As of Wednesday evening, Ioana Mihăilă, the endocrinologist nominated by the USR-PLUS alliance is officially the new minister of health. The president of Romania signed the appointment decree, and Mihăilă was sworn in to take over what Klaus Iohannis called a "very complicated ministry."
The center-right government coalition — formed by the National Liberal Party; the alliance of the Save Romania Union (USR) and Freedom, Unity and Solidarity Party; and the Democratic Alliance of Hungarians in Romania (otherwise known as the PNL, USR-PLUS and RMDSZ coalition) — has put an end to the government crisis fostered by the prime minister's move to dismiss Vlad Voiculescu earlier this month. The negotiations successfully ended on Tuesday evening, and USR PLUS quickly nominated Ioana Mihăilă for the vacant minister of health position on Wednesday morning.
Since the country is fighting the COVID-19 pandemic, Mihăilă is assuming an important role in the government at a very difficult time, President Iohannis said at the swearing-in ceremony. "Madam Minister, today you take over a very complicated ministry, the Ministry of Health, in an extremely difficult period of the pandemic. I wish you a lot of hard work, a lot of success! […]
I also want the government to foster a very good collaboration between its members, and in this special case, to support our new colleague, Minister Mihăilă, because she will have a lot of problems to solve,"
Iohannis said, as cited by Romanian news outlet Digi24.
In her first statement after taking on her new role, Ioana Mihăilă touched on important COVID-19 matters, such as the situation of intensive care of patients infected with the coronavirus. From her perspective, the situation is related not only to the number of beds but also to the medical personnel, who need proper training and preparation to treat the patients. It is impossible to increase the number of available beds in intensive care "from one month to the next," she highlighted.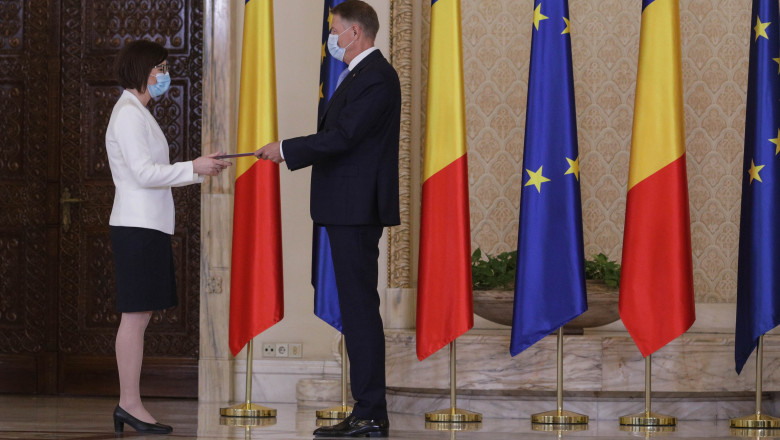 As for the new quarantine rules that allegedly triggered the removal of the former minister of health, this is a project that we have to discuss at a governmental level, including with specialists, she said.
Who is Ioana Mihăilă, the new minister of health?
Mihăilă is a former president of USR Bihar/Bihor County and endocrinologist. She has been a member of the USR party since the day it was founded, an earlier statement shows. Mihăilă and her husband own a private clinic, and she personally owns several real estate properties in Nagyvárad/Oradea, a city where she eyed the mayor's seat at one time.
Her declaration of assets also reveals that she has RON 400,000 (€81,000) in her bank account and lent RON 20,000 to USR during the election campaign. Mihăilă coordinated investments in the Romanian healthcare system from external funds and the development of the health component of the National Recovery and Resilience Plan, the most important investment opportunity in Romania's healthcare infrastructure.
Title image: Ioana Mihăilă, the new minister of health. Image credit: Inquam Photos / Octav Ganea