Interview
USNK – Transylvania's rappers on the road to international stardom
USNK, the Hungarian-Transylvanian rap duo of Kund Filep and Nimród Laskay, rose to fame after winning X-Faktor (The X Factor in Hungary) in 2018. When they were staging their first homecoming performance in the city they grew up in, Kolozsvár/Cluj-Napoca, their old schoolmates and friends gathered in front of the club, all wanting to see the X-Faktor stars they had grown up with. It was obvious their success was not just due to talent but also years and years of practicing and hard work — you don't just rap like that out of the blue. In our exclusive TransylvaniaNOW interview, we talked with the dup about what's going on in their lives right now.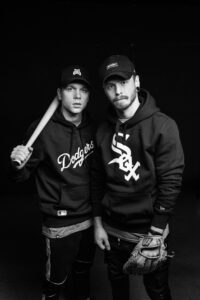 Photo credits: András Wlcsek
TN: So, what's up with you two? Genuine rap lyrics are often inspired by anger and sharp observation of society's dysfunctions. You must be quite inspired now during the pandemic, which is still not behind us.
USNK: We're ok, considering the emotional roller coaster we've had to endure these past 12 months. The truth is that the pandemic hit us hard and right when we least expected it to. Despite our difficulties in the sense that musically we've found ourselves drifting in a direction that became less and less relatable to us, things were going great. 2019 was a powerful year with lots of appearances not just nationally, but internationally as well. Then 2020 came and things took a turn for the worse. Looking back at last year, the lockdown, despite taking everything away from us, it also gave us the opportunity to improve ourselves, to work out some of the issues regarding our musical aspirations, and it gave us a new perspective. We can say that we've managed to find ourselves again, and we've experimented with new creative ideas as well. We never wanted to stick to just one particular style, and while some argue that it's important to stay creatively consistent in order to be distinguishable, we believe that our authenticity lies in creating whatever we feel is right in that particular moment. It's up to the listeners to decide if they want to join us on this journey, and it certainly isn't our job to please a particular crowd while ignoring our inner calling just for the sake of success.
TN: USNK lyrics are also about social inequalities and the tensions you may feel as a young adult, but you also criticize the social-media posting mania that takes up our time and prevents us from having real lives and real emotions outside of the online world. Our world has now changed in the last year, with daily life moving even more to online platforms. Do you see this as a cause for concern?
USNK: Of course! Social media can be very harmful, especially for preadolescents and even adolescents, because they can't yet differentiate what's fake from what's real. We're not necessarily saying that these platforms are a bad thing since they have proven their usefulness time and time again throughout the years by bringing people together. They helped raise awareness regarding various concerns relevant to our society and to our lives as human beings on Earth and helped build a better world for future generations. They certainly opened people's eyes to new ways of seeing things, but in today's fast-paced society, which is heavily driven by materialistic motives, it has also become a very powerful tool to shape our society in ways profitable to big, influential companies. I guess what we're trying to say is that "with great power comes great responsibility," and social media is definitely something to be concerned about.
TN: Your contract with your initial management group after the show's success is slowly coming to an end. This means you will be free to create whatever you wish as artists. You often say that you prefer to sing in English because it seems to be the language most conducive to rap. So, are some brand new English singles on their way?
USNK: We're not at liberty to discuss the terms of the contract we signed, but one thing is certain: Our future shines just a bit brighter now. We have new tracks in English on the way, which is something to look forward to! This doesn't necessarily mean we're giving up on making Hungarian songs; we just want to focus our attention more on our inner calling as artists and less on various formulas meant to guarantee success, such as constantly trying to make hit songs. We're going to be more true to ourselves from here on out.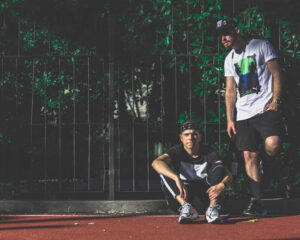 Photo credits: Bence Agocs
TN: Who are your rapping mentors now? Have you had any new inspiration during these concert-free months?
USNK: Eminem, Caskey, Logic, and the late Mac Miller will forever remain our so-called rap mentors. We do, however, listen to new artists almost on a regular basis, and as artists ourselves, we tend to listen to a lot of music belonging to a variety of genres as well, not just rap or hip-hop. We also tend to unconsciously analyze each song we hear instead of just casually listening to it, and this truly does inspire us in the most peculiar of ways.
TN: You both have moved to Hungary since winning the show. What are your impressions of life in Budapest so far?
USNK: Yes, we did! Actually, we even moved in together, and with our girlfriends, which obviously, but fortunately rarely, has its challenges.
Being born in a city like Cluj-Napoca, which is swarming with tourists all year round and foreigners attending our various universities, moving to Budapest wasn't that big of a deal for us. We'll even go as far as to say that it was mostly a strategic decision from our point of view in an effort to save time and money since Budapest was the starting point to all our trips around Hungary. Naturally, this doesn't change the fact that we love it here, and we're glad to be calling it our new home, at least for now! We just can't stress enough how gorgeous and lively this city is! We definitely consider ourselves lucky to be living here.
TN: How does your calendar look right now? Who will be seeing USNK rappin' in the upcoming months?
USNK: Sadly, not as good as we'd like it to look. Unfortunately, there aren't going to be too many concerts this year, that's for sure. The world just keeps on getting crazier due to this pandemic, and even though we miss being on a stage very much, we wouldn't want to hold a concert prematurely whereupon our fans would be exposed to potentially being infected with COVID-19. We think that the time simply isn't here yet, so all we can do is be patient and use this time to improve our skills, to better ourselves and to create for ourselves and our fans.
Featured photo: Enikő Bianka Dancs