Sport
Two Transylvanian teams vie yet again for ice hockey championship title
Just three weeks after going up against each other in the Erste Liga finals, the Corona Brassó Wolves (from Brassó/Brașov) will play the Csíkszeredai Sportklub (from Csíkszereda/Miercurea Ciuc) for the Romanian Ice Hockey Championship title. The Corona Brassó Wolves (from Brassó/Brașov) knocked out the Gyergyói Hoki Klub in the semifinals with a 3-0 series sweep, and then the Csíkszeredai Sportklub got into the finals by winning the semifinals against CSM Galați 3-1. (szekelyhon.ro)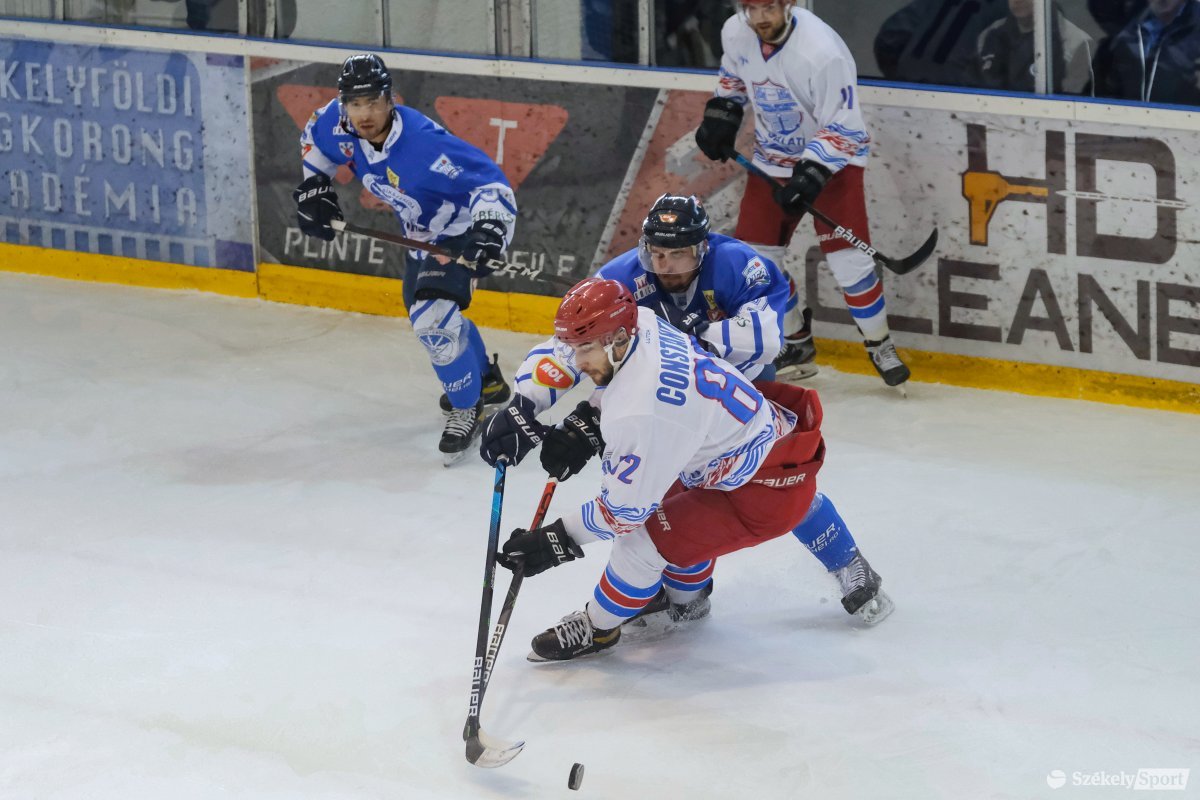 Sportklub, led by Canadian head coach Jason Morgan and assistant coach Levente Hozó, was able to turn their aggregate score around, after losing their first match in Galați, with one win away and a home victory; in the fourth game on Monday in Csíkszereda, the blue-white team played again with great enthusiasm. By controlling most of the game, the Csíkszereda Sportklub won its third game in the series 5-2, closing the semifinals with an aggregate score of 3-1.
"In my opinion, the hardest part of every knockout stage is its end. It wasn't any different today either; the guest team kept up their effort, and because of this, today's match was very tight for a long time. They didn't give up, and after 3-1, they came back to the game to score a short-handed goal (3-2). They gained strength from this for a couple of minutes, but then they got tired at the end, which was not a surprise, as they were playing with two to two and half lines during the whole match. They couldn't keep up physically in the last 10 minutes. I am very happy for our boys, and another round of finals is coming. The most important thing at the moment, instead of focusing on the whole finals, is to focus only on the first match. Brassó has one more day to rest than us before the finals, but hopefully we are going to keep up our great performance," said Sportklub head coach Jason Morgan after the match.
Third finals in this season between Sportklub and Corona
The finals of the Romanian championships start on Friday, April 30, at 6:30 p.m. at the home of the yellow-blue team in Brassó.
The second match of the finals will be played on Saturday also in Brassó, then they will play next Tuesday in Csíkszereda, and if a fourth game is needed, then they will also play next Wednesday in the Szekler town. The finals of the Romanian championships, just like the semifinals, are played until three games are won.
The two Transylvanian teams know each other very well, as this will be their third finals against each other this season.
While Corona Brassó Wolves won the Romanian Cup in December 2020, Csíkszereda Sportklub won the Erste Liga finals three weeks ago. The only question left now is which of them will win its second title in the 2020/2021 season?
Romanian Ice Hockey Championship semifinals, 4th match 
April 26, 2021: Csíkszereda, Vákár Lajos Ice Rink, without spectators
Csíkszereda Sportklub – CSM Galați 5-2 (1:1, 1:0, 3:1)
Goals (minute): Csíkszereda Sportklub: Jack Combs (7th), Judd Blackwater (27th, power play), Andrej Taratuhin (44th), Tamás Láday (57th), Justin Maylan (58th) CSM Galați: Albert Polinin (19th, power play), Adrian Irimia (51st, short-handed)
Shots on target: 47-29
Penalties: 10 and 18 minutes
Csíkszereda Sportklub got into the finals with a 3-1 aggregate score for the series.
Title image: Csíkszereda Sportklub – CSM Galați on April 26, 2021. (Photo: Nándor Veres / szekelyhon.ro)