Tourism
Pandemic halved Transylvanian tourism
Transylvanian tourism dropped by 50 percent because of the COVID-19 pandemic this summer. The June-October period in 2020 showed a significant decrease in Szeklerland too, especially in Hargita (Harghita) County, compared to the same period of the previous year.

Based on monthly data, tourist traffic in Transylvania is typically the strongest in summertime. Erdélystat (Transylvanian statistical service) made a summary of the preliminary data reported by the county statistical offices that focus on the tourist season.
In Szeklerland, 97,407 tourist arrivals (51,639 in Hargita/Harghita County and 45,768 in Kovászna/Covasna County) and 308,174 nights spent (106,680 in Hargita and 201,494 in Kovászna) were registered in the summer season last year. This means a 50 percent decrease in the number of tourists and a decline of 52.9 percent in the number of nights spent, compared to the same period of 2019.
The decrease is especially significant in Hargita County (57.3% and 61.6%)
– highlights the Erdélystat summary.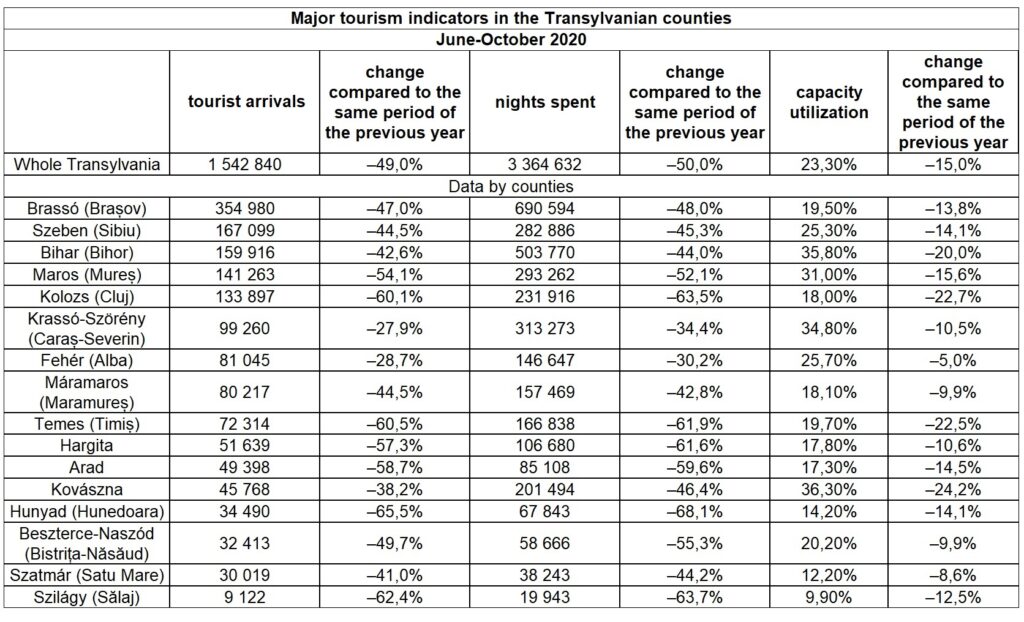 The two Szekler counties represent 6.3 percent of tourist arrivals and 9.2 percent of nights spent in all of Transylvania, which is a slight decrease compared to previous years.
Furthermore, the accommodation capacity utilization also shows a downward trend in Szeklerland. While in the 2019 summer season, it was 40.8 percent, it was only 26.6 percent in 2020.
Title image: Tourist office in Szeklerland. The COVID-19 pandemic has had a huge effect on the tourism sector. (Photo: László Beliczay/szekelyhon.ro)