History
Thousands pray to save military graveyard from hijacking
Sunday afternoon some 2,500 people attended an ecumenical worship in the Hungarian military cemetery in Transylvania, under threat to be hijacked by a Romanian town. The previous day the Dărmănești/Dormánfalva mayor Constantin Toma postponed the inauguration of the Romanian parcel originally planned for May 17.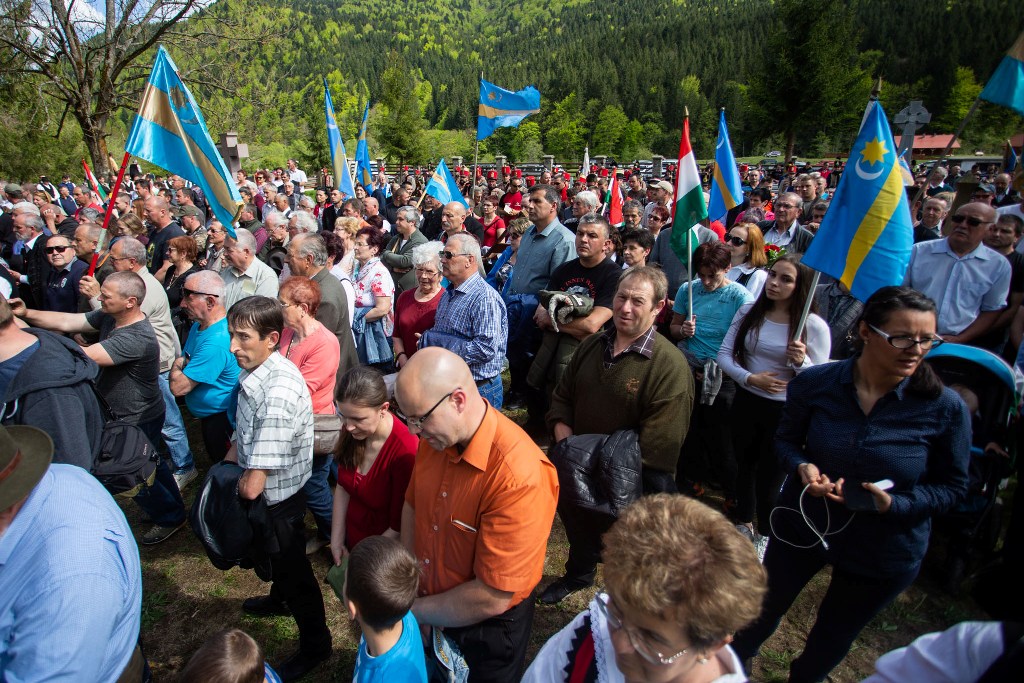 A committee of civilians and municipal leaders invited those to the ecumenical worship, who were outraged by the fact that the council of Dărmănești (small town outside of Transylvania, at the eastern side of the Carpathians) set up a Romanian parcel in the Austro-Hungarian military graveyard in Transylvania, by erecting rows of concrete crosses of "unknown Romanian soldiers" partly above actual Hungarian soldier graves. Unitarian pastor of Székelyderzs/Dârjiu, Sándor Lóránd Demeter ask the participants to cling together and to acclaim the following:
"Don't hurt the Hungarian!"
Earlier this month representatives of the Democratic Alliance of Hungarians in Romania (RMDSZ) erected wooden crosses – next to the new concrete ones – and they wrote on them the names of those Hungarian soldiers who are actually buried there. During the liturgy traditionalists dressed in Hussar uniform provided the guard of honor at the graves of those 14 Hungarian soldiers who served in the Austrian-Hungarian Army and died in the WW1 and whose graves got desecrated by the concrete crosses.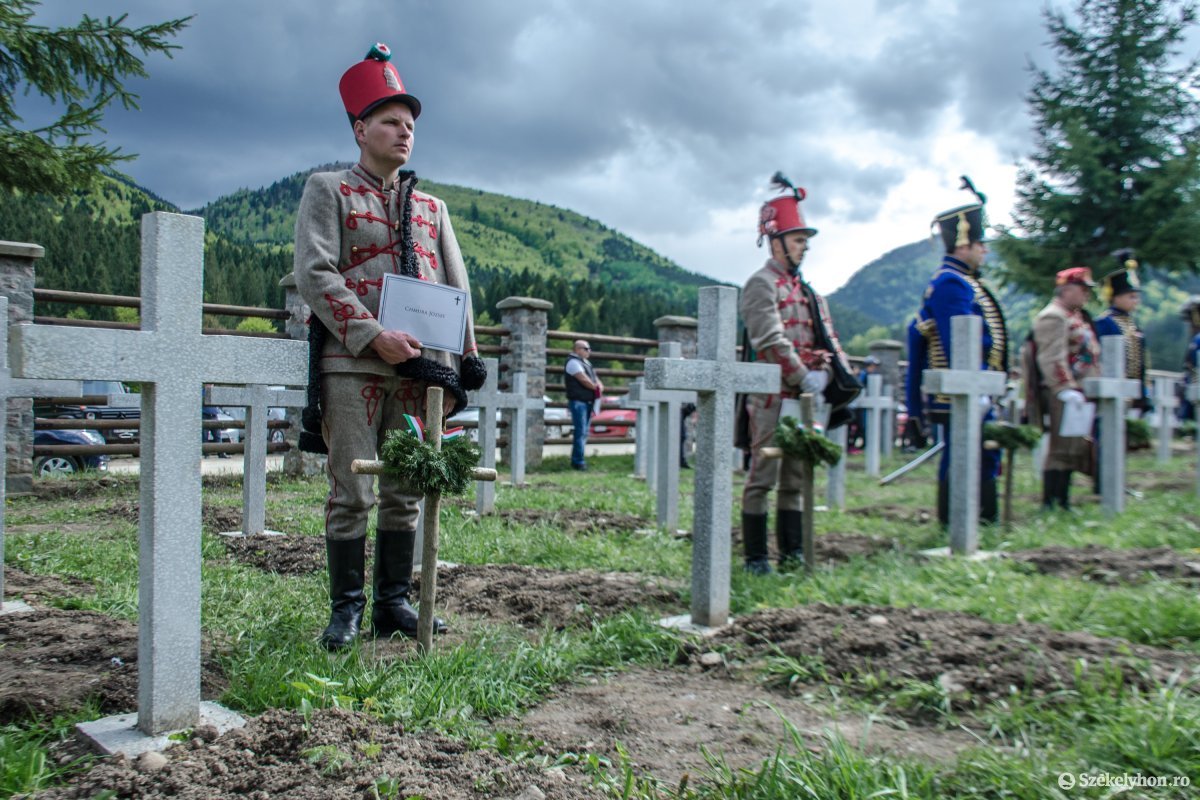 Following the joint blessing at the end of the ecumenical worship, organizers read a protest statement, in which they said that Hungarians living in Romania respect the memory of all those who lost their lives during the WWI and WWII, regardless of their burial place and nationality.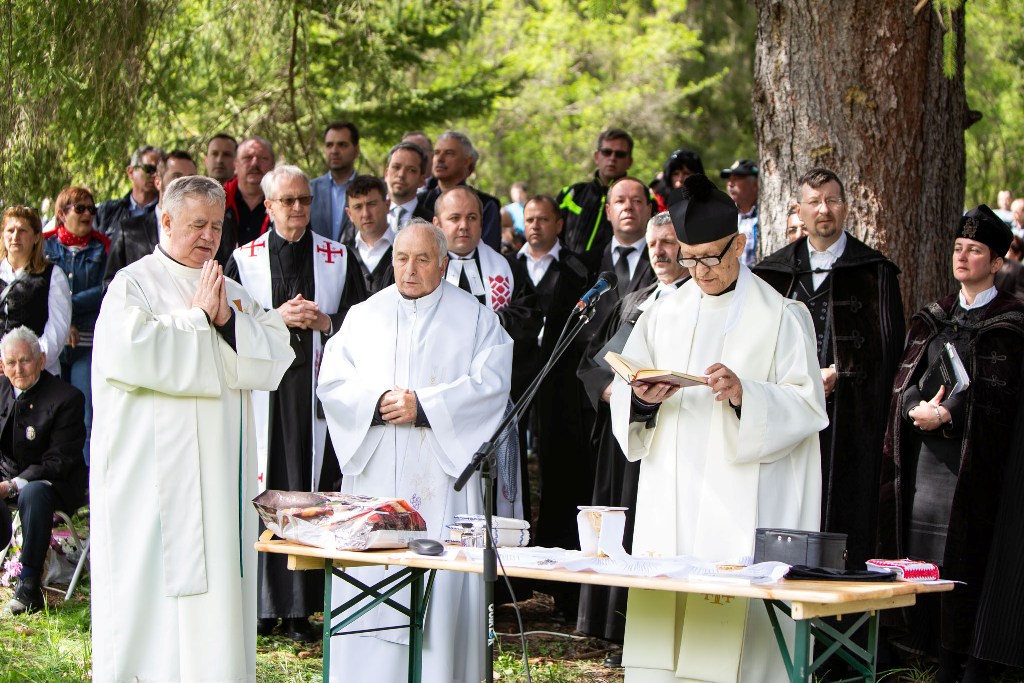 The protest statement also says that the Hungarian community of Romania "lives and works here, pays taxes here, and enrich Romania with their culture", and because of this the Dărmănești Council's act is more than desecrating for them. They added  that the desecration of their ancestors is a symbolic act for them, which summarizes all the grievances Transylvanian Hungarians suffers when their culture, history, intellectual life and economy is disparaged, questioned or hindered. According to the statement, the historical churches, the councils, the civilian organizations, and the Hungarian political parties operating in Romania – in the name of the Hungarian community living in Romania – demand the following:
– Investigation of all the illegitimacy accrued as the results of the desecrating acts, and the punishment of the law-breakers.
– Restoration of the original conditions of the cemetery, and border clarification between the settlements and the counties, to avoid similar abuses in the future.
– Immediately cease the abuse of Hungarians and the alteration of history.
– Public apology to the relatives of soldiers resting in the desecrated cemetery and the insulted nations.
Title image: Thousands gathered at the ecumenical worship in the Úz Valley on 12. May 2019. (Photo: Attila Toró/3szek.ro)