Culture
"The Tragedy of Man" in Temesvár – theater review
The Csiky Gergely Theatre in Temesvár/Timișoara premiered earlier this week The Tragedy of Man (Hungarian: Az ember tragédiája), a play written by Hungarian author Imre Madách. First published in 1861, it is considered to be one of the major works of Hungarian literature and one of the most-frequently staged Hungarian plays today. Many lines from the piece have become common quotations in Hungary.
Directed by Silviu Purcărete (69), arguably Romania's most-famous theatrical director, staging the premiere is in and of itself a major achievement for the institution. Temesvár is the only European city with state-run theaters in three languages: Romanian, Hungarian and German. The Romanian theater is financed from the central budget, while the other two by the municipality.
Having a production of this iconic piece of Hungarian theater directed by a Romanian director is just one of many examples of the ethnic tolerance that western Romanian prides itself on – a phenomenon not exactly commonplace in a country where politicians of the ethnic majority often play the nationalist card for short-term gains.
The play itself consists of 16 scenes showing Adam, Eve, God and Lucifer from the beginning of Creation through major historic moments of humanity to a bleak dystopian future. Conceived as a philosophical drama, it expands on the theme of Goethe's Faust, giving it a broader perspective and perhaps even more depth. It is also something of a natural evolution for Purcărete, who directed Faust in Szeben/Sibiu in 2007.
Staging The Tragedy of Man has always been a challenge for directors: the script, if played in full, would result in an eight-hour spectacle. Purcărete, working together with dramaturgist András Visky, cut it down to a much more manageable two hours, concentrating on the action scenes. The scenery and costume design – the work of Dragoș Buhagiar – portrays a rather bleak and gloomy monotone world, with just a few, strategically deployed bright splashes of color.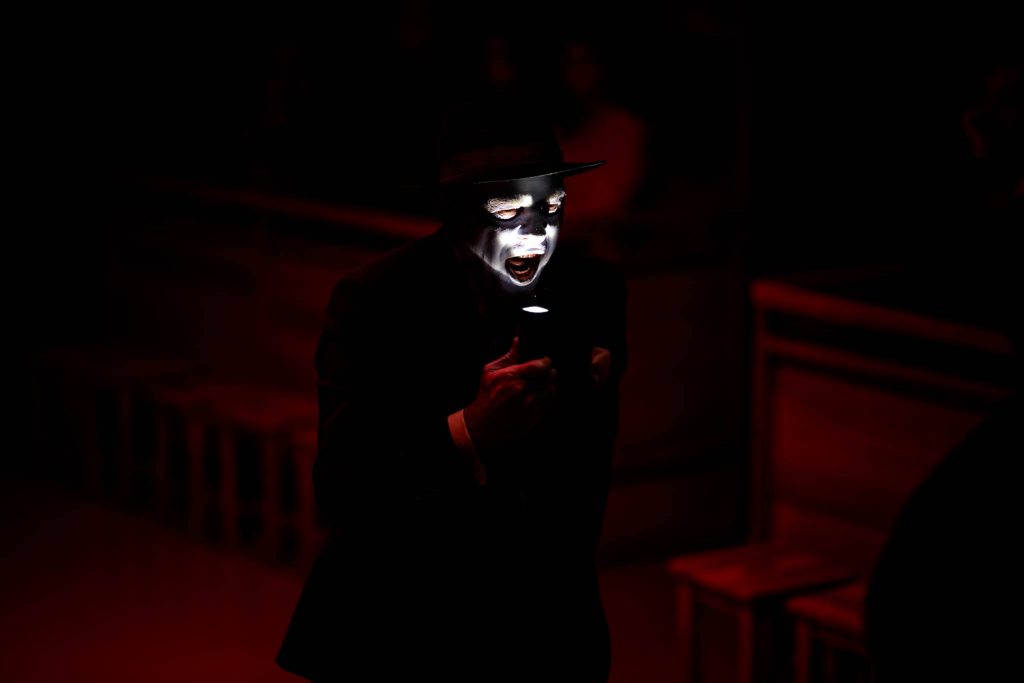 Scene from The Tragedy of Man by Imre Madách. (photo: Petru Cojocaru)   
Some of Purcărete's directorial choices may be debatable, but he is a master of his craft and the single-act play has not a single dull moment, riveting the audience from beginning to end. Instead of just one Lucifer, he has three of them dressed in evening wear, their strong makeup evoking evil clowns.
Indeed, in one particular scene of the Lucifers is a context-appropriate version that evokes the Joker as portrayed in several American movies. The production enlists all 28 actors of the theater, with the male and female actors alternating in the roles of Adam and Eve. Once the audience realizes this sleight-of-hand, it becomes an artifice used to full effect.
Boiling down the literary raw material to just two hours does inevitably cut down on the philosophical aspects – something has to give, after all – but does award the audience with a non-stop visual and auditory feast in trademark Purcărete style, well worth the price of admission.
Title image: Scene from The Tragedy of Man by Imre Madách. (photo: Petru Cojocaru)