Arts, Food & Free Time
"The road to success was not easy to navigate"
"The road to success was not easy to navigate," says István Téglás, a Hungarian actor from Barót/Baraolt who was recognized at the most prestigious film awards in Romania — the Gopo Awards, Romania's equivalent to the Academy Awards. At this year's ceremony, held in Bucharest as an open-air gala, Téglás won the best supporting actor award for La Gomera (The Whistlers). Directed by Corneliu Porumboiu, La Gomera was the big winner of the night, grabbing nine trophies, including for best director, best feature film, best supporting actor and actress, best script, best picture and best film editing.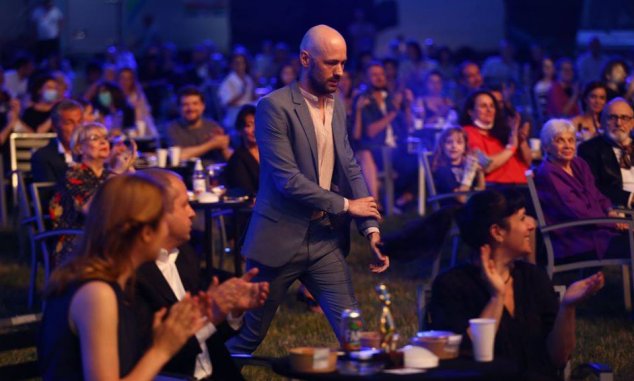 István Téglás is from Szeklerland; he studied acting at the University of Arts in Marosvásárhely/Târgu-Mureș from 2000 to 2004 and was then continuously in search of the best ways to express his creativity. Being born in a town that offered very few opportunities for artistic self-expression, he turned to the innovative theatrical language that he found at the Sepsiszentgyörgy/Sfantu Gheorghe theatre; there, he learned numerous ways in which to express himself.
After trying his luck as a Hungarian actor in Transylvania and Hungary and being encouraged by choreographer Vava Stefanescu, whom he had worked with in Gyergyószentmiklós/Gheorgheni, he thought that he could give his career a shot in Bucharest as well. He did not know Romanian well enough, so integration was not so easy, but he was convinced that his mother tongue was only one form of self-expression and that he had much more to offer to the public. This is when he discovered that movement theater is also a great vehicle for expression and can, at times, be even deeper than language.
"I am thankful to many people who at certain times of my life believed in me and supported me," Téglás told Transindex.ro after receiving his Gopo award. "An independent theatre performance brought me the chance of landing in the world of film. In two years, I was in six movies, the first being La Gomera, the movie for which I received the Gopo award. The film was well received at many prestigious film festivals around the world. Now I am at a stage in my life where I see that all the things I've done so far are starting to come together: my work in the National Theatre, the independent theatrical productions and also my work as a film actor. Now that I have also learned [Romanian] at a good enough level that I can use it without any accent, I see no obstacles in any direction. Anyway, I can say that the artistic world of Bucharest has been more than welcoming so far."
Photos: Gopo Awards gala