Tourism
The Bihor Mountains
When someone wishes to spend his free time in a beautiful area with glades and springlets surrounded by mountains, surely will have much fun if he chooses the mountains in Bihar (Romanian: Bihor) county. These form part of Western Romanian Carpathians also known as the Apuseni Mountains. The highest peak is Cucurbăta Mare with an elevation of 1,849 metres (6,066 ft).
Character
The carstic character gives the main attraction to this region. Several tourists go to visit these limestones, as the springlets and passes are so many here as nowhere else in the country. It is said that there are 7,000 caves within these mountains. In addition, one of the longest, deepest caves of the country is also to be found here, as well as the biggest underground ice cave and the largest carstic area. More than 100-year-old marked paths await for the tourists.
Region
The first blazed roads were built by Gyula Czárán – the first tourism specialist in Hungary – who also published a book about this region. Being an expert in this area, he spent a considerable part of his time to establish and mark the paths. In 2004 the  nature preserve of the Western Carpathians was created on 75,784 hectares. The boundaries of the preserve are clearly marked and notice boards advise about the rules. From a touristic point of view this region has three main points: Pádis-Glavoj, Biharfüred (Stana de Vale) and Vigyázó (Vlădeasa).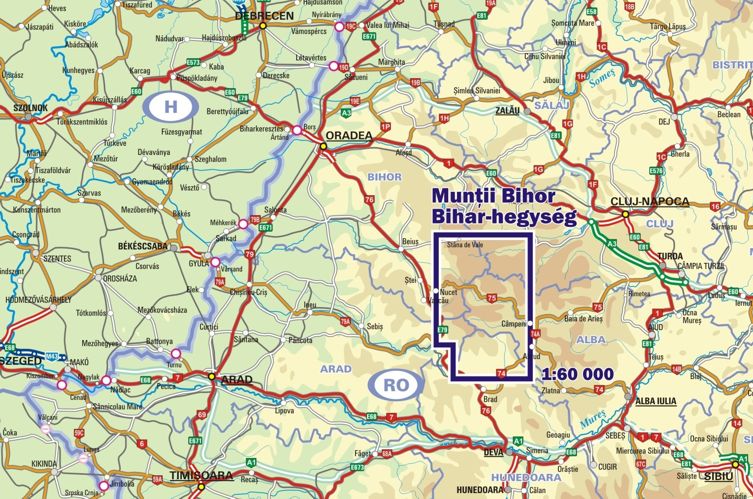 Caves
The caves in these mountains are usually very muddy, so appropriate boots are a must. There are many streamlets in the region.  Some of the marked tours can be quite long, up to 40km (25 miles) so you need to be in decent physical shape. Adventure seekers have the  opportunity for rafting, canyon climbing, mountain bike, hanggliding, paragliding.
Recommendation
These mountains are preferred especially by those tourists who wish to spend time in nature not far from the main city of the region, Nagyvárad (Oradea).
A northern extension of the Bihor Mountains,Vigyázó (Vlădeasa), is a volcanic range reaching 1,836 meters (6,023 feet). These mountains are the birthplace of several important rivers. The Vlagyásza spawns the Sebes Kőrös (Crișu Repede) and the Meleg-Szamos (Someșu Cald) in a striking gorge.