Economy
Successful young entrepreneurs from Háromszék awarded
A confectionery shop owner, an electric fence manufacturer and a topographer were named the Young Entrepreneurs of the Year in the Háromszék Region by the Junior Business Club Association, an association mostly active in Kovászna (Covasna) County. The business club held an online ceremony at the end of 2020, awarding young entrepreneurs from the region who achieved excellent performance in 2019 while doing exemplary work and helping the community, reports transindex.ro, a Hungarian news portal in Transylvania.
Zsolt Karácsony, the president of the Junior Business Club Association, said at the ceremony that 2020 was a very interesting and challenging year for everyone. "But let this be a year of a new beginning, where new opportunities lie ahead for young entrepreneurs. Don't be discouraged, but continue with the plan you've already dreamed of," the president of the association said.
As Zsolt Karácsony explained, it is very important to have entrepreneurs in the region who are not only developing their own company but also supporting the economy and other entrepreneurs. "We need professionals who bring the community together in order to make the economy right and truly profitable, not just for goods but for prosperity as well. When I talk about the economy, I am not just talking about the entrepreneurial environment but all residents," Karácsony said, adding that many people work at enterprises in Kovászna County that should be strengthened so that the entire county can prosper.
Based on the decision of the Chamber of Commerce of Kovászna County, the Junior Business Club Association awarded such successful and young entrepreneurs. Third place went to Orsolya Horváth, the owner of Prosavor Ltd., which runs a confectionery called Orka. Second place went to Agro Electrosistems Ltd., which makes electric fences. "They have built a very interesting market for themselves and are already selling their products internationally. They have creatively found a market niche and exploited it," Karácsony said.
At the event, Hunor Pál Kis, the founder of Next KHP Topo Ltd., was named Young Entrepreneur of the Year. Kis works as a topographer in the construction industry, and his company is a family enterprise: He works together with his father and wife. The company itself received its operating license in 2018 and already achieved great results in 2019. The spring of 2020 was difficult, but this loss was made up for in the next period, and, as the entrepreneur said, "this year may have even surpassed 2019." "Construction did not stop during the epidemic; apartment buildings are constantly being built in Sepsiszentgyörgy (Sfântu Gheorghe), so there is a lot of work," he added.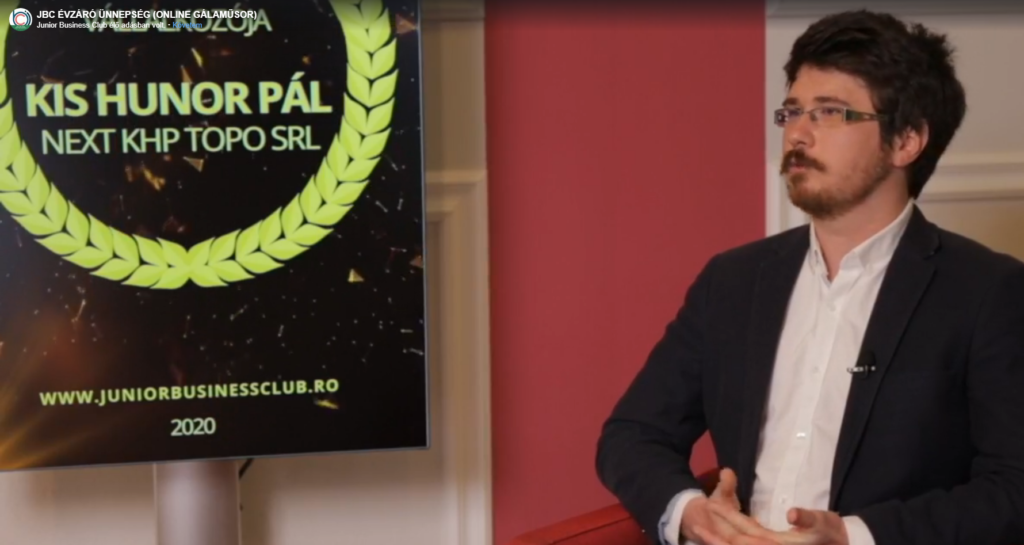 According to Tranindex.ro, Hunor Pál Kis thinks, based on his experience, that companies should put great effort into customer-orientation and trust-building. As he said, in construction, the client often only sees the end product, and few know what complications the construction process itself actually entails. That's why it is very important that all legitimate opportunities are communicated with patience and accuracy, Kis said. The young entrepreneur is really excited about 2021, as he believes that 2020 will be followed by an upswing. According to him, it is also promising that we have made a lot of progress, for example, in the field of digitization processes (electronic signatures, etc.), which is definitely useful, as most paperwork is a burden that simply takes a lot of energy.
The story of a successful company
Hunor Pál Kis was born in Sepsiszentgyörgy, attended university in Bucharest, later moved to Budapest, and then returned to his hometown. When Transindex.ro asked Hunor Pál Kis, why he moved back to Sepsiszentgyörgy, he mentioned family as a reason.
"My partner is also from Sepsiszentgyörgy, and our parents live here as well. We decided earlier that we will start a family at home because Szentgyörgy is a livable city for us, perfect for a family with small children. So that was the main reason, not the founding of a company," the young entrepreneur told Transindex.ro. Kis also added that he had worked in Bucharest and in Budapest, but never in his profession. "It is also true that our intention to return home was strengthened by the fact that I wanted to get a job in my profession, and my father helped me with that because he also had the same degree and knew the field at home. So we decided to start a company at home, which I registered and then my father joined me. Only the two of us work now because my wife is on maternity leave," he said.
When asked, in his opinion, why he was named Entrepreneur of the Year, he said that he pays more attention to marketing compared to other topographers. "I pay special attention to appear in the newspaper, to have articles about me; I also attend volunteer activities where I can help. For example, if a track needs to be built for a bike parade or whatever. I try to take advantage of opportunities and I'm very happy to do so. Topography is not a profession where you can easily show yourself off, so from a marketing standpoint, it is mainly the word-of-mouth method that works: If you have a satisfied customer, he recommends you to the next one, and so on. Contrary to this, I started my company differently: I created a webpage and communicate on Facebook, so I pay a lot of attention to these channels. I haven't really seen similar initiatives with other competing companies; they don't really care about online representation. I feel that I was able to stay in the market by doing this and create a client base, which can be a plus compared to the competition," Hunor Pál Kis told Transindex.ro.
The young entrepreneur also deals with online issues, which is also an innovation in the region. "For example, if someone lives in Germany, we try to solve their problems here through social media platforms. In my opinion, this type of service is also needed, and it was very needed during the epidemic. Clients can be extremely grateful if they feel that someone is putting more energy into helping them," he stressed.
Hunor Pál Kis also said that he has managed to build a network with local entrepreneurs that allows him to cover all of the work phases almost completely. "Let's take construction: First comes the topographer. But I also have a list of young, reliable professionals, who can carry out the construction. So the client may come to me with any problem, and I know exactly who the client may turn to. The clients are very grateful in such cases because very few understand the complex process of construction. So I feel that such a solid team is a great advantage," the entrepreneur said, adding: "Well, I don't know exactly why I was chosen. Anyway, I'm very grateful and proud to have received this award."
Title image: Zsolt Karácsony and Hunor Pál Kis at the ceremony. Photo: Junior Business Club Association Facebook Page