Issues
Social media misinterprets intervention to save baby storks
Social media created a big buzz that some young storks had been taken from their nest in Zetelaka (Zetea) on Monday. Attila Nagy, the mayor of the village, told Hungarian newspaper Székelyhon that they wanted to help the young birds, as they thought both of their parents had died, but their intervention to save the storks was misunderstood by internet users. However, since it was discovered that the parents are alive, the young storks were placed back in their nest. People can follow the life of the bird family via cameras recording their daily activity, Székelyhon reports.
As Attila Nagy told the newspaper, the staff of Caritas, a Romanian charity told him about two dead storks found on Tófalvi Street, near some high voltage lines. The mayor said they thought these were the parents of the young storks nesting in the yard of the Catholic Church of the village, as villagers hadn't seen them for days. The life of the bird family can be followed on the internet through cameras set up near the nest. The mayor spoke with ornithologists and the professionals from the Milvus Bird and Nature Protection Association and planned how to help the young birds.
Attila Nagy managed to get a maintenance car with a crane, so they could reach the nest and transport the three young storks to the Milvus Group's sanctuary. But people online, not knowing the details surrounding the rescue, misinterpreted this action and expressed their anger on social media.
Some people from the village later saw one of the parents returning to the nest, looking for its young. The mayor and the professionals involved decided to place the young birds in the yard of the church so the parents could see them. They also fed the birds with chicken meat and made sure there was someone to supervise and protect them, Attila Nagy said.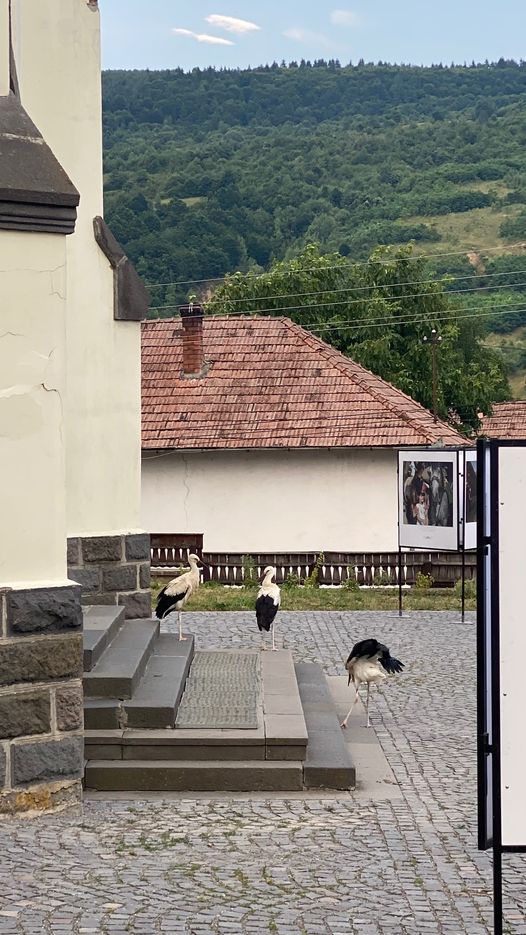 The young birds were placed back in their nest on Tuesday morning; that's when they were able to get a crane back on the scene. The mayor and the experts are now waiting for the return of the parents. However, if the older storks don't show up, the experts will intervene again, Attila Nagy explained to Székelyhon.
The mayor also added they wanted to inform people about all of this on social media, but they had to work very quickly and could not do so. Attila Nagy said he never thought their intervention would create such outrage among internet users, but he wanted to reassure everyone that it was for a good cause.
Title image: The three young birds waiting for their parents. Photo: Székelyhon/Bálint Előd Erdély