Education
Romanian youngsters trail their EU counterparts in terms of digital skills: Eurostat
While Romania performs well in terms of internet connection, thanks to ultrafast broadband and the wide availability of high-capacity fixed networks in urban areas, there is a major discrepancy with other EU countries when it comes to digital skills: One/fifth of Romanians have never used the internet, and less than a third have at least basic skills, according to research released by Eurostat.
Romania is well-positioned in terms of ICT graduates, as it ranks fifth, with 5.6 percent of all graduates (EU average is 3.6 percent). But when it comes to digital public services and the use of internet services, Romania has the lowest performance among EU member states, the report reads.
Considering that the pandemic has forced schools to move their courses online in the past few months, many young people aged 16-24 had to follow online classes. In their latest research, Eurostat analyzed and compared the digital skills of European youngsters and found that in 2019 four out of five young people, or 80 percent of the EU's young citizens, had basic or above-basic digital skills, 24 percent more than those aged 16-75 (56 percent).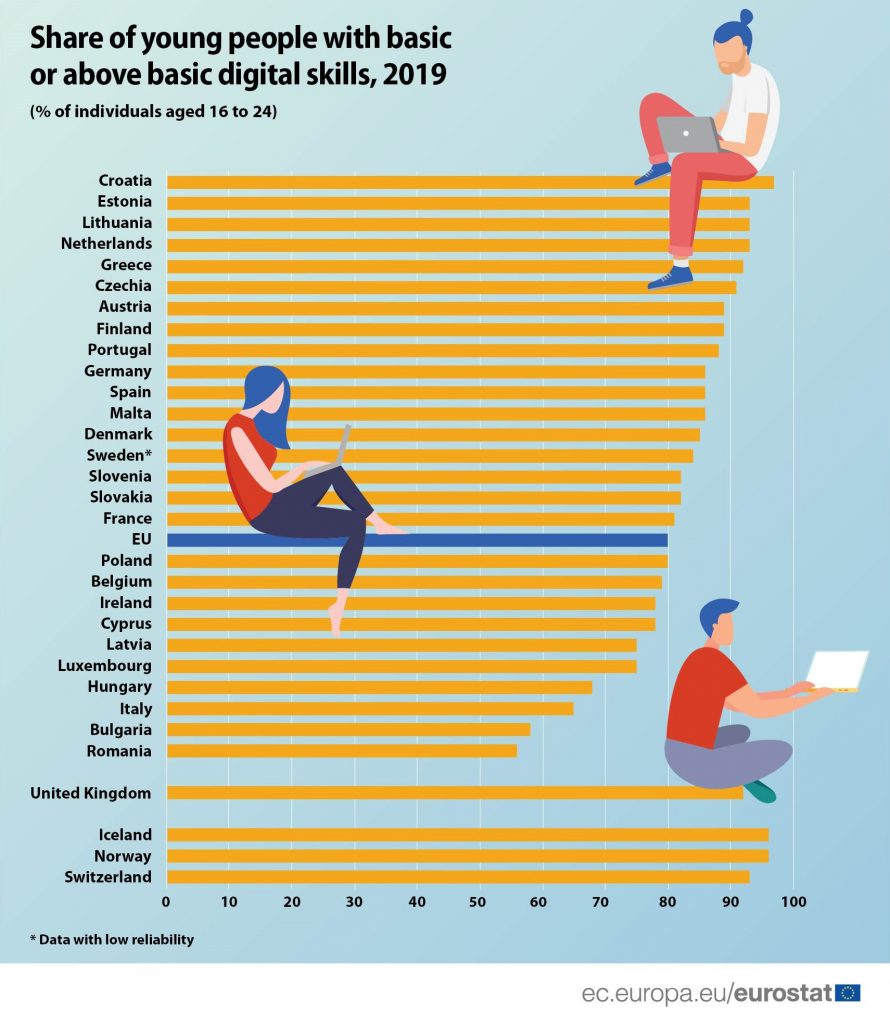 Among EU Member states, Croatia leads with the highest share of individuals (97 percent) with basic or above-basic overall digital skills, followed by Estonia, Lithuania, and the Netherlands (93 percent each), and Greece.
Unfortunately, Romania can be found only at the bottom of the list, with the lowest share of digitally trained young citizens (56 percent), falling behind countries such as Bulgaria (58 percent), Italy (65 percent), and Hungary (68 percent).
Less than one-third of people in Romania aged between 16 and 74 have at least basic digital skills (58 percent in the EU as a whole), while 35 percent have at least basic software skills (against an EU average of 61 percent). As for above-basic digital skills, Romania is last in the EU with only 10 percent of individuals in this category.