Politics
Romanian President failed to live up to his position – Hunor Kelemen
Last week's inflammatory statement by Romanian President Klaus Iohannis is further proof that even towards the end of his second mandate, he is unable to live up to the requirements of his position, Hunor Kelemen, President of the Democratic Alliance of Hungarians in Romania (also known by its Hungarian acronym of RMDSZ), said in an interview with Hungarian-language news portal Maszol.
"Not a single word of the President's two-and-a-half-minute statement was true. Iohannis lied because he knew very well that the PSD has no intention of selling Transylvania to [Hungarian Prime Minister] Viktor Orbán and he also knew there is no agreement between PSD and RMDSZ; plus, he knew that the autonomy bill will not pass in Parliament," Kelemen said. "Such maneuvers from a second- or third-rate politician can perhaps be overlooked, but they are unacceptable from the highest official of the state, the President."
In the video statement released by the President's Office last Thursday, Iohannis accused the ethnic Hungarian minority in Transylvania, the Social Democratic Party and Hungarian Prime Minister Viktor Orbán of plotting to give Transylvania to Hungary.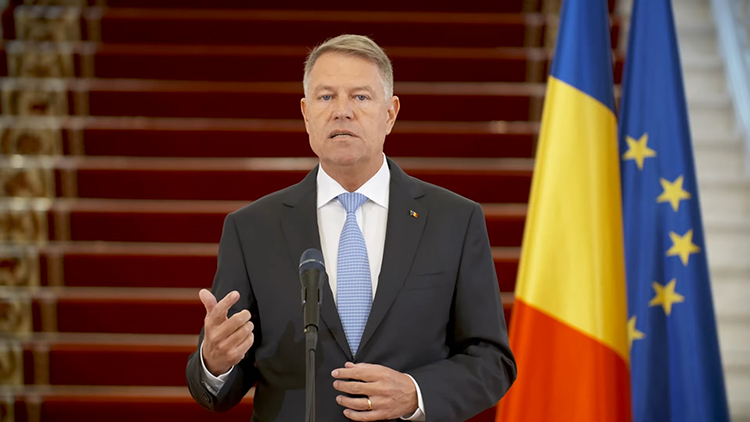 Romanian President Klaus Iohannis delivers his statement on April 30, 2020 (source: presidency.ro)
Kelemen said that while the repercussions of Iohannis' statement on the Hungarian community in Romania were difficult to gauge, it was encouraging that the majority of the country's public opinion and parties flatly rejected the president's incitement to hatred.
"For the sake of correctness I must add that those shaping Romanian public opinion showed encouraging signs," Kelemen said. "They unanimously condemned the President's statement, even if some tried to go with the excuse that he was attempting to save his [National Liberal] party from the trouble it is in."
Kelemen was referring to the fact that during the past two months of the coronavirus crisis in Romania, the National Liberal Party (PNL) has lost 14 percentage points in popularity, dropping from 47 percent to 33 percent.
Regarding opposition politician Călin Popescu-Tăriceanu's initiative to call Iohannis to Parliament for an explanation, Kelemen said he found it unlikely that the President would show up.
"According to the constitution, the President cannot be compelled to account for anything in Parliament. If he wants, he will show up, and if not, he will not. Judging by his political career so far and his personality, he will not show up in Parliament.
Asked whether he was disappointed by Iohannis' anti-Hungarian statement, Kelemen said it did not surprise him.
"I wasn't disappointed. I had no illusions," Kelemen said. "After 2014 [Iohannis' first campaign for president], I was often criticized for not supporting him. This two-and-a-half-minute statement proves that even in his second term, he can't live up to the position of President … In such a crisis, the message that there is not someone [in charge] who can keep society together and create social consensus, without which no nation could effectively and swiftly beat a major crisis is particularly important. That is my biggest issue with the President, not what he may think or say about us."
Title image: RMDSZ President Hunor Kelemen (source: Facebook)