Coronavirus
Romanian Orthodox bishop held mass in a city under lockdown
Despite the fact that the city of Konstanca (Constanța) has been under lockdown since November 20, and indoor masses cannot, therefore, be held, Orthodox Bishop Teodosie, known for violating several safety measures since the beginning of the pandemic, held a church service there. In addition, the congregation – approximately 100 people – ignored the rules of mask-wearing and social distancing, Hungarian news portal főtér.ro reports.
However, the police found out about the mass and fined 39 people for RON 4,500 (EUR 920).
Bishop Teodosie had previously gone to court to challenge a decision of the emergency committee: that only local residents could attend religious pilgrimages due to the coronavirus situation. At stake was the pilgrimage of Saint Andrew on November 30, when thousands of believers go to the cave where the apostle is believed to have stood; the cave is located in the village of Ion Corvin in Konstanca County. However, the court of Konstanca rejected Teodosie's request on November 25. Teodosie may challenge this decision in the next five days, but it is pointless, as the pilgrimage is scheduled for November 30, and any final decision would take longer.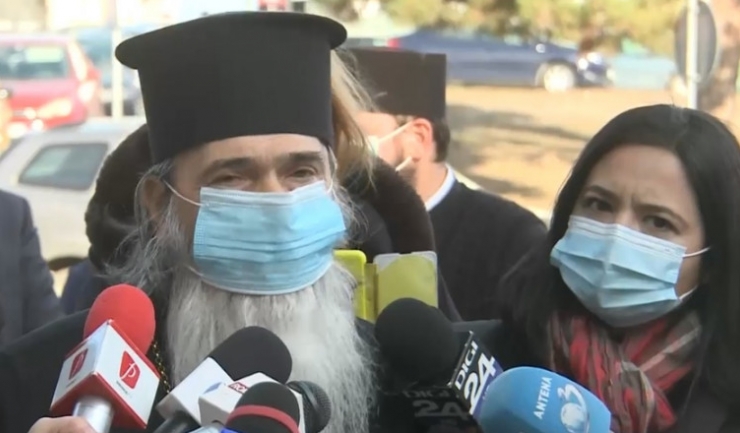 The name of the rebellious bishop may be familiar to some due to a number of scandalous cases: He was often featured in newspapers before the epidemic in cases involving the National Anticorruption Directorate (DNA), but he has also caused countless scandals since the outbreak of the pandemic and the introduction of restrictions.
He first made it into the news shortly after the onset of the coronavirus pandemic when media found out he had distributed communion to churchgoers with the same spoon, without even cleaning it between users. At the time, he replied that the church only uses sacred objects (which apparently cannot transmit infections).
Most recently, at the beginning of November, the Bishop performed a COVID-19 cleansing ceremony in the village of Cogeleac, together with a cohort of fellow priests. His Holiness Teodosie performed a similar ceremony in Constanța back in June.
Teodosie is also a professor and rector at a local theology university as well as a holder of Romania's highest civilian award, the Knight of the Order of the Star of Romania; he has been a vocal critic of the government's handling of the coronavirus pandemic, at one point even accusing President Klaus Iohannis of having cursed the country.
On account of his triple job as bishop, rector, and head of a doctoral school, Teodosie is the country's highest-paid clergyman, higher than even Patriarch Daniel, the head of the church, and President Klaus Iohannis. Last year, Teodosie earned a combined RON 292,148 (EUR 60,000), but as a high-ranking clergyman, he is exempt from submitting any tax report.
Update: While the virus spreads, Romanian Archbishop urges revolt against health measures
Title image: More than 15,000 people attended the pilgrimage of Saint Andrew last year. Photo: Basilica.ro