Papal Visit
Romania mints coins for papal visit
Romania will mint special coins to commemorate Pope Francis's May 31-June 2 visit to the country, the National Bank announced.
The commemorative issue will consist of two releases: there will be one gold coin with a face value of RON 500 of which 500 pieces will be minted and a 50 bani (the subunit of the leu) brass coin, of which 10,000 pieces will be available to collectors. Another one million 50 bani coins will also be put into regular circulation. The 50 bani coins for collectors will be distinguishable from the regular circulation ones by the letter N in a circle (denoting "numismatic edition").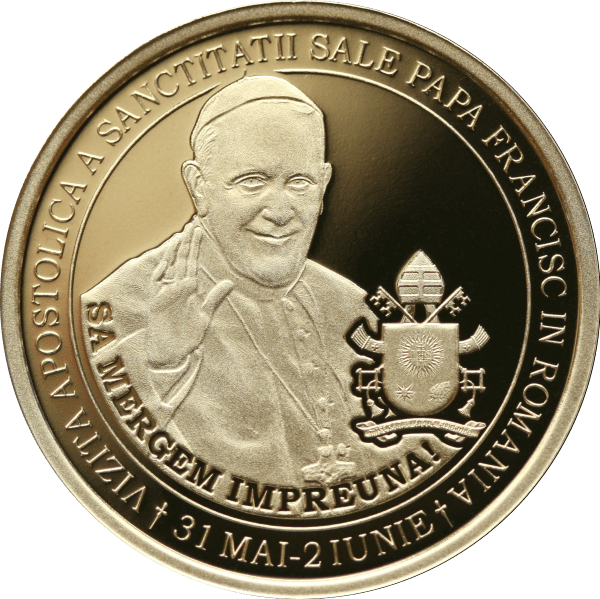 The obverse of the collectors' coins featuring Pope Francis
The obverse of both coins will carry a portrait of Pope Francis, the coat of arms of the Holy See and the inscription "Let us walk together- Apostolic visit of his Holiness Pope Francis to Romania, May 31-June 2". The reverse of the coins will feature the four churches Pope Francis is expected to visit during his stay in Romania (Balázsfalva/Blaj, Iași, București and Csíksomlyó/Şumuleu Ciuc), the name and coat of arms of the country, the denomination and the year of issue.
The gold coin will have a price of RON 8,666 (EUR 1,820) and the 50 bani coin will be RON 10.50 (EUR 2.2). And anyone feeling extravagant enough to pay with one of these collectors' coins can rest assured that they are both legal tender in Romania.