Arts, Food & Free Time
Romania launches online food price comparison
The Romanian Competition Council launched on Tuesday an online platform that allows customers to access and compare food prices of the main retailers of food products. The online platform, called Price Monitor, displays information about 30,000 products sold in over 1,700 stores.
Consumers can use the platform via a website or mobile app to identify nearby stores carrying the products they want to purchase and see the prices charged by them. According to the Council, customers will be able to make more informed choices between the offers of several stores, thus contributing to increased competition in the food retail market. They hope that this will help lower food prices in the country.
In July, the Council launched Price Monitor for fuel, one of the components of Price Monitor that allows customers to find prices charged by the main car fuel distribution networks. The latest results show that the platform reached around 1.8 million searches in just three and a half months. The beta version of Price Monitor for food was tested in Romania's capital of Bucharest. Its success convinced the Council to improve it, add more stores, and make it accessible to the whole country.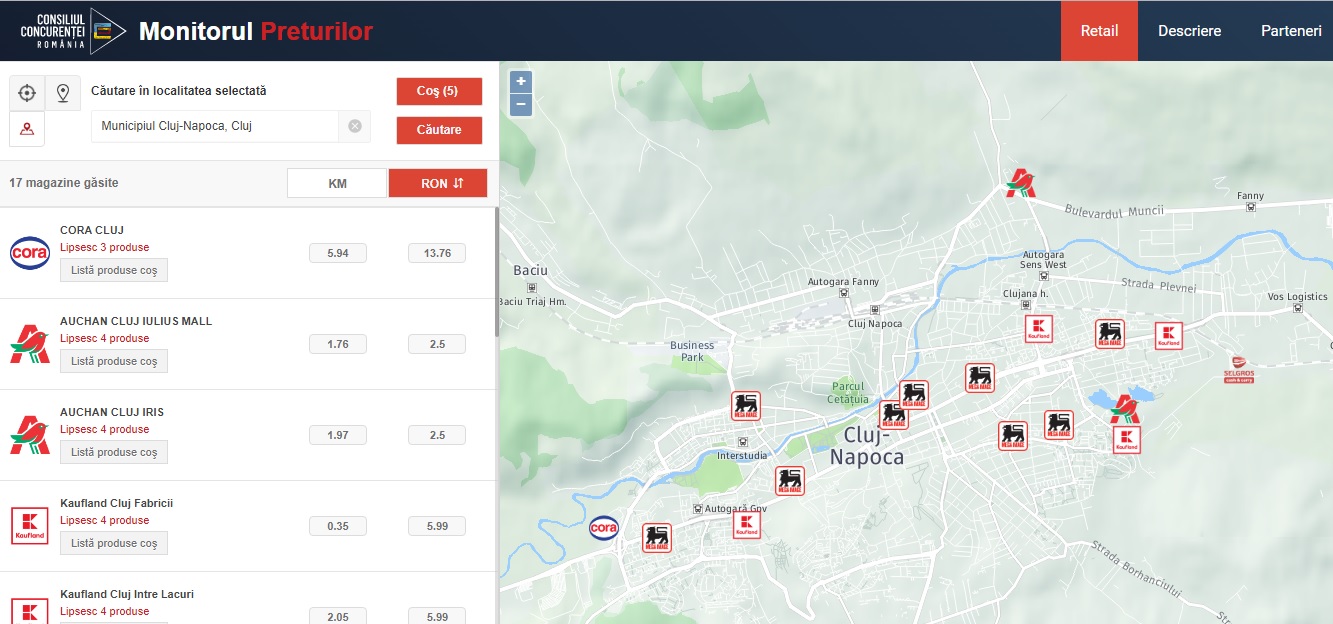 The president of the Competition Council, Bogdan Chiriţoiu, stated at a press conference on Tuesday that Price Monitor for food items had showed them that their solution was good, and that the product was reliable. "Starting today we have the platform of the food Price Monitor in full form. If until now only the fuel Price Monitor could be accessed, today, costumers can check both food prices and fuel prices without having to go to the physical locations of the stores or gas stations," he added. Chiriţoiu underlined that they will improve the platform, while the competition authority will ensure that the information provided to customers is current and correct.
"Basically, the customers have a tool that they can use to plan their food and gas purchases without any surprises when they arrive at the store or gas station. They will know which of the stores has the best offers as well as the amount of money they will spend because they have calculated it in advance," Chiriţoiu said.
Customers have to put five items in their online basket in order to compare the prices. They can choose between 20 categories, such as fish, vegetables, meat, coffee and tea, eggs, basic foods, non-alcoholic beverages, and olives.
The platform is managed by the Competition Council, but the data/price information is uploaded by the partners. Customers are asked to check if the prices provided by the stores are real and report any inaccuracies. The project has a total value of RON 1.42 million, excluding VAT (EUR 305,880) and is fully financed from the state budget.