Economy
Romania has the most overcrowded households in the EU  
According to the 2019 Eurostat data, published a few weeks ago, the most overcrowded households of the European Union can be found in Romania – reported the Transylvanian-Hungarian news portal of maszol.ro. The overcrowding rate in Romania is 45.8 percent, while the EU average is only 17.1 percent.
A person is considered as living in an overcrowded household if the house does not have a minimum number of rooms available; this minimum depends on the household's size, family situation and ages of its members. In 2019, some 17.1 percent of the EU population lived in an overcrowded household, ranging from a low of less than 5 percent in Cyprus, Ireland, Malta and the Netherlands to more than 30 percent in Slovakia, Poland, Croatia, Bulgaria, Latvia and Romania (where the highest rate was recorded at 45.8 percent).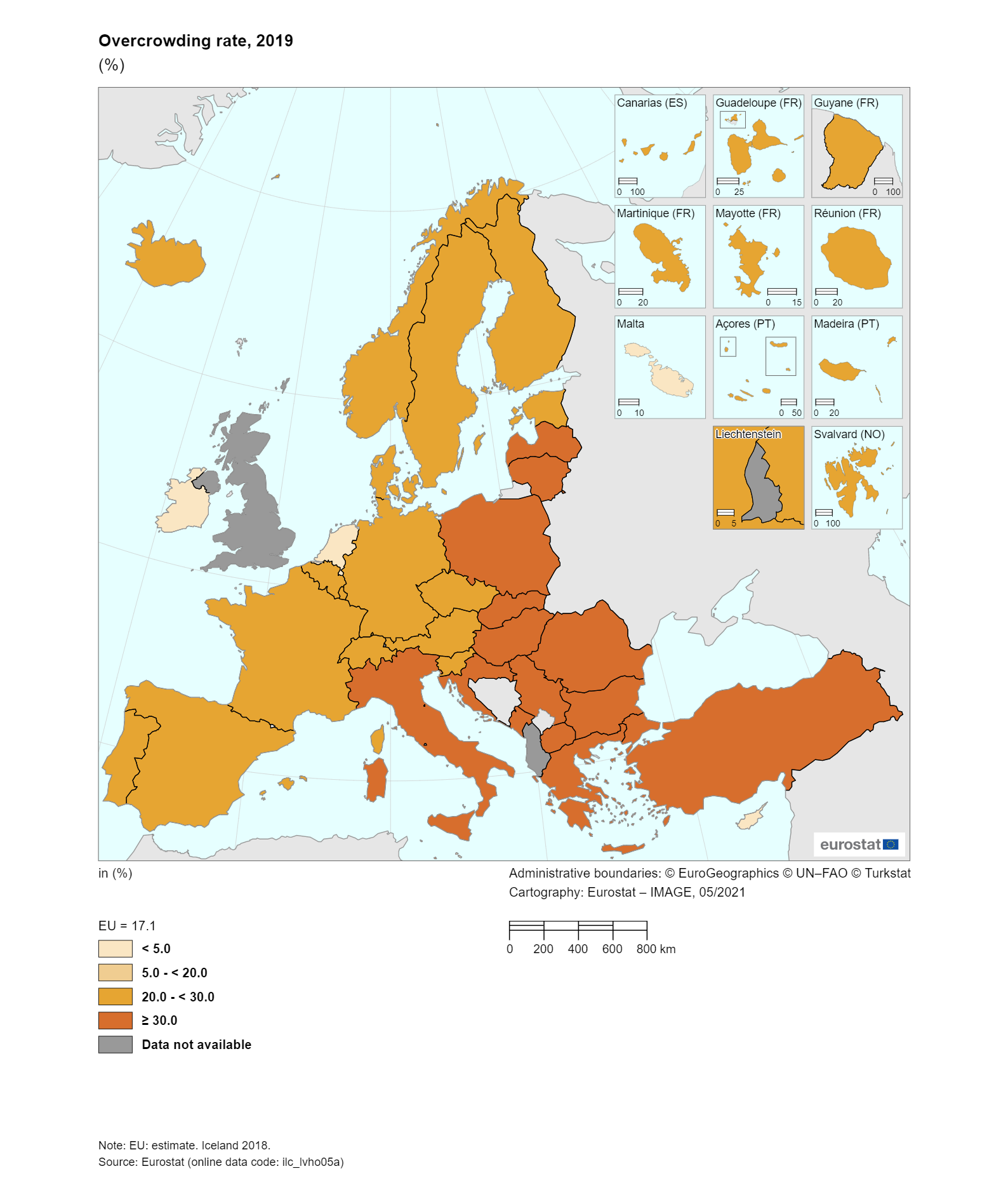 According to Eurostat, Romania has the smallest average house size within the EU, only 44.3 square meters; even Latvia, the second to last in this category, has a significantly higher average, 70.9 square meters. This number in Bulgaria is 76.3 square meters, while the biggest homes can be found in Malta, where the average size is 160 square meters.
However, it also has to be taken into consideration that it is more common in southern countries for generations to live together in the same house than it is in Romania, for example, meaning that the number of people living in one household is higher in Mediterranean countries.
Looking at the ex-socialist block countries, the average house size is the highest in Slovakia (95.4 square meters), Slovenia (93.6 square meters) and the Czech Republic (92.9 square meters).
High real estate prices in Kolozsvár
In addition to the small size of homes, relative to the average income, Romanian real estate is also expensive. According to the study of the Blitz real estate agency, for example, Kolozsvár (Cluj-Napoca) is among the more expensive towns with 300-500,000 inhabitants in the European Union.
The most expensive town in this category is Utrecht, where the average price per square meter is EUR 4,457, while in Strasbourg, it is EUR 3,977 and in Tallinn, EUR 2,333. The average price of one square meter in Kolozsvár is EUR 1,780, which means that the real estate prices are 2.5 times higher in Utrecht than in Kolozsvár. But if we take into consideration that, according to salaryexplorer.com, the average income of the inhabitants of Kolozsvár is less than one quarter (EUR 800) of the average income of people living in the Dutch town (EUR 3,800), we can see that houses cost much more for residents of the Transylvanian town.
Title image: Kolozsvár real estate prices are among the highest in the EU, taking into consideration the average income of the inhabitants. (Photo: AdobeStock)