Economy
Romania expects 4.3% economic growth for 2021
Romania's National Commission for Strategy and Prognosis (CNSP) has slightly downgraded its forecast for 2021 gross domestic product (GDP) growth to 4.3 percent from its previous estimate of 4.5 percent, with inflation expected to be 2.5 percent. (2020 GDP decreased by 4.4 percent.) The country's budget will be built around these forecasts.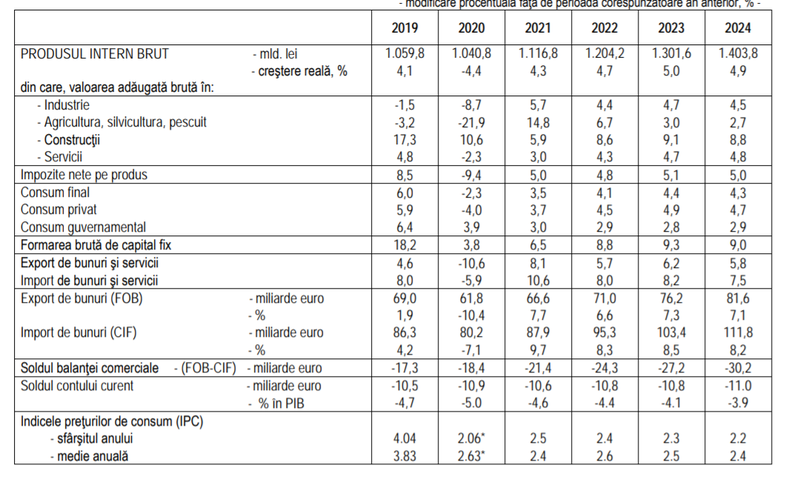 In its latest medium-term (until 2024) forecasts, CNSP now estimates an increase in private consumption of 3.7 percent for 2021; in its autumn forecast, its estimate here was almost 1 percentage point higher (4.6 percent).
Forecasted industrial growth: 5.7 percent
According to the new forecast, every economic sector should perform better than last year, which is not a surprise given the low numbers reported in 2020. The biggest increase is expected in agriculture (14.8 percent), while the construction industry is expected to increase by 5.9 percent and the service sector by 3 percent; industrial growth for 2021 is forecast to be 5.7 percent.
Increasing private consumption and trade deficit
After a significant, 4.0 percent, decrease in private consumption in 2020 (caused in part by the COVID-19 pandemic), 2021 should bring growth of 3.7 percent. CNSP forecasts an 8.1 percent increase in exports (versus a 10.6 percent decrease in 2020) and a 10.6 percent increase in imports (versus last year's 5.9 percent decrease). The group also predicts a EUR 3 billion increase in Romania's trade deficit from EUR 18.4 billion in 2020 to EUR 21.4 billion in 2021.
Budget deficit: 7 percent
CNSP estimates that Romania's budget deficit will be 7 percent, a forecast echoed by both Minister of Finance Alexandru Nazare and Prime Minister Florin Cîțu.
Inflation and net income
According to the forecast, average net earnings in 2021 will increase to RON 3,323/month (EUR 660). The average exchange rate should be 4.89 lei to the euro, versus a previous estimate of 4.9. Inflation at the end of the year is expected to be 2.2 percent versus an earlier estimate of 2.5 percent. (hotnews.ro)