Arts, Food & Free Time
Planned partnership between South-Tyrol and Székelyföld
Székelyföld/Szeklerland,(a predominantly Hungarian region in central Romania) would like to build a partnership with South-Tyrol (an autonomous region in North Italy) said Sándor Tamás, President of the Kovászna/Covasna County Council, at a professional conference in Sepsiszentgyörgy/Sfântu Gheorghe last Friday, where Herbert Dorfman, South-Tyrolian member of the European Parliament  was also present.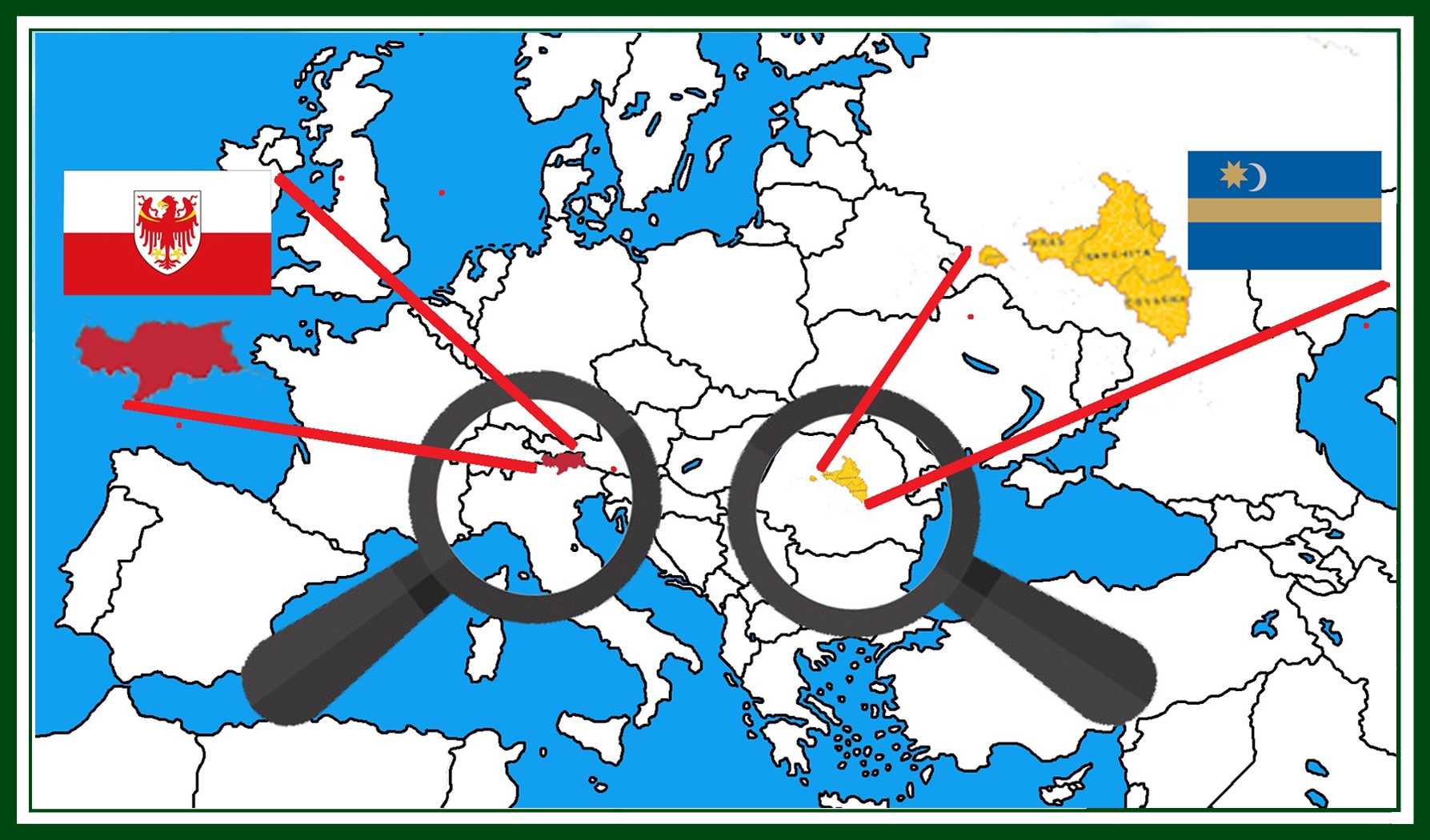 Sándor Tamás asked the South-Tyrolian politician for advice on their soon-to-be-formed regional government as well as to build a partnership with Székelyföld and Herbert Dorfmann promised to support the initiative. South-Tyrol can be a good example for Székelyföld because the territorial autonomy brought both ethnic peace and economic prosperity to the Northern Italian province where 62% of the population is German. "These are our goals as well, here in Székelyföld, where we both want to have a prospering life and ethnic peace. The two regions have a lot in common, and we can learn from each other."- said Tamás.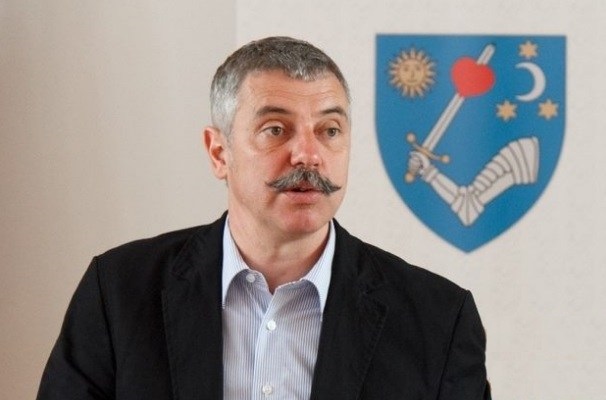 Herbert Dorfmann said that while South-Tyrol was the poorest region of Italy after WWII, today they are the second biggest net contributor to the country's GDP among the provinces of Italy. The leading sector of its economy is tourism, but agriculture also plays a major role. In his speech he told to the audience that in South-Tyrol they realized long ago, how important is to focus on rural development, and that they always worked together in collectives.
"Small farms, like the ones we have in South-Tyrol, can only survive if they cooperate with each other" – said the MEP who has an agricultural qualification. However he also admitted that the situation in post-Communist countries is different, because historical experiences left people with a deep distrust towards any form of collectives. Dorfmann also pointed out that it is vital to keep the people in their homeland, because if the countryside empties, not only the agriculture, but also the minorities living there get into danger. In general he also admitted that there is a lot in common between South-Tyrol and Székelyföld.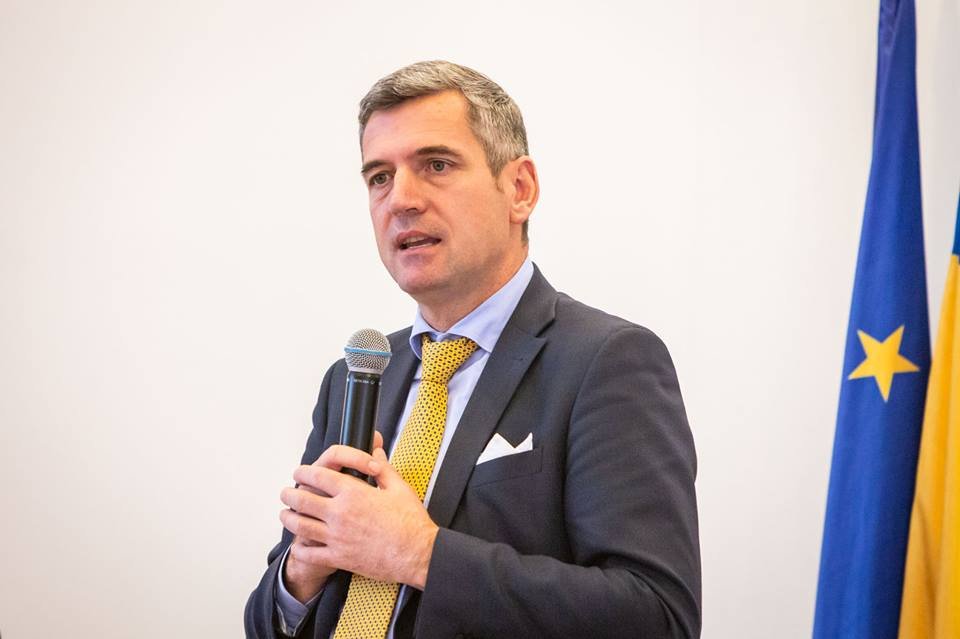 And why do the two regions have so many in common? Here are some salient points:  Both South-Tyrol and Székelyföld (as a part of Transylvania) was attached to a different country after World War I than it used to be part of before. (South-Tyrol from Austria to Italy, while Székelyföld from Hungary to Romania.) In the case of South-Tyrol after WWII the foreign ministers of Italy and Austria signed an agreement recognizing the rights of the German minority. But Italians avoided the implementation of the agreement by uniting the region with the neighboring province of Trentino, thereby changing the ethnic composition. Germans became a minority within the new province and the original agreement basically lost its relevance, but both locals and Austria didn't accept that situation. Austria even turned to the United Nations General Assembly many times with this topic and as a result the issue was finally resolved in 1971, when the real territorial autonomy for South-Tyrol was approved by the Italian Parliament.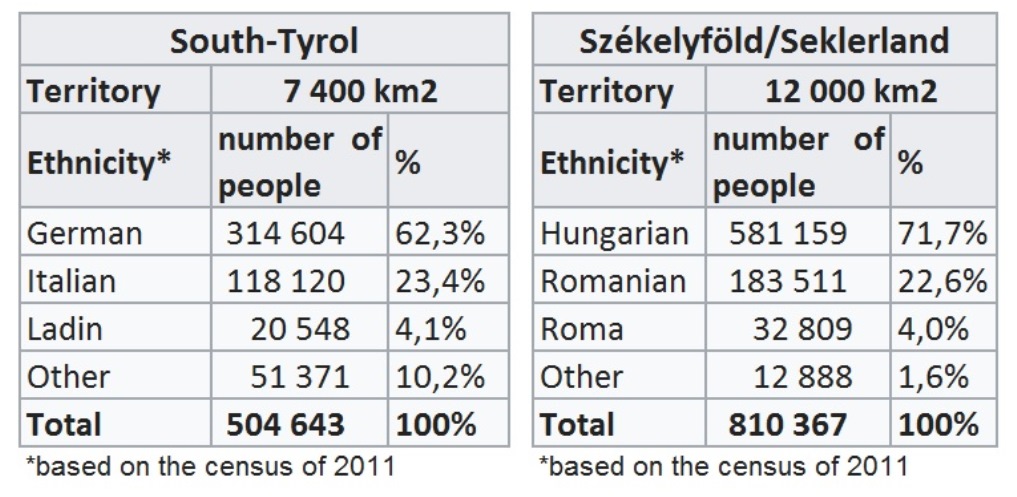 Similarly to South-Tyrol, Székely Hungarians also received territorial autonomy after WWII within Romania. The Hungarian Autonomous Province (in Hungarian: Magyar Autonóm Tartomány; in Romanian: Regiunea Autonomă Maghiară) was formed in 1952 – enforced, in fact, by the Soviet Union – where both Hungarian and Romanian was an official language. But similarly to Italians, the Romanian government subsequently altered the regional borders in 1960 and as a result the proportion of Hungarians decreased within.
But unlike in South-Tyrol, the real autonomy has yet to arrive to Székelyföld. In fact, most of the society had long forgotten that there already was an autonomous region for almost a decade. So while today for example South Tyrol has three official Languages: German, Italian and Ladin,  (German and Italian languages are equal within public administration offices and nobody can become a civil servant without having language exams from both.)  Hungarian is not recognized as official language in Székelyföld, despite 72% of its population being Hungarian.
Title image: Flags of South-Tyrol (left) and Székelyföld (right)