History
One of Transylvania's most unique castles to be renovated
One of Transylvania's most unique noble residences, the Bethlen Castle in Árokalja/Arcalia, will get its old splendor back. The monument will be renovated from European Union funds successfully accessed by the Babeș–Bolyai University, kronika.ro reports. The monument is one of the few noble residences still intact in Beszterce-Naszód/Bistrita-Năsăud County.
The castle is built in a neo-Byzantine style – making it unique in Transylvania – and houses educational centers for students during the summer for the Faculty of Environmental Science and Engineering and the Biology and Geology Faculties of Babeș–Bolyai University.
After renovations costing EUR 2.5 million, provided within the framework of the Regional Operative Program, the castle will be able to accommodate 1,000 students.
The castle is located 17 kilometers from Beszterce/Bistrița. The former property of the Bethlen family survived communist times thanks to its arboretum, which presents an array of 150 plant species. The other 11 noble residences of the county were not so lucky. The property's tulip trees are particularly spectacular, along with the silver fir, spruce, acacia and many other species of trees and bushes originating from all parts of the world. Many of the trees are even arranged to form tunnels or labyrinths.
The monument is one of the youngest castles in Transylvania, built in the 19th century by Balázs Bethlen. Four extra domes attached to its center onion dome stand out from the century-old trees and are visible from the road linking Szászrégen/Reghin to Beszterce/Bistrița. Because of the towers, which resemble bastions, the castle looks like a fortress.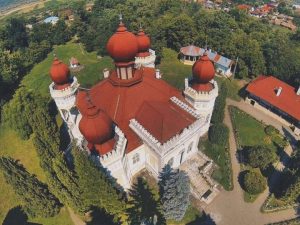 Photo: Planiada.ro
Árokalja/Arcalia became the property of the Bethlen family in the 18th century. Its more than 16 hectares and the surrounding forest were made into an arboretum in 1801 by János Bethlen, making his settlement and castle famous. The castle, like other Transylvanian noble residences, was nationalized after World War II. It functioned as a shop and a deposit for machinery and also held "pioneer" camps – communist camps for kids.
The castle's furniture and decor were stolen by locals, but the snow-white tile stoves remained. Since 1963, the building has been the property of Babeș–Bolyai University, which set up the Biology and Geology research institute and turned the famous landscaped garden into an arboretum. During communism, it also housed a zoology and mineralogy museum. For a while, being the head office of the Regional Francophone Institute of the university, it hosted science symposiums and conferences, and weddings and baptisms were held in its surrounding structures as well.
Tourists can normally visit the arboretum, but the castle is closed now for renovations, which started in May and should take three years to complete.
.
Featured photo: Kastély Erdélyben