Health
Number of new COVID-19 cases hits new high in Romania
From Wednesday to Thursday, the number of new COVID-19 cases registered in Romania hit a new high of 600, rising above the 555 cases registered from Tuesday to Wednesday. This is the highest daily rise since the pandemic hit Romania on March 10.
With that, the total number of cases has reached 30,789, with 1,834 casualties. Reacting to the resurgence of the pandemic in Romania, Austria has re-introduced a mandatory two-week quarantine for Romanian citizens arriving in the country, except for transit passengers and goods transporters. This is a serious restriction for Romanian citizens, many of whom work in Austria or  Germany. The United Kingdom, also a popular destination for Romanian guest workers, will also re-introduce a mandatory two-week quarantine for Romanian citizens starting on July 10.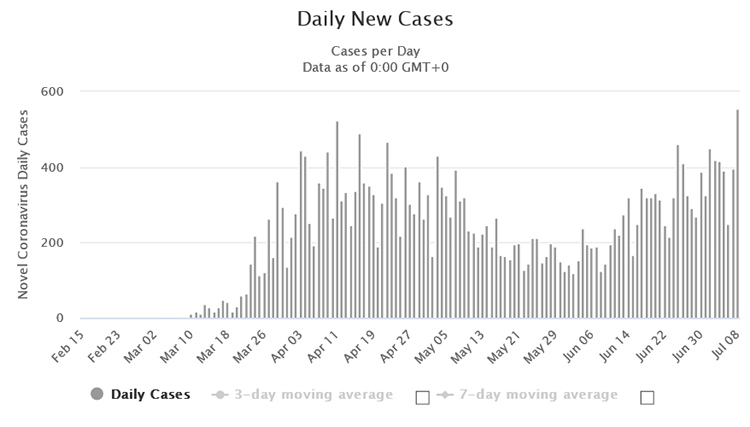 Number of new daily COVID-19 cases in Romania. (source: www.worldometers.info)
The other European countries currently restricting the travel of Romanian nationals are Finland, Ireland, Latvia, Lithuania, Malta, Slovakia and Slovenia.
On Thursday, Prime Minister Ludovic Orban said that while the government was doing everything to reboot the country's economy, it will not hesitate to tighten security measures to safeguard people's health and lives. Currently, however, it can only do so via government decrees or ministry ordnances, which the Constitutional Court has recently ruled are not constitutional. As a result, many people ordered into home quarantine are leaving, as are those in hospitals.
The government has introduced a bill in Parliament asking to change the law so that it can constitutionally take restrictive measures; a vote on the measure is pending.
Title image: Romanian Prime Minister Ludovic Orban.