Coronavirus
No new infections in Kovászna County in 24 hours
In a period of 24 hours (Saturday to Sunday), 3,288 new cases of coronavirus were registered in Romania, announced the Strategic Communication Group (GCS) on Sunday. The only county where there were no new infections was Kovászna/Covasna, acording to Agerpress.
73,948 active cases
Including the new infections, 828,283 people have now been diagnosed with COVID-19 in Romania since the beginning of the pandemic. Out of these, 754,335 have been cured, meaning that the number of active infections is 73,948.
New cases in Bucharest: 664; in Kovászna: 0
According to GCS, the areas with the highest number of newly confirmed cases of the SARS-CoV-2 infection compared to the previous report are Bucharest (664) and the counties of Temes/Timiș (326), Kolozsvár/Cluj (189), Brassó/Brașov (163) and Ilfov (166).
The fewest new cases were registered in the counties of Kovászna (0), Galați (1), Vrancea (10), Tulcea (11), Brăila (11) and Buzău (15).
The incidence rate of coronavirus infections in Bucharest rose to 3.19 per 1,000 inhabitants on Sunday, with the following counties still in the red scenario, at over 3 cases per 1,000 inhabitants: Brassó, with an incidence of 3.35 cases; Kolozsvár, with 3.54; Ilfov, 3.76; and Temes, 5.60.
There are 14 counties are in the yellow zone (between 1.5 and 3 cases per 1,000 inhabitants), the highest infection rates being in Hunyad/Hunedoara, with 2.88; Máramaros/Maramureș, 2.77; Szilágy/Sălaj, 2.5; Fehér/Alba, 2.31; Arad, 2.19; Gorj, 2.10; and Szatmár/Satu Mare, 2.09.
A total of 22 counties are in the green zone (less than 1.5 cases per 1,000 inhabitants), with the lowest rates of SARS-CoV-2 infection being registered in Buzau, 0.74; Hargita/Harghita, 0.82; Prahova, 0.86; and Călărași, 0.86.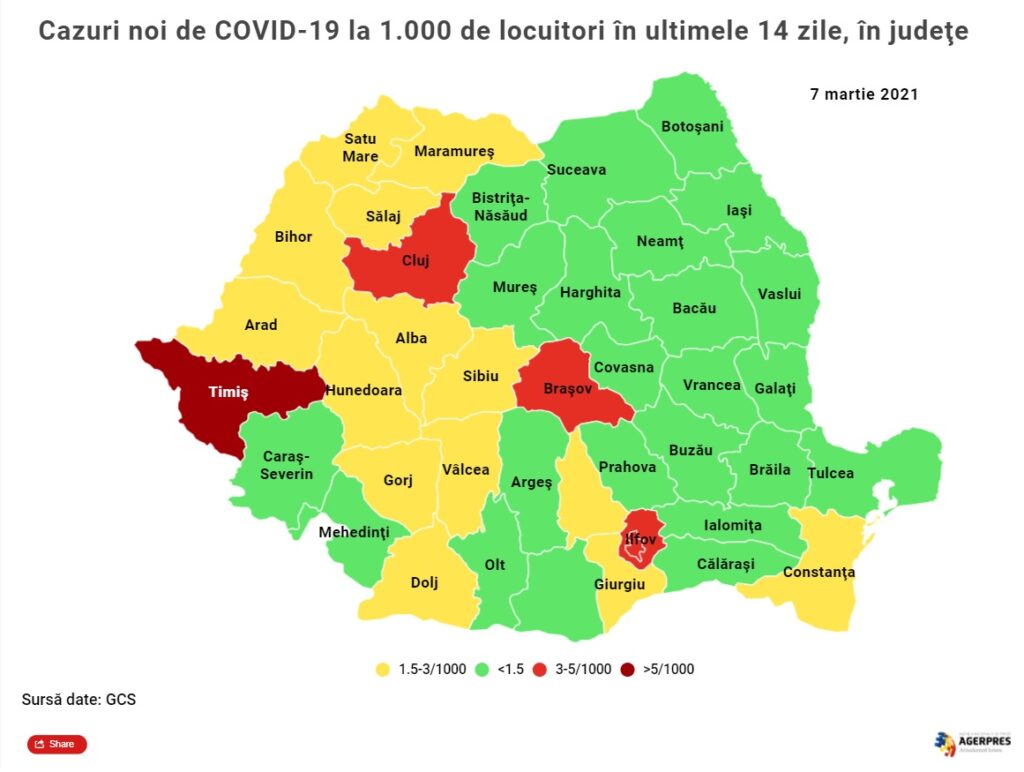 50,000 people in home quarantine
On Sunday, 9,560 people in Romania were hospitalized with COVID-19 and are being treated in specialized healthcare units, of which 1,093 are in intensive care. In total, 47,069 people confirmed with coronavirus are in home isolation, and 13,771 are in institutionalized isolation countrywide. Also, 50,503 people are in quarantine at home, and 114 in institutionalized quarantine.
1.17 million people received at least the first vaccine dose
The National Committee for Vaccination against COVID (CNCAV) stated also on Sunday that in the previous 24 hours, 45,184 doses of vaccine had been administered in Romania. Out of these, 30,991 were the Pfizer vaccine; 6,496, AstraZeneca; and 7,697, Moderna. According to CNCAV, 37,324 people were vaccinated with the first dose, and the second dose of serum was received by 7,860 people.
Since the start of the vaccination campaign, on December 27, 2020, 1,826,786 doses have been administered to 1,174,218 people in Romania.
Title image: New COVID-19 cases per 1,000 inhabitants in the last 14 days in the capital and the counties of Romania. (Agerpress)