Politics
Nazi salute of ethnic Hungarian politician triggers scandal
A social media photo of the then leader of the Kolozs/Cluj county chapter of the Hungarian People's Party (EMNP) in Transylvania – now party president – showing him and his colleagues during a vacation performing a Nazi salute and sporting a controversial flag used by right-wing Hungarian extremists has sparked a political scandal in Romania.
In the picture (seen above) István Csomortányi and his friends are seen performing the Nazi salute, holding a flag with the so-called Árpád stripes, while in another photo one member of the group is also carrying a baseball bat. The Democratic Alliance of Hungarians in Romania (RMDSZ) has called for the immediate resignation of Csomortányi and demanded that the party distances itself from its "Nazi roots".
"Neo-Nazi thoughts and acts have no place in Transylvanian public life," RMDSZ Spokeswoman Csilla Hegedüs wrote on her Facebook page. "István Csomortányi cannot compromise the Hungarian community of Transylvania: he must immediately resign from the EMNP presidency and – together with all his fellow party members sharing similar principles – leave public life."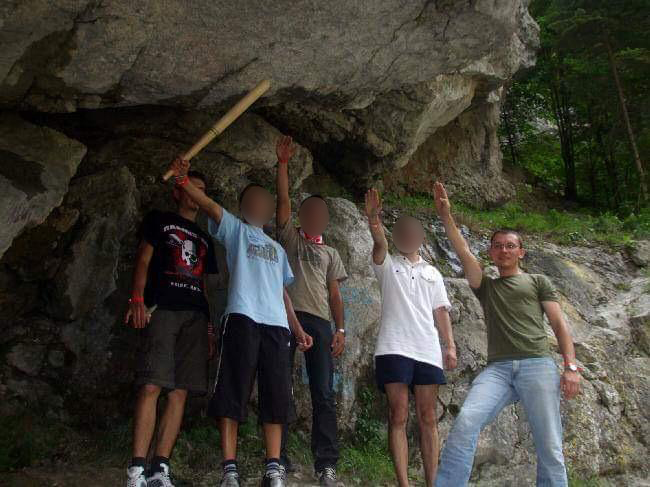 Csomortányi and friends performing the Nazi salute during a trip (former Facebook image)
Following complaints, Facebook has since banned the images for offensive content in breach of the community rules (of the social media site).
The so-called Árpád stripes have in one form or another been part of Hungarian heraldry since the 13th century, but in modern history they are primarily related to the Nazi puppet government formed by members of the Hungarian Arrow Cross Party, which was in place for seven months, October 1944 to April 1945. That party used a similar symbol as a component of their flag in the 1940s, and as a result, despite their early medieval origin, the stripes have acquired fascist connotations.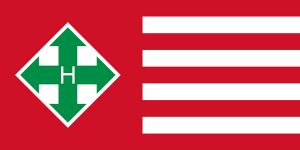 Flag of the Arrow Cross Party (Wikimedia Commons)
The EMNP was registered as a political party in Romania in 2011. It is a minor, right-wing party of the Hungarian ethnic minority in Romania, proposing territorial autonomy for the regions with significant or majority Hungarian population in Romania, an idea neither the Romanian parties nor the majority of the population find acceptable. Csomortányi – who was county leader when the photo was taken – was elected party president in 2019. The party only ran once, during the 2012 general elections, when it acquired 0.64% of the votes, well below the parliamentary threshold.
Title image: István Csomortányi and friends holding the Árpád stripes flag during a trip (source: Facebook)