Economy
Most Romanians can't afford one-week holiday a year
Although a large number of Romanians travel either to international destinations or within the country's borders, and luxury holiday offers are usually sold out quickly, fresh Eurostat data shows that Romania is leading the EU list as the country having the largest proportion (58.9%) of its population unable to afford a one-week annual holiday away from home in 2018. That's more than double the EU average of 28.3%.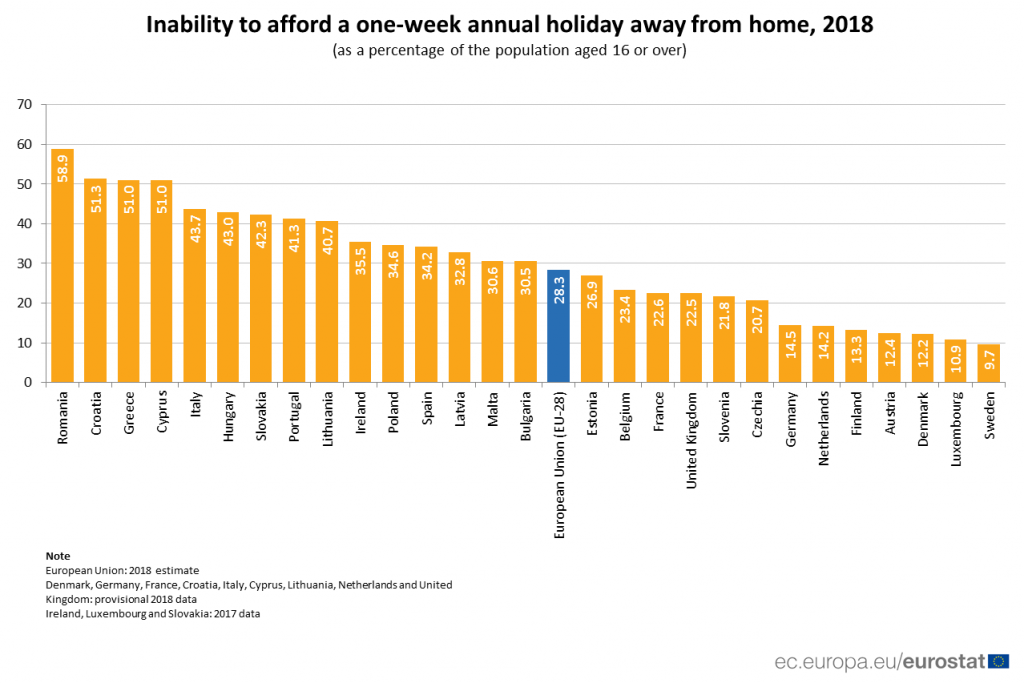 Eurostat took into consideration the population aged 16 or above when compiling the list. Since for many people in the EU summer means holidays and travel, the report sheds light on how Romania stood up against other countries in the Union. Well, the data speaks for itself: it gives a grim overview of the possibilities economically active people have. Completing the Eurostat data, here is what the National Statistics Institute says about last year: in 2018, the economically active population was 9.06 million, of whom 8.68 million were employed and 380,000 unemployed. The working age taken into consideration by the institution is 15–64 years. Working age population – 12.93 million persons – represented 66.2% of the total population.
Looking at the data published by ErdélyStat, in December 2018 the average net salary was RON 2,957 (EUR 623) in Romania. That compares to the average salary employed persons in Transylvania netted of RON 2,701 (EUR 569). The reason for the discrepancy is the RON 3,882 (EUR 818) average wage registered in the capital of Romania, which skews the country's total net average wage data upwards.
Considering the above data, when you calculate the costs of a one-week holiday abroad for a family of four, the Eurostat data makes sense, because many fall into the "we can't afford it" category (more precisely 58.9%, the data compiled by Eurostat says).
In second place on the list we find Croatia with 51.3% of the population, followed by Greece and Cyprus with 51%, and interestingly, Italy got itself a nice fourth place (43.7%). Hungary ended up fifth with 43%.
Title image: A Black Sea beach resort in Bulgaria, the nearest foreign summer destination for most Romanians.