Coronavirus
Low interest at the Pentecostal vaccination marathon in Csíkszereda
Less than 250 people were vaccinated at a three-day vaccination marathon organized in Csíkszereda (Miercurea-Ciuc in Romanian) during the Pentecostal weekend. While the organizers were expecting more people – as thousands of people attended the Pentecost Pilgrimage in Csíksomlyó (Şumuleu-Ciuc) –  this low number did not come as a surprise because in Romania, especially in Hargita (Harghita) County, there is not much willingness to get vaccinated, Hungarian newspaper Székelyhon reports.
At the vaccination marathon, organized by the Hargita County Public Health Directorate (DSP) and the Hargita County Emergency Hospital between May 21 and May 23, anyone was able to get vaccinated without prior registration. As Gyöngyi Tar, the manager of the county DSP told Székelyhon, in three days, 248 people were vaccinated at the vaccination point set up in the courtyard of the hospital in Csíksomlyó; 91 of these chose the vaccine developed by Pfizer-BioNTech, and 157 chose the Johnson & Johnson vaccine. Franciscan monk Csaba Böjte, who helped promote the vaccination marathon, was there and received the Pfizer vaccine.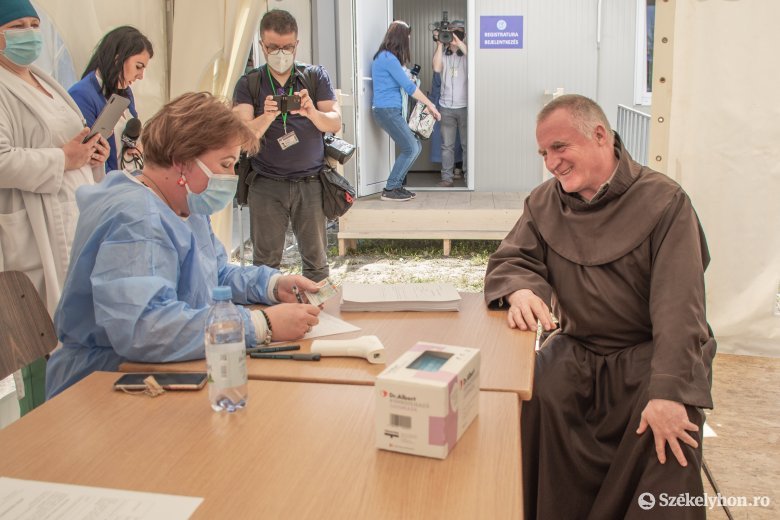 "I was expecting more people, but honestly, this low number did not surprise me because, among the member states of the European Union, all of Romania is performing poorly in terms of vaccination willingness. This number is even lower in Hargita County than the country average, so we wanted to improve this. (…) We did not set a numerical goal; instead, we were just happy if everyone interested in getting vaccinated could do so. This epidemic is like a dragon. It is not enough to cut off one of its heads to defeat it, you need to cut off all of them, and that is why we are not giving up and are going to continue to fight by promoting the vaccine. Our job is to prevent harm, not to count the dead," Gyöngyi Tar told Székelyhon.
The manager of the county public health directorate also added that with this marathon, they wanted to help those living in rural areas, to make vaccination easily accessible for them since they would be in Csíkszereda for the pilgrimage anyway. The rate of vaccination in Csíkszereda is 44 percent, ranking it second among county capitals in terms of vaccination coverage; meanwhile, in rural areas, this figure is below 5 percent.
"The doctors' healing intentions and the needs of the population do not always meet. Anyone who wanted to was able to take this opportunity; those who didn't want to take the opportunity didn't take it. However, I am still encouraging everyone to get vaccinated," Gyöngyi Tar told Székelyhon.
Title image: Vaccination center set up in the yard of the Csíksomyló hospital, a few meters from the Temple of Csíksomlyó. Photo: DSP Hargita County